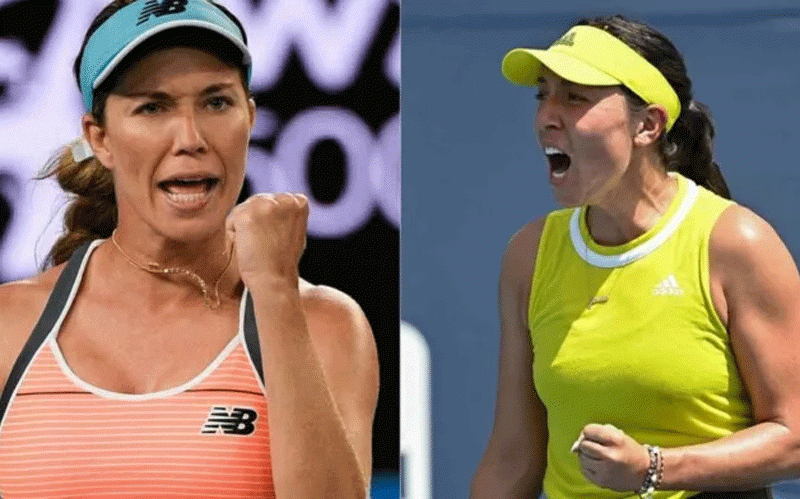 DANIELLE Collins and Jessica Pegula were both born in the US within three months of each other, both currently 28 years old. They both came to Wimbledon this year, as the 7 th and 8 th seeds respectively,Collins having been runner up in the Australian Open this year while Pegula reached the quarter- finals of the French Open a few weeks before Wimbledon.
Collins lost in the first round and Pegula in the third round of Wimbledon. Both experience immense pressure every time they go onto the tennis court. Both have earned just under six million US dollars (according to Wikipedia). In that regard they both have much in common.
However ,there is the similarities end.
Pegula is the daughter of Terry Pegula, a highly successful businessman who according to reliable independent sources is worth over six billion US dollars; Collins is the daughter of Walter Collins who makes a living working as the owner of a small landscaping company while her mother is a retired schoolteacher.
Their paths to the top table of women's tennis have been very different.
In a recent interview Collins is reported as saying that "I came from nothing, and when you come from nothing you have nothing to lose." That is certainly true. However, it could well be argued that Pegula could reach the same conclusion; she came from everything and so she also has nothing to lose if she loses – no-one can take away the fortune she will inherit.
The fact is they both experience pressure in different ways.
Pegula faces pressure of constant suggestions or accusations that she is not as good as others as she had had everything laid on for her. Yet her climb to the top has not been easy, for all the financial support that she has known. As she started out on the tennis circuit, she was plagued with injuries that required serious surgery – just when she started to climb the tennis ladders, she slid back down the snakes with injuries.
Of course, with the injuries came doubts, insecurity, frustration, culminating in reaching the point where she wondered if it was all worthwhile. That is pressure. She in truth had inherited the same spirit and determination that took her father from a poor background to his wealthy position. She continued because she loved the sport and no doubt wanted to prove her doubters and accusers wrong.
She could easily have given up but she did not; she chose to fight on, even when she lost to a player ranked 1,025 in the world and earned the princely sum of $147.
As for Collins, she has faced pressure throughout her journey to the top. She had to use city courts in the early hours of the morning with only her father as a coach; she had to attend public schools and then fit in her tennis around her college studies, while others benefitted from competing on the various tours at a young age.
Collins had to perform well simply to earn her living as a professional tennis player with its huge expenses in travel and accommodation for her and her team. It all required a huge amount of hard work, discipline and determination. She could easily have given up but she did not; she chose to fight on, under pressure.
Having money does not guarantee success; Collins has proved that, as has Pegula in the opposite direction. The lack of money did not stop Collins but the surfeit of money did not help Pegula. It certainly does not buy a player respect, either; that has to be earned, on the sports field as well as out in the world. Pressure is necessary. An egg will not be so desirable if it is not boiled in hot boiling water; the heat will make it go hard.
Interestingly, though, the same boiling water that makes an egg go hard makes a vegetable go soft. The same heat that softens in fact hardens a diamond. Heat is necessary for different purposes. Pressure is dealing with situations that are hard and difficult.
Both these ladies need pressure for them to succeed, even if it is different. All sports players need to have pressure for them to progress; without pressure they will not go anywhere or achieve anything significant.
Pressure is a prerequisite.
That is why when training youngsters we need to ensure they learn to handle pressure and the only way that they can learn to handle pressure is by being put under pressure, starting in small measures and gradually increasing the amount.
And the reason that we need to teach youngsters how to handle pressure in sport is because they need to learn to handle pressure that will come in life. They have nothing to lose and they have everything to lose.
Related Topics