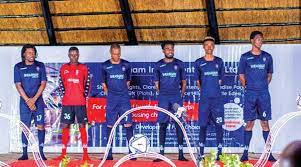 NEWLY-promoted Midlands soccer outfit Sheasham have warned rivals that they will not just make up the numbers in the top league.
Sheasham, who gained promotion from the Central Region after a tough battle against rivals TelOne are confident of making a mark in their debut season.
Having gone the entire season without tasting defeat, coach John Nyikadzino said they would fight for recognition.
"Of all the promotion challenges I have had, this was the toughest. It wasn't easy and we also don't expect the PSL to be easy but we are going out there to fight for recognition," Nyikadzino said.
"We know what we want and the players are prepared for the challenge. We all want the best out of this opportunity."
For the Gweru-based club, FC Platinum is the model to follow to avoid a quick return to division one football.
Teams from the Central Region have not fared well in the top division, with Nichrut, TelOne and most recently WhaWha all suffering relegation after one season.
Sheasham president Clever Mandaza said they were prepared to flex their financial muscle to meet premiership standards.
"We came this far and it means we must pull up our socks. This is the PSL and it means we must have more money because the demands have also increased.
"I'm happy that we achieved (promotion), having previously missed this opportunity in 2019. We appreciate everyone's effort and we are also prepared to welcome willing stakeholders on board," he said.
Sheasham received their medals and trophies at a ceremony held at Gweru Sports Club recently.
Meanwhile, they are in the process of refurbishing Bata Grounds which they intend to use as their home ground.
The facilities were previously used by the now-defunct Bata Power and Gweru United in the late 1990s.
Follow us on Twitter @NewsDayZimbabwe
Related Topics