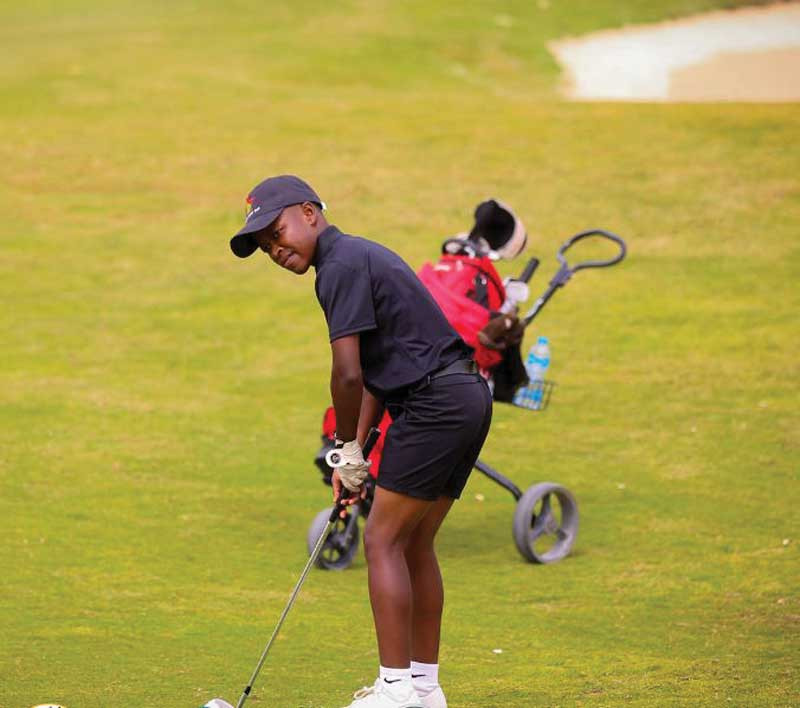 BY DANIEL NHAKANISO
MUTARE has over the years become a conveyor belt for golfing talent in Zimbabwe.
Several players, who trace their roots in the city, have risen from very humble beginnings and gone on to forge successful careers either as touring professionals or as coaches.
Perhaps the most recognisable player to come out of the Eastern Highlands in recent years is the highly talented locally-based professional golfer Robson Chinhoi.
Chinhoi rose from humble beginnings as a caddy at Hillside Golf Club in Mutare to become one of the country's most promising stars.
He has raked up multiple wins locally, on the Kenya-based Safari Tour and the African circuit, where he clinched the Kinshasa Open in the Democratic Republic of Congo last week.
Chinhoi has become somewhat of an inspirational figure for young kids in his hometown. And one of Mutare's new golfing talents who is hoping to emulate if not surpass Chinhoi's achievements is the equally talented and confident Kudzi Mandava.
Seventeen-year-old Mandava is currently one of the country's brightest female golfers having excelled individually and for the country's junior and senior teams.
Recently Mandava enhanced her status as one of the top female junior golfers on the continent after helping Zimbabwe finish a commendable fifth out of over 20 participating nations at the biannual All Africa Challenge Trophy competition in Tanzania.
A few months earlier Mandava was part of Zimbabwe's junior girls' team which finished third at the All-Africa Junior Golf Challenge in Egypt.
However, Mandava's journey to becoming one of the country's brightest golfing prospects has not been a walk in the park as she has had to overcome the odds in pursuit of her golfing dream.
Raised by a single mother after her father passed away when she was 10, Mandava did not have the privileged upbringing enjoyed by most of her peers.
"My father died when l was 10, which left my family in a vulnerable state. It was not a great start in life, but the perfect motivator for the desire and determination to provide a better life for my family and for other people," Mandava told The Sports Hub in an interview.
"In the midst of this rough chaotic start, my mother stood still as a pillar of strength and hope which made me the person l am today and l would like to share that with the rest of the world."
Mandava's golfing journey started by chance. As a Grade 2 pupil at Chancellor Primary School, she would only accompany her friends for golf lessons at Hillside Golf Club so that she could play on the swings at the facility after their mandatory golfing lessons.
Under the mentorship of Mutare-based golf coach Amos Kunyeredza, young Mandava soon rose to become one of Hillside Golf Club's best junior prospects.
Her success soon caught the eye of the now Manicaland Ladies Golf Association president Poly Crewe, who facilitated a golfing scholarship which meant she was able to concentrate on her studies at Sakubva High 1 while also competing regularly on the local junior circuit.
"l played my first tournament in 2017 and won the best player award in my division. The Manicaland Ladies Strokeplay win was also been one of my breakthroughs in 2020. I have had some top 5 finishes in the Zimbabwe Ladies Golf Union golf tournaments in recent years," she said.
"l hope to have more wins and breakthroughs throughout my golfing career. While there have been many highs, golf is a tough sport and there have also been some challenging times, but l have accepted that there will be disappointments as well as moments of pure elation in my career. The journey has been so exciting yet frustrating but the dream of becoming the greatest golfer remains the same.
Mandava's success in local ladies' golf tournaments also resulted in her earning selection to the national team, representing the country in countries such as Malawi, Zambia, Egypt and recently Tanzania since 2019.
Probably the biggest stepping stone for Mandava came last year when she was recruited by the Royal Harare Golf Club-based Leadbetter Golf Academy Zimbabwe, which is part of an exclusive chain of 40 academies around the globe run by the world-renowned golf coach David Leadbetter, who grew up in Zimbabwe.
Ryan Cairns — a Zimbabwean Sunshine Tour winner is the director of the academy whose major main is to create the pathway for its elite junior golfers to earn student-athlete scholarships at top universities in the US.
"The David Leadbetter Golf Academy based at Royal Harare has made a huge impact in my career while its academy director Ryan Cairns, who is also a tour professional, has been my biggest motivator," Mandava said.
"From coaching lessons and physical fitness training to psychological sessions, the academy offers some exciting and fun on and off course experiences like never before. So rather than just doing the physical part, the academy plays a vital role in making sure we are mentally prepared for practice rounds and tournaments. The equipment used has helped me a lot in specifically distance control and due to these changes l have gained a lot of confidence when l have a club in hand.
"The coaches are always there to help during the week days, furthermore, l have also created some long time relationships with my fellow colleagues," she said.
Mandava believes her stint at the Leadbetter Golf Academy Zimbabwe has given her the experience and skills she needs as she pursues her goal of earning a golf scholarship in the US before turning professional.
"The academy is a very good premise for one to showcase their talent and be prepared for professional golf. One of my biggest targets for next year is to get a scholarship to a golf college in America. Through the help of the David Leadbetter Academy, we have managed to send introductory videos to college coaches in America for recruitment. I believe college golf would bring opportunities for me to pursue my dream as a professional golfer and also learn different cultures," she said.
Related Topics