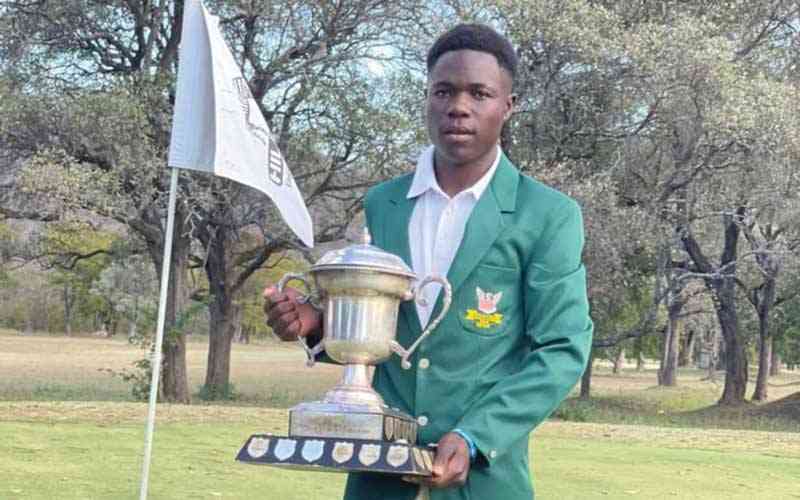 WINGATE Park Golf Club-based amateur golfer Munashe Ndaruza is relishing the opportunity of representing the country for the first time in international competition at the All Africa Golf Team Championship in Egypt from September 27 – 30.
The rising star, who grew up in Harare's high density surburb of Glen View, has been has been enjoying a memorable season on the domestic circuit after capturing five titles.
Ndaruza started the season in style by clinching the Julius Robinson Trophy on his home course at Wingate before going on to win the Chapman Grand Slam, the Masvingo Amateur Championship, the Roland Park Open and most recently the Bata Power Open.
The promising golfer, who celebrates his 21st birthday on Saturday, will be joined by fellow top amateurs Keegan Shutt, Clifford Muchenje and Tanaka Chatora at the continental competition which has over the years been dominated by neighbours South Africa.
Ndaruza, who is currently the highest ranked player on the Zimbabwe Golf Association (ZGA) Order of Merit Standings, said he was excited by the opportunity to representing the country at such as prestigious competition.
"It feels really great to have to have the chance to compete and represent Zimbabwe at such a big event. Im looking forward to gaining some experience from the exposure which comes in competing in such tournaments," Ndaruza said.
While Ndaruza is now on the verge of representing Zimbabwe at one of the biggest stages in African amateur golf, not so long ago his dream was to represent the country in football.
Despite his father's close links to Wingate Golf Club, where he works as a greenkeeper, Ndaruza was more interested in football.
"I was a soccer fanatic and during my high school days I used to take it seriously so much that I dreamt of myself following the footsteps of Peter Ndlovu. I never had plans for golf and I am actually surprised with the strong affection that I now have towards this sport," he said.
"I developed a passion for golf at a later stage when I got a chance to join Wingate Golf club. I used to think that golf is only for the rich man and I am actually surprised by the wins that I am attaining in every tournament that I participate in."
Ndaruza, who is inspired by former World number one golfer Tiger Woods said he hopes to continue representing Zimbabwe in more international tournaments in the future.
"My goal now is to represent my country at more international tournaments and I am very confident that I am going to make my country proud.
The 2022 All Arica Amateur Championship will see the countries will battle it out once again in a 72-hole stroke play format with the best three scores counting towards the team total in each round at the El Gouna Golf course in Hurghada, Egypt.
South Africa won the inaugural biennial event in 2001 and consequently triumphed in Botswana (2003), Uganda (2005), Namibia (2007), Egypt (2011), Swaziland (2013), Kenya (2015) and Zimbabwe (2017).
Follow Terry on Twitter @madyautatpm
Related Topics