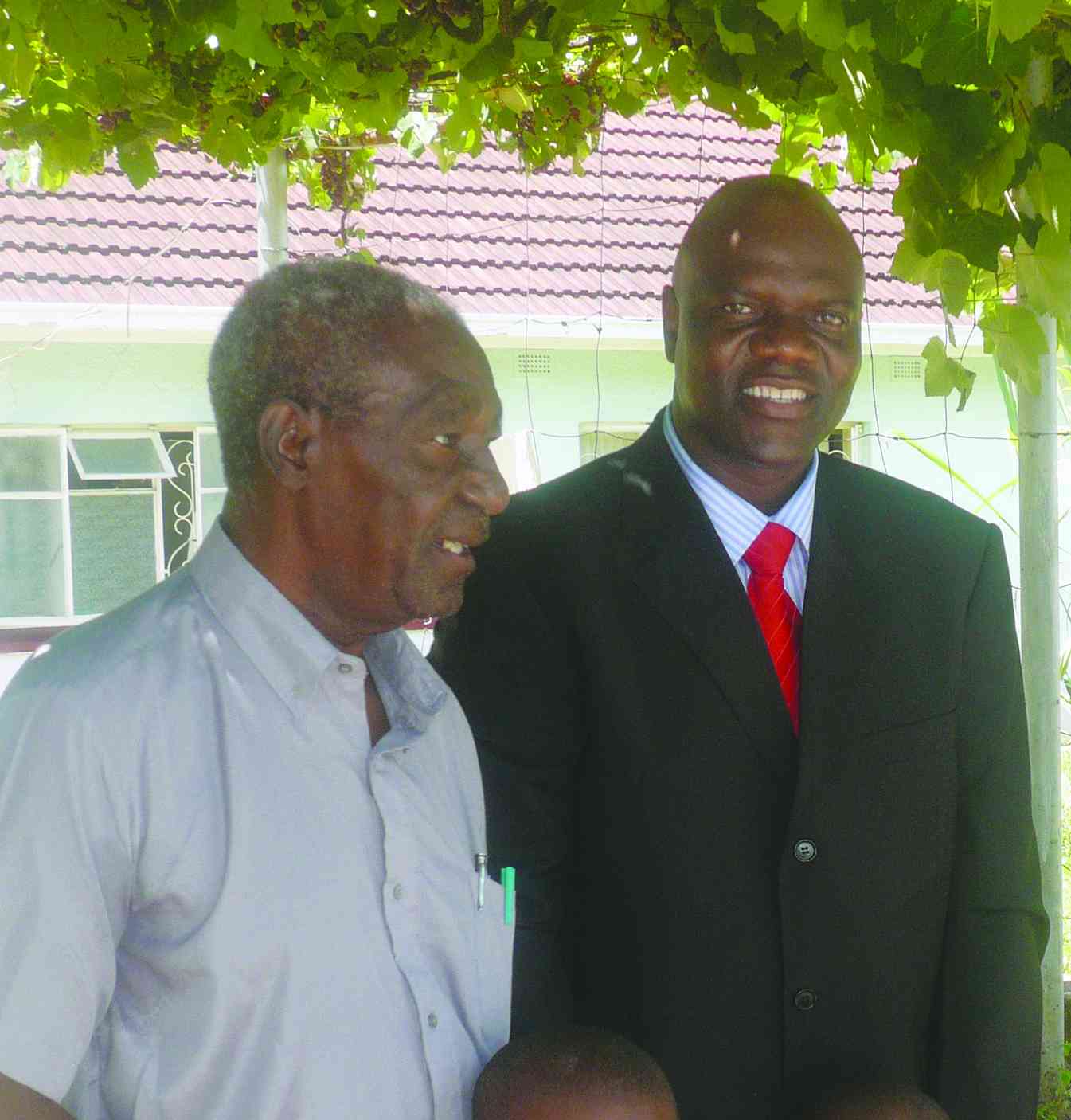 BELOW is an excerpt from In Search of the Elusive Zimbabwean Dream, Volume III (Ideas & Solutions) by Professor Arthur Mutambara
There is a physical fight between Edgar Tekere and Enos Nkala in detention.
The incident is narrated in Professor Ngwabi Bhebhe's biography of Simon Muzenda titled Simon Vengayi Muzenda & the Struggle for Zimbabwe.
According to Bhebhe, Tekere and Nkala were always feuding and insulting each other ad nauseam.
During one particular episode, a fellow detainee, Robert Mugabe, suggested that this quarrelsome duo be allowed to fistfight.
"We are tired of their unending primitive wrangles. Let them fight. Violence settles matters completely," Mugabe is alleged to have said.
When I put this story to him, Mugabe denies having such a crude philosophical disposition about the efficacy of violence.
"How can I say something like that?"
Nevertheless, he confirms the boxing encounter, but challenges the veracity of certain aspects of the story narrated to Bhebhe by veteran politician Eddison Zvobgo.
Mugabe says: "Tekere was not defeated or out-boxed by Enos Nkala. That is not correct. Tekere bloodies and swells up easily. That is why he looked trounced. They were separated before there was a conclusive end to the fight."
So, the wily fox, the Machiavellian gladiator was carefully watching the fistfight with a scoreboard in hand.
In an unrelated discussion, Mugabe has a scathing view of Zvobgo as a fellow detainee.
He explains: "Every year, there was this practice where government officials would come to the detention centres to listen to those who want to plead for mercy.
"Three detainees distinguished themselves by never subjecting themselves to the undignified act of pleading — Morton Malianga, Enos Nkala and me. (Eddison) Zvobgo would plead every year.
"In fact, he would go to the detention gates and enquire when those handling the pleading exercise were coming! What a coward! Being in detention with Eddison was a miserable experience. He would literally beg the colonial government to release him so he could join his wife and children. He was desperate to go out of the country to further his studies — away from the hardships of the struggle.
"If anyone tried to restrain or discourage him from begging the colonialists, he would shout: 'Leave me alone,' and become completely unco-operative and disagreeable. What a nuisance! When he is eventually released from jail in 1971, he is upset with the party — Zanu, asserting that it did not do enough to look after his family.
"He says: 'I have done my stint,' abandons the struggle and heads to the United States to study in 1972. From Salisbury, he goes through Botswana and refuses to visit the Zanu offices in Lusaka, where Herbert Chitepo and Josiah Tongogara are prosecuting the liberation war.
"Having been part of the leadership in the formation of the ANC in November 1971, an outfit established by Zanu and Zapu to campaign against the 1971 Anglo-Rhodesian Settlement Proposal, he overstays in the ANC when most Zanu cadres withdraw.
"In 1976, he then comes back to Zanu with Michael Mawema, as we head towards the Geneva conference, saying they want the positions to which they were elected at the 8 August 1964 Zanu Gweru Congress. Eddison Zvobgo had been appointed deputy secretary-general of the party at that inaugural Zanu Congress.
"No one in Zanu in Maputo in 1976 is interested in the duo's claims. When he approaches Zanu in 1976, Zvobgo has written a small booklet on me, praising and eulogising me. It is all quite embarrassing.
"Eventually, he comes to join us in Mozambique in 1977. This time, he is alone without Michael Mawema. His standing in the party is diminished.
"He has to re-establish himself within the party ranks, starting as deputy-secretary for information and publicity. When we arrest and detain Rugare Gumbo and his co-conspirators in 1978, Zvobgo then becomes the secretary for information and publicity.
"This leads to him being party spokesman at the Lancaster House Conference, which ran from 10 September to 15 December 1979, with the Lancaster House Agreement being signed on 21 December 1979.
"For someone appointed deputy secretary-general at the inaugural Zanu Gweru Congress of 1964, Eddison could have achieved much more in the party. His shenanigans and prevarications constituted his Achilles' heel. In fact, politically, he never fully recovers from his previous treacherous misdeeds right up to his death in 2004."
That is Bona's son's take on Zvobgo.
Of course, Mugabe's disparaging assessment of Zvobgo must be viewed as that of a politician — driven by tribalistic instincts — appraising a rival belonging to a different ethnic group. On his part, Zvobgo also occasionally launched scathing attacks against Mugabe. For example, he alleges that while in detention, Mugabe would fail all his university exams at first take and only pass at the second sitting.
"We used to laugh at him each time we received exam results in detention," Zvobgo would mischievously retort as he ridicules and chides Mugabe.
He also mocks Mugabe's pursuit of many undergraduate degrees as a sign of an inability to pursue a PhD: "Obtaining five undergraduate degrees is like taking and passing the Grade 7 examination five times and feeling proud about it. What moron does that? Why don't you proceed to Form 1? At this rate, will you ever get to Form 4?"
The witty and articulate Zvobgo would disparage and humiliate Mugabe in open settings where he knew someone would relay the message to Mugabe.
He couldn't care less. In fact, it was Zvobgo's intention for Mugabe to receive the insults. Indeed, there was no love lost between the two distinguished Zimbabwean nationalists. Incidentally, with respect to the PhD put-down, this is an academic qualification Zvobgo himself pursued in the United States, but did not finish.
Many Zimbabweans do not know this dirty little secret.
I met Zvobgo's Tufts University (Massachusetts, United States) PhD academic supervisor — Prof Robert Rotberg — during my two stints at the Massachusetts Institute of Technology (MIT) in the United States, in 1995 and 2000.
He is clear and unequivocal on the matter.
Rotberg says: "Every time I meet him (Zvobgo), I ask him: 'Why do you go around calling yourself Dr Eddison Zvobgo?' and Zvobgo says to me: 'But Prof, I almost finished it!' Well, well, he did not finish his PhD. He can come and complete the doctorate if he wants to be known as a PhD.
"I will supervise him. I am still available as his PhD thesis advisor."
That is the position of Prof Rotberg, Zvobgo's PhD supervisor. He is still alive, 88 years old, and can confirm the above conversation.
Anyway, back to the petty jealousies, competition and idiosyncrasies among the nationalists. Zvobgo shares Tekere's virulent assertion about Mugabe:
"That man is just not intelligent!"
He also agrees with Rugare Gumbo's description of Mugabe as a "man with an inordinate lust for power".
Although Robert Mugabe and Edgar Tekere had bitterly differed and acrimoniously parted ways, Mugabe maintains begrudging respect for and deference to Edgar in private discussions with me.
He remarks: "Oh, Edgar Tekere, he was always principled in all his stances and actions! Indeed, principled to a fault."
I am pleasantly surprised, for I am very fond of Edgar Tekere, having grown up in awe of his hair-raising anti-corruption outbursts and flamboyant manner of speech delivery.
As students at Hartzell High School and the University of Zimbabwe, we were great fans of Cde Edgar Tekere.
Even now, as I participate in the government of national unity (GNU) with Robert Mugabe, I am in touch with Edgar and invite him to speak at several national events I organise. His delivery and impact are outstanding. He is phenomenal.
The relationship between Mugabe and Tekere degenerated soon after Zimbabwe's Independence in 1980, leading to a massive and irretrievable fallout. This culminated in Tekere's expulsion from Zanu PF on 21 October 1988 and his formation of the opposition party — the Zimbabwe Unity Movement (ZUM) — on 23 April 1989.
Although he does not mention it, Mugabe is immensely relieved that despite their ugly, deeply personal and highly publicised differences, Tekere, in his 2007 autobiography — A Lifetime of Struggle — does not opportunistically cast aspersion on Mugabe's character over the death of Tongogara.
In fact, Tekere absolves Mugabe of any wrongdoing concerning that tragedy.
The correctness or lack of it of Tekere's position is addressed elsewhere in this current book.
Tekere was probably not in the loop with respect to the elimination of Tongogara.
However, in that same memoir, Tekere does brutally de-glossify and debase Mugabe's liberation struggle record when he alleges that Josiah Tongogara, with the tacit concurrence of Machel, says: "Mugabe was a sell-out incapable of discharging the task at hand — the liberation war."
In the autobiography, Tekere refers to conversations that he had separately with President Samora Machel and Zanla chief of defence Josiah Tongogara.
They were planning a counterattack after the Chimoio massacre of 23 November 1977: "I arrived by plane from Beira at about 8.00 in the evening, and we (Machel and I) spent the whole night in discussion, reviewing the situation.
"Eventually, we agreed that we would meet again the following night, each accompanied by a military delegation.
"And Machel said to me, 'I respect Mugabe, but he does not measure up to this scale of military operation and planning. He does not belong as a soldier.'
"In fact, the military Machel did not much like Robert Mugabe."
The first night of planning had only involved Tekere and Machel.
Given Machel's reservation about Mugabe, Tekere felt it prudent to rope in Josiah Tongogara, and not Mugabe, in the next session of military planning: "I immediately requested that Tongogara be brought from Tete. The second night's discussion was much more detailed. We were planning a counter-response to the Chimoio massacre.
"After the meeting, I said to Tongogara: 'Look here, you are going to see president Mugabe to make a courtesy call, but don't give him a lot of details about this meeting.'
"Tongogara leapt to his feet with: 'Now you have heard it yourself! You are the one who brought a sell-out here! Look how many of the people have been killed!'
"He continued, 'I told you not to bring him here — but you only believe what I said now because Machel has told you!'
"I did not react but was shocked at the extent of Tongogara's anger against Mugabe."
From their entry into Mozambique in 1975, up to the Chimoio massacre, Tekere had always supported Mugabe and worked with him as an effective and dynamic duo.
During this period, he would always eloquently emphasise that: "The secretary-general — Robert Mugabe — and I were sent from Zimbabwe to Mozambique by the Zanu leadership to lead and reorganise the armed struggle after the death of Herbert Chitepo."
Now, with Tongogara's unambiguous, palpable and vitriolic disdain and unrestrained antipathy towards Robert Mugabe, Tekere has to do some serious soul searching as expressed in his memoir: "Sometime later, I brought up the subject again with Tongogara. 'Are you saying I brought a sell-out?'
"This time, the two of us analysed the situation and realised that we were both equally apprehensive that Mugabe might let us down."
As explained earlier, the antipathy of Machel towards Mugabe is manifest right from his entry into Mozambique with Edgar Tekere in 1975.
In his 2011 memoir — Dzino: Memories of a Freedom Fighter — Wilfred Mhanda talks about Machel's palpable anger when they, as the Zanla part of the Zipa leadership, presented Mugabe as the leader of a potential Zanu leadership line-up.
This matter was presented earlier in this current book.
It is important to note that Machel had isolated and banished Edgar Tekere and Robert Mugabe to the coastal town of Quelimane, which was far removed from both the refugee camps and the border with Rhodesia because, in his own words, he "did not trust Mugabe".
In Miles Tendi's book The Army and Politics in Zimbabwe, Mugabe confirms Samora Machel's initial undiluted antipathy towards him: "Samora wanted to know precisely who I was, where I was from and whether I was a Smith man (spy) ... he said to me point-blank, this man must be a Smith man.
"But eventually, he got enough information that I was genuine and let me go to Geneva (in 1976) as the leader of Zanu."
In my discussions with Mugabe, he does not acknowledge or say much about his forced stay in Quelimane.
Machel's strongly negative views about Mugabe in his early months in Mozambique are also confirmed to me in graphic details, sprinkled with fascinating humour, by General Solomon Mujuru during one of our many elaborate conversations.
In fact, Mujuru lucidly explains how he experienced and solved the animosity of Samora towards Mugabe. He is quite clear and proud about his role as Kingmaker.
On his part, Mugabe, in our conversations, begrudgingly acknowledges Mujuru's intervention but adds another curious dimension: "In fact, Mujuru was our (Mugabe and Tekere's) spy among the Zipa commanders. This explains why we were able to decimate Zipa easily."
Wow! What riveting and explosive revelations!
All these fascinating accounts are carefully detailed in later chapters dealing with Mugabe, Mujuru and Zipa.
Prof Mutambara is the director and full professor of the Institute for the Future of Knowledge at the University of Johannesburg in South Africa.
Related Topics