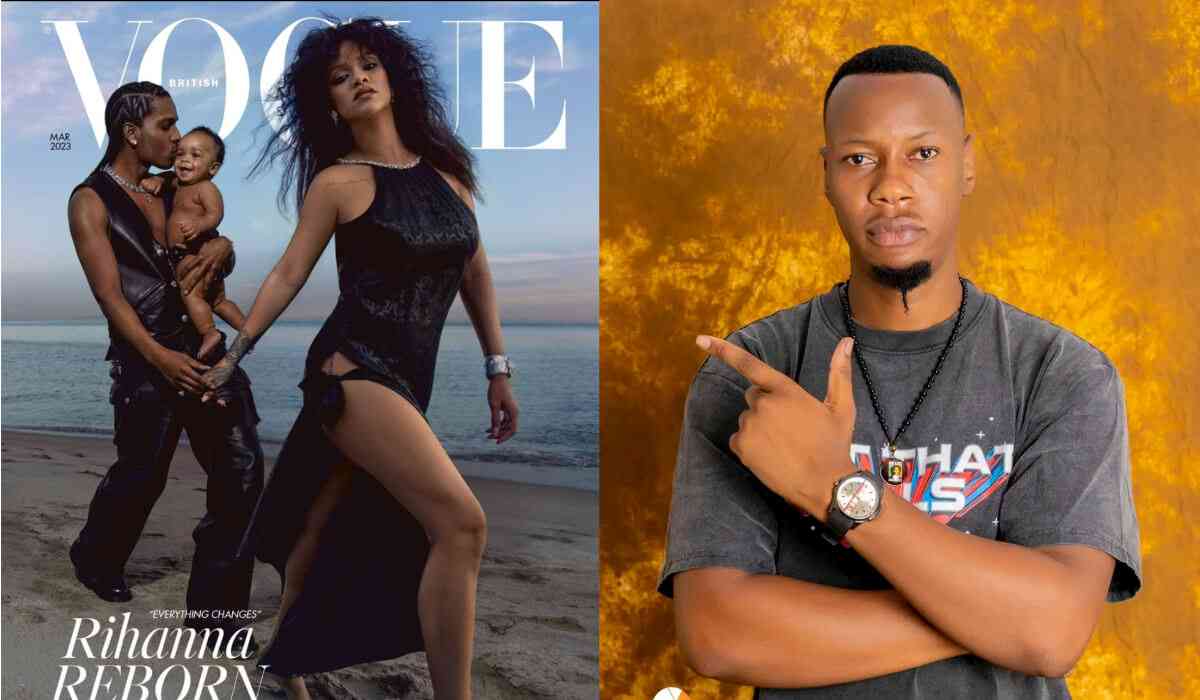 RECENTLY, I was lounging in bed as I recalled the fascinating days, filled with mixed emotions, of our dearest departed former president Robert Gabriel Mugabe and my partner jokingly informed me that there was a meme doing the rounds. It was about a man named A$AP Rocky (Rakim Athelaston Mayers) — an American Rapper, who had impregnated a billionaire twice; his partner Rihanna (Robyn Rihanna Fenty), a Barbadian singer, actress and businesswoman.
I half-heartedly laughed it off and continued enjoying my much-needed public holiday.
Fast forward a couple of hours later, the same couple was now trending but now, with a brand-new twist — our very own Fella In Versace @ShadayaKnight was at the helm of the twitter trend having made some very intriguing remark about the aforementioned couple. His insight bordered around the couple's appearance on the cover of Vogue British. It has been quite an interesting social media frenzy since this narrative and it gave me some inspiration to reflect on.
Misogyny
Let me start by clarifying that I like Shadaya for the very interesting conversation he makes — sometimes for some painful truths and other times, as a black, African feminist, I question his way of thinking.
Now, coming to his Tweet about Rihanna and A$AP, I am not sure I agree with his thinking. To say that A$AP is emasculated because he is holding his child and Rihanna "leading" him by holding his hand is just not wise in enhancing the narrative of what we are promoting as healthy masculinities.
There is a picture that is often shared of a man walking in front of his wife — the man has a walking stick and the woman is carrying a baby on her back, holding the hand of another, has a bag on her head and is struggling to balance many things as the man walks freely ahead.
That cannot be the kind of leadership we want to see as we promote equality of the sexes. There is everything wrong about women being the ones to carry the burden of unpaid care work and couple that with the already limited opportunities to excel in other circles outside the domestic sphere, we have a major challenge on our hands as humanity.
Now, on the other hand, when men can be appreciated for upholding both their feminine and masculine selves, we have won. A child belongs to both mother and father — it is only natural that both parents should be involved in ensuring that the child is socialised according to a set of agreed frames that promote the development of a healthy human. This is not feminist; it is basic human development.
Society has twisted this very natural notion to place the burden of care on the woman in spite of the fact that both parents can take great care of the child.
It is quite concerning for anyone in society to perpetuate the notion that men being actively involved in supporting their partners in raising children, in tehri careers and ensuring a balance of family life is emasculating.
What kind of a man has such a weak perception of manhood? It is very important that as we advance being human, a balance of enhancing the framing of being parents, man or woman is defined by more than mere roles that society has subscribed to each one of us. There is more to a human than what society dictates and in such a global world, such roles vary from society to society. An understanding and unpacking of such truths could be useful in ensuring that as social influencers, we do not enhance toxic masculinities that result in perpetuating misogynistic realities. It is retrogressive to human development and what the world is attempting to influence with much contextual clarity and knowledge.
Rethinking emasculation
Emasculation is the removal of the external male sex organs. When we talk of emasculating a man, it is the fixation that their whole being has been demeaned because "a major part" of tehri manhood — their male sex organs have been trashed somehow.
Well, there is more to being a man than that — look at you dear reader widen your eyes — well, that is super true.
As we seek to redefine what it means to be a man — let us also include the notion ensuring that men support their partners even within the domestic spheres.
Raising a child, having a woman lead and supporting her is as sexy as life unfolds. It is rather a source of intimacy that men can be okay with ensuring that they step up and show up for their woman.
It is not only recommended but encouraged to foster a culture of leading by example so that the younger generations redefine masculinity and manhood outside gender roles. Having said that, I support those who weighed in on twitter speaking out against unhealthy masculinities and to those who added a twist of humour to the whole narrative by sharing a photo of Shadaya being led by his own female companion, well, it made for a cathartic release.
Change can be very painful and difficult, especially when looking at society and what has been since time immemorial.
However, it is important and I am grateful that Shadaya's trending Tweet made for deeper reflection and insight on what is critical in supporting the enhancement of transforming society and how it thinks.
We have a responsibility to facilitate for change. It is never easy but doable. As we enjoyed the 21st February Movement Day, we were reminded that indeed, change is possible not just on twitter but in life too. Can we keep chasing and findingit?
Until then, we live, laugh and love louder in a bid to show the world that we were here, becoming better, making our mark, and leaving our footprint as we make the world a better place!
Chirenje writes in her personal capacity as a citizen of Zimbabwe. Twitter: @graceruvimbo; Facebook: Grace Chirenje; Instagram: @graceruvimbo
Related Topics