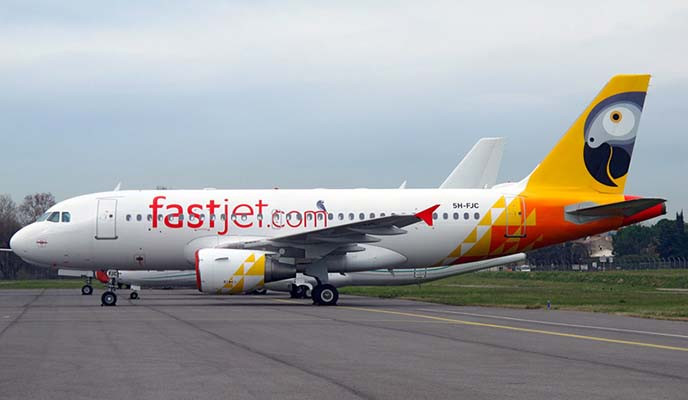 As tailwinds of a brutal pandemic scare sweeps through markets, a series of Sadc's major airlines have declared bankruptcies triggering significant uncertainty.
The Zimbabwean market has not been spared. But in this interview with the Zimbabwe Independent, Fastjet Zimbabwe accountable manager, Ed Berry (EB, inset) says he sees a stronger recovery in Zimbabwe and the region.
But before this happens, airlines must quickly adapt to the demands of a market that has been exposed to world-class service by international carriers. Here, he speaks to our senior business reporter, Freeman Makopa (FM).
FM: Please give us an overview of southern Africa's aviation environment during 2022.
EB: The aviation landscape in southern Africa continues to develop because of several factors. Of these factors, three have been major contributors to the development of aviation in the regions. These are government policies.
The Zimbabwean government recently engaged in the ratification process of bilateral air services agreements (BASA) with key states that serve the Zimbabwean destination.
These BASAs are critical in the development and extension of the air service agreements leading to airlines expanding their route network and adding frequencies, thereby creating employment and promoting local economies.
At the recent International Civil Aviation (ICAO) conference in Montreal Canada, Zimbabwe was elected to the prestigious ICAO Council, giving the country a seat on the global table where key and strategic aviation matters are discussed.
On infrastructure, the construction and development of Robert Gabriel Mugabe International Airport will bring to international standards the physical airport offering thereby improving the customer experience.
FM: Tell us more about these developments.
EB: We have witnessed an improvement in the level of collaboration in the industry be it airline to airline, tourism authorities, airport companies and civil aviation authorities. This has created an environment for the industry to speak with one voice and work together in the development of the industry.
As fastjet, we demonstrated in 2022 our commitment in the improvement of Zimbabwe's air accessibility. We launched two key routes linking Victoria Falls to both Maun, the home of the Okavango Delta in Botswana and Nelspruit Kruger Mpumalanga in South Africa.
Both routes connect Victoria Falls to some of the region's most sought-after destinations with a reliable scheduled flight network. Other airlines have launched notable services connecting Victoria Falls to Europe and Bulawayo to an East African hub.
FM: What has been the market's response?
EB: The response has been encouraging and we continue to receive both future bookings and enquiries on these routes. However, like any other new route, especially those of a leisure nature, there are periods when demand is on the low side, and we continue to engage with our tourism partners to ensure that we continue with our collaborative approach to promoting these destinations. The future remains encouraging.
Once a reliable flight service has been established, the trade is known to promote it and sell it more to their source market. As demand improves, we will continue to review our performance and look at ways of responding in such a way that we aid this growth.
This can be in the form of adding more frequencies or adapting flight timings or introducing product attributes that meet the ever-changing traveller expectations. The region has fully opened after two years of the pandemic. There are opportunities in the region from point-to-point cities to leisure attractions. There are so many untapped opportunities in the region that airlines can exploit.
FM: How many passengers did you carry in 2022?
EB: Compared to 2021, our traffic figures in 2022 were much healthier. We are working hard to ensure that our figures continue on this trajectory. As a proud Zimbabwean airline our aim is to continue providing reliable air service to and from Zimbabwe.
Since commencing operations, fastjet has flown over 3,5 million passengers and we have established ourselves as a reliable African airline brand, with a range of value-added products and services.
The year 2021 was a suppressed period and most countries still had stringent Covid-19 protocols. This made entry requirements difficult and resulted in people not travelling. Following the lifting of Covid-19 measures, we have witnessed more people travelling for both business and leisure and this has kept us very busy.
We have had a successful 2022, with new routes being launched and a number of key internal projects being implemented. This success has seen fastjet being listed in the Top 10 of Africa's Best Airlines by the SkyTrax World Airline's Award.
FM: Tell us about consumer tastes before Covid-19 and now. How is fastjet adapting to these dynamics?
EB: In essence, customer tastes have not changed that much before and after Covid-19. The average customer still requires a reliable and cost competitive airline product that is safe. What we have done as fastjet is to make the whole booking and payment easier.
Just after the pandemic, we introduced extended payment options at Chicken Inn outlets and CBZ banks across Zimbabwe.
A customer can book for their flight on our website www.fastjet.com and pay for their tickets at their nearest CBZ Bank or their local Chicken Inn outlet.
As a customer centric airline, we have introduced the fastjet mobile app available on Android and iOS.
The app provides customers with the ultimate convenience and flexibility in interacting with fastjet and all bookings made via the fastjet app have a 5% discount across our network of flights.
FM: What is your market share in Zimbabwe?
EB: We continue to compete on the local market offering a reliable service across three key points in Zimbabwe namely Harare, Bulawayo, and Victoria Falls. We are delighted with our contribution towards the building of both the tourism industry and local economy at large. Effective March 27 2023, we introduce flights to Hwange National Park and Kariba from Victoria Falls and Harare.
This will bring to five the domestic destinations that we operate in Zimbabwe. Customers will continue to demand simpler ways in their customer experience journey. I foresee digital capabilities playing a key role in the future when it comes to influencing a customer purchase decision.
The more airlines answer this question coupled with their good schedule integrity the more customers they will attract and retain, thereby growing their own market share.
FM: What is going to be influencing these market share trends?
EB: The airline industry is a highly competitive environment. Airlines will need to continuously improve their service offering. As customers travel more abroad, they are exposed to better services and better aircraft, and when they return home, they are demanding such services.
This will influence the airlines to relook their fleet strategy and service delivery to keep up with customers tastes and appetites. However, a delicate balance must be achieved because of the razor thin margins of the industry more so here in Africa.
FM: How has your route network evolved compared to when you started in 2015?
EB: Since starting in 2015 we have had a very interesting flight. We started off with an Airbus A320 aircraft. Unfortunately, at that time the aircraft was slightly bigger than what the market could support, and we had to reconsider and regauge our fleet strategy.
We introduced leaner capacity aircraft, the Embraer ERJ145 that are better suited for our regional and domestic market offering 50 seats per flight. This allowed us to offer flights multiple times a day offering the market the flexibility to choose flights with timings that better suit them.
FM: How does Zimbabwe compare with other markets in terms of passenger numbers?
EB: Zimbabwe is a relatively growing market, and you cannot compare the numbers with a country like South Africa, for example, with a population of almost 60 million people. We take pride in continuing to grow together with the Zimbabwean market.
Related Topics