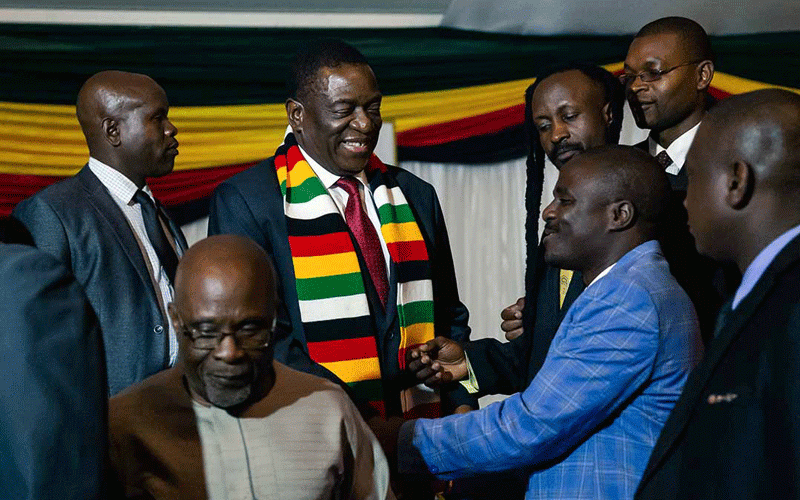 It's time for Davos again. By the time this is published, Davos would likely have come and gone. The annual World Economic Forum (WEF) meeting convenes under the theme of "Cooperation in a Fragmented World".
Heads of state, business leaders and academics, journalists, activists and even a celebrity or two will mix and mingle to figure out how best to map the road ahead for a world grappling with political, environmental and economic issues.
Davos (and the WEF by extension) has been praised as a necessary space for critical conversations, establishing global connections and striking deals. It's also been criticised as an elitist space that advances the agenda of the privileged few. Nevertheless, the meeting is a must on the diplomatic calendar.
It's a meeting that President Emmerson Mnangagwa has attended before. His first appearance was in 2018, fresh off his appointment as president and riding a wave of international press coverage. He attended Davos with a mission: to introduce his vision for Zimbabwe's foreign policy on the global stage.
It's a vision that he had given glimpses of in his time as vice president. Wearing his now trademark flag-inspired scarf, Mnangagwa proclaimed that Zimbabwe was "open for business."
It's a message he repeated at the 2022 edition of Davos, where he met with other leaders such as Paul Kagame and Lazarus Chakwera. Zimbabwe's participation at the WEF meeting - as well as attending COP26 and COP27 - are part of a foreign policy aimed at reestablishing the country on the global stage. Catchphrases such as "open for business" and "friend to all and enemy to none" pop up in speeches, press releases and interviews.
With general elections coming up and the voting public looking more critically at what each party has to offer, it's worth looking at the government's foreign policy and what's come out of their efforts of engagement and re-engagement.
Before delving into current approaches and programmes, a quick history of Zimbabwe's foreign policy is in order. With Independence in 1980, Zimbabwe established a Ministry of Foreign Affairs with Simon Muzenda as its first minister. The first foreign policy outlook was similar in strong ways to the current version: establish and maintain friendly relations with other countries; be a strong advocate of Pan-Africanism within organisations such as the then Organisation of African Unity (OAU); and most importantly, translate good relations into opportunities for development, trade and prestige.
A key difference is that post-Independence foreign policy focused more on political aspects.
After all, political lobbying and negotiations from neighbouring African countries, the OAU and the international community were a benefit to the liberation movement.
This politics-focused approach was somewhat successful.
Zimbabwe was a founding member state of the Southern African Development Community in 1992. The government was a vocal critic of the apartheid government in South Africa, which resulted in two bombing attacks in 1987 and 1988 targeting ANC members and anti-apartheid activists in Harare and Bulawayo respectively. Mugabe's administration also supported independence for Namibia.
The Zimbabwe National Army was part of the Second Congo War in support of Laurent Kabila and his government. However, Zimbabwe's relations with the West (in this case, the US, the UK, Canada and Europe) have flipped from friendly, to strained, to outright hostile.
Zimbabwean governments had a difficult time with Republican administrations in America. Although relations with the UK started off well in 1980, they gradually deteriorated along with the Zimbabwean economy. Things came to a head during the land reform programme in the early 2000s.
In a paper for the Afro-Asian Journal of Social Sciences, Jefferson Ndimande and Knowledge Grey Moyo explain, foreign relations with the West after the land programme sharply deteriorated. The US, UK and the European Union introduced targeted sanctions against Zimbabwean individuals and companies. Zimbabwe was suspended from the Commonwealth, and formally withdrew from the organisation in 2003.
The Second Republic of Zimbabwe has chosen a different approach. Although many positions and relationships have stayed the same, there was also a significant shift.
A name change for the ministry also indicates the biggest change in the current government's foreign policy approach. In 2017 it was renamed the Ministry of Foreign Affairs and International Trade, shifting from political to an economic focus. Re-engagement with the West - specifically Britain and the US - was a top priority. It's why Zimbabwe had a delegation going to Davos in 2018 in the first place. In an interview for the Financial Times in January 2018, Mnangagwa reiterated his new approach. As he put it: "Zimbabwe wants to reintegrate with the international community; Zimbabwe will accept those who accept her."
Is this new approach working?
It's been a mixed bag so far.
The Commonwealth sent a Secretariat mission in November 2022, indicating a step towards Zimbabwe rejoining the organisation. The government granted land for the African Export-Import Bank to establish a Afreximbank Africa Trade Centre in Harare.
The Political Actors Dialogue was launched in 2019 with the intention of creating space for dialogue with political parties, with the aim of showing a commitment to political cooperation and transparency.
At the heart of the government's foreign policy has been the issue of sanctions. Targeted sanctions have been a thorn in the side of successive governments since they were introduced. Mnangagwa's speeches at the United Nations have balanced his message of "open for business" with calls for the lifting of sanctions. However, the efforts to lift targeted sanctions have not been successful.
The anti-sanctions campaign has support from the AU (with AU Commission Chair Faki Mahamet issuing a statement in 2022 calling for the end of sanctions) and Cyril Ramaphosa used his state visit to the United Kingdom to advocate for the lifting of sanctions and Zimbabwe's readmission into the Commonwealth. Despite all this, the US, the UK and the EU have maintained their lists of sanctioned citizens and companies.
In 2022 the US Department of State did remove 12 people from its Specially Designated Nationals List. However, the department added four people to the list and two companies, Fossil Agro and Fossil Contracting. While the list may shrink and grow over time, the odds of it being removed completely in the immediate future are slim.
The theme of "Cooperation in a Fragmented World" highlights a simple truth: no country can function in isolation from others.
Maintaining good relations with foreign countries has a range of economic, political and even social benefits. It's arguably a position the government understands and has tried to follow over the past six years. With elections this year, whichever party ascends to power will have to craft its own approach to how to navigate diplomatic terrain.
Muzenda is a writer and analyst. These weekly New Horizon articles published in the Zimbabwe Independent are coordinated by Lovemore Kadenge, an independent consultant, past president of the Zimbabwe Economics Society and past president of the Chartered Governance & Accountancy Institute in Zimbabwe (CGI Zimbabwe). — kadenge.zes@gmail.com or mobile: +263 772 382 852.
Related Topics