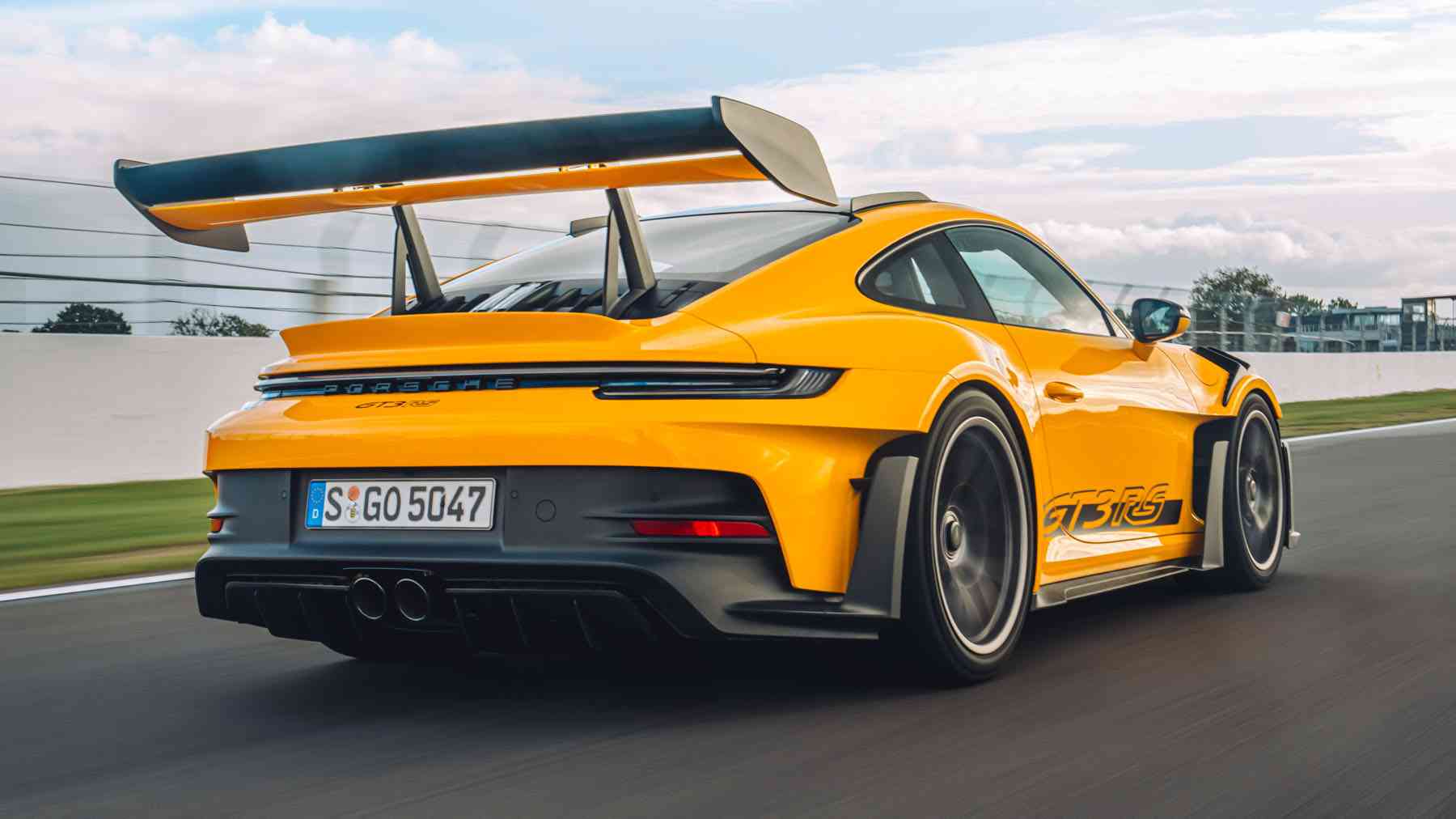 WHEN people talk of "winged wonders" they typically mean fluttering butterflies that glide through the air on wings so thin that even a piece of paper may surpass their weight.
Butterflies are mythical creatures that have inspired countless poets, artists, and young ladies considering getting their first tattoo. I will admit that I do not often express my admiration for the vibrant moths in public because their picture has become so well-known and they appear to be overexposed.
But even putting aside the subpar artwork and dreadful love ballads, nothing beats being able to touch a genuine butterfly. Whatever you may or may not have heard about them, watching this weak creature make its way into the air with such strength is a genuinely inspirational sight.
The Porsche with wings rules the roads when it comes to driving. Those wings are impossible to overlook as they cut through the air while mounted on one of the quickest vehicles ever made.
The most recent Porsche 911 GT3 RS features revolutionary aerodynamics that makes it the perfect track tool with a licence plate. I hardly ever evaluate sports cars on my page, but the temptation is great if it is a Porsche or Ferrari. These are the grand dads of sports cars.
Given the abundance of performance vehicles on the road today, one might assume that the new 911 GT3 RS, the most track-focused production Porsche ever, would lose its meaning and significance.
However, as I mentioned, this is a Porsche, one of the best sports cars on the market.
The GT3 RS, which is essentially a race car with a licence plate on it, is the product of decades of motorsport expertise being condensed into what may be the most thrilling and uncompromising road-legal vehicle.
Except that it is not truly a road vehicle, aside from conveniences like air conditioning and an infotainment system (which cannot be removed for purists).
Its natural habitats are the BIC and MMRT, where with the appropriate driver; it could quickly set lap records for production cars. The focus of the newest Porsche is speed—blinding speed — and it looks the part even when it is stationary.
Massive wings are characteristic of track-bred 911s, but the GT3 RS&'s take it a step further. The enormous rear wing, which is large enough for the Porsche management team to use as a conference table, establishes the aerodynamics-focused design philosophy of the new GT3 RS.
Aerodynamics
The new GT3 RS, which the manufacturer claims was fine-tuned in a wind tunnel, boasts a series of ground-breaking aero aids that produce a record downforce of 860kg at 285kph. Porsche has brought F1 technology to you in order to give you the best of both worlds — down force in corners and minimal drag down the straights — because that kind of air pressure may be good around curves but not on the straights.
The Drag Reduction System (DRS), which may be turned on automatically or manually, is a first for Porsche. The car's aerodynamic efficiency around a circuit is optimised in the pursuit of the fastest lap time, in addition to giving you the feeling that you are Messrs. Hamilton and Verstappen.
F1-style DRS makes its road car debut in the new GT3 RS. It hydraulically operated active rear wing flap for the most downforce or the least drag. The hydraulically operated rear wing flap of the GT3 RS can be controlled by a button on the steering wheel. It can be snapped up for downforce or shut flat for minimal drag. Otherwise, DRS will automatically engage when you exceed 100 kph, reach a rev limit of 5,500 rpm, have at least 95% of the throttle open, or experience lateral acceleration of less than 0.9g. When you barrel into a turn and apply higher g-forces, the system senses you need more downforce and raises the back wing.
Engine
Speaking of the engine, the new GT3 RS has the same 4.0-litre flat-six engine with naturally aspirated power that screams to an insane 9,000 rpm. Power has increased by a very slight 4KW to 392kW thanks to hotter camshafts.
There is no manual transmission available, and the basic seven-speed PDK gearbox has a lower overall gear ratio than the 911 GT3. But unlike a turbo engine, it is obvious that this Porsche's naturally aspirated engine has reached its limit, and Porsche has squeezed out everything it could. But by no means does that imply that it is a slow automobile.
The pure and thrilling driving experience of the GT3 RS will make you happy for days.
It can accelerate quickly, reaching a top speed of 296 kph in 3.2 seconds from a standstill. However, the aerodynamics of the new GT3 RS are what set it apart, and Porsche's obsession with aero can be seen in even the smallest of features like the suspension's wing-like wishbone arms, which produce 40 kg of downforce at Vmax!
Every duct, vent, and scoop on the 911 GT3 RS&'s body are actually there to properly and efficiently harness every molecule of airflow rather than only for aesthetic purposes.
Interior
Typical of RS is the all-black interior with black leather, black Race-Tex, and carbon fiber accents. The Weissach Package, which adds carbon fiber accents to the mirrors, enormous rear wing, bonnet, and roof, is an additional cost.
A steel roll bar, fire extinguishers, and a six-point harness are all included in the Clubsport package, which is available at no additional cost if you enjoy track days or racing.
As soon as you settle into the supportive carbon-fiber seats, you are in Porsche land. They feature a small cushion, but the overall support is excellent, making them very comfortable. And even while sitting in the tightly curved bucket, you feel swift.
Sport Seats Plus is a free option that you can select if you would like greater padding and comfort.
Porsche's method of showing the engine is king is by placing a large tachometer in the center of the conventional five-dial instrument cluster, which redlines at 9,000 rpm.
The steering wheel features four dials to control a wide range of functions that can significantly alter the characteristics of the vehicle, which is another traditional Porsche design.
There are three driving modes: normal, sport, and track. In the latter, you may adjust specific settings like the differential lock rates and the bump and rebound rates of the suspension. You must be a true pro and have a race engineer with you to choose the optimal combinations for you since this is serious business!
Verdict
The spectacular 4.0-litre, six-cylinder engine is what stirs your soul, even though the new Porsche 911 GT3 RS is defined by its ground- breaking aerodynamics.
By supercar standards, it is not the most potent engine and lacks the top-end wallop of turbocharged competitors from Ferrari and McLaren, but it revs to an exhilarating 9,000rpm, is incredibly quick, and is powerful enough to push the GT3 RS to a top speed of 296kph.
Once more, it has to do with your ability to meter throttle inputs with millimeter accuracy to squeeze precisely the appropriate amount of power when negotiating turns.
The GT3 RS reached speeds of over 250kph when traveling down the Hangar Straight, with the seven-speed PDK gearbox executing each gear change smoothly. After 6,000 rpm, this fantastic engine feels stronger and continues to accelerate relentlessly until the jarring 9,000 rpm redline.
A thrilling tribute to one of the last great naturally aspirated engines before electric motors take over, the flat-magnificent six's engine tone is all the sound you'll want to hear. Do not give up hope just yet, though, since Porsche isn't going down without a fight. Every 911 GT3 RS on the course was filled with carbon-neutral synthetic fuel.
There is no reason to eliminate IC engines if they can be made carbon neutral, but western politicians and policymakers have made a different choice.
andrew@muzamhindo.com.
Related Topics