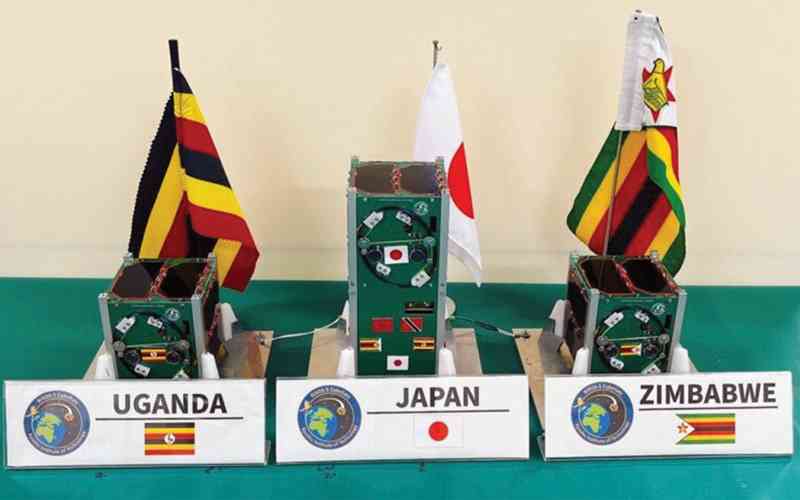 There were massive street celebrations all across Africa as Zimbabwe reached a historic scientific milestone this week, shaming detractors home and away.
Zimbabwe launched its first satellite into space, a device called the ZIMSAT-1. That it will be used for essential stuff like monitoring the weather, soils and water quality was lost on haters who had gone for all-night prayers to pray for the rocket carrying the satellite to crash into the American seas. Well, they were all shamed. The New Dispensation told you we would go to space, and you laughed. Who is laughing now?
Very soon, we will be going all across the country celebrating this major achievement of the Second Republic. Massive galas will be held from Mukumbura to Jichidza, and from Matusadonha to Maphisa. The people must know that, now that we have sent a satellite to space, they have no choice, but to vote for us. Our satellite will be watching them.
Pfumvudza marvel
Meanwhile, back on Earth, it was reported that there were even more international accolades for the Second Republic.
Pfumvudza charms Africa, screamed the Sunday Mail, one of the most trusted news sources on the African continent.
"We are happy that Zimbabwe is recording successes in their Pfumvudza programme and wheat production," the paper quoted a visiting member of the African Union Commission as saying.
We do not doubt that our shiny new airport, which is being built by the owners of the country, will soon be jam-packed with visiting delegations from all around the world, coming in to marvel at this cutting-edge farming technology of digging holes in the ground and filling them with manure.
Complaining a crime
A teacher has been arrested for one of the worst crimes in the country — complaining.
According to reports, one Edith Mupondi, who works at Epworth High School near Harare, was arrested after she posted on social media complaining about the so-called poor salaries that the government, in its generosity, has decided to spare for her kind.
According to prosecutors, Mupondi was charged under a section of the Postal and Telecommunications Act which makes it a crime to send "by telephone any message that she knew to be false for the purpose of causing annoyance, inconvenience or needless anxiety to any person".
This is good. More and more people need to be told about this important law, lest they fall foul of our ever-alert security agencies. How can someone complain about poor salaries, when they, according to the law, "know it to be false"?
Surely, we all know that teachers are the most well rewarded in the country. Why else would that group called Teachers 4ED be offering to teach for free as a show of patriotism? They have loads of money to spare.
Stand closed
In London, a group of Zimbabweans went on a junket to try and coax reluctant Western people to come and visit our country. This is despite the fact that we do not like them.
Arriving at the Zimbabwe stand at the World Travel Market, a major tourism expo there, some Zimbabwean patriots were met with the sign: "STAND IS CLOSED".
It turned out, according to reports, that someone had not paid the fees to the show organisers. One report said Deputy Tourism minister Barbra Rwodzi had to run around, tail between legs, to make the payment.
Naturally, officials blamed sanctions for the mess, claiming sanctions had blocked the transfer of payments.
But all Zimbabweans know that this was more likely a case of a very entrepreneurial official who decided that they had better personal use for the money than paying for services. It is a time-honoured tradition among our owners.
Permission required
A few opposition people decided they had something to say this week, and arranged a press conference. They soon found out that while you have freedom of speech, you need permission to exercise it first. You do not just open your mouth without consulting the country's owners. This is why patriots took time off work to remind Fadzayi Mahere and her CCC party officials of this fact, by removing banners from the venue and chasing everyone away.
Mahere later whined: "We are extremely grateful that our security intelligence team was able to counter the attempt by Zanu PF to try and violently attack leaders of the CCC who were conducting a press conference today."
The nation is alarmed to hear that a party other than the country's only real political party has a security department. What does the CCC need security for?
Our gratitude goes to the police, who rushed to the scene. Their mission, as always, was not to stop the thugs, but to make sure that oppression is done in an orderly fashion with no disruption from victims.
Forgetful Garwe
A government minister needs to be investigated after he was caught on tape making really seditious and generally dangerous remarks this week.
While touring some housing projects in Harare South, Housing minister Daniel Garwe said government will not tolerate land barons.
"Today is the last day we see a land baron in this development. This programme is a partnership with government and the private sector, and there is no space for land barons," he said. "This is a stern warning; land barons will be locked up, and we have no apologies for that."
As if that was not enough, he went on to call them "a disgrace" to the government.
Has Garwe forgotten why Harare South is the only Zanu PF constituency in the capital city? Does a whole servant of the party need to be reminded that the land barons who run Harare South slums are the reason why the national nephew is in parliament as we speak? Some people forget too much.
Affairs for Mohadi
Some people have been complaining that Kembo Mohadi, who was allegedly fired from his post as state vice-president, is still going around the country telling traditional leaders to vote for his party.
According to a memo leaked to the press: "The Vice-President and Second Secretary, Cde Col (Rtd) KCD Mohadi, will engage District Coordinating Committee (DCC) leadership and village heads in Mashonaland West from 10 to 16 November 2022. The meetings (will) discuss growing the party, among other issues on party affairs."
He is the right man for the job. Nobody knows more about affairs than Mohadi.
Related Topics