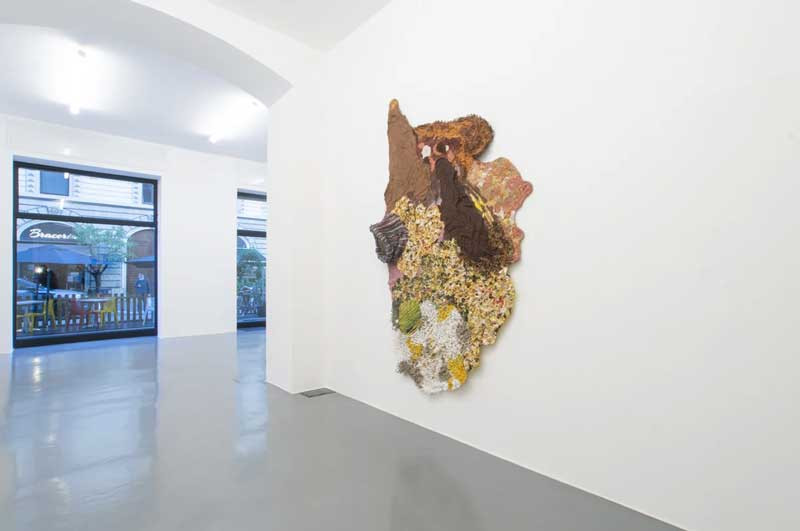 While silicone is widely known for its use in adhesives, coatings and sealants, for local contemporary artist Troy Makaza, the substance is a medium that he uses to create malleable rubber-like artwork. After a four year hiatus, the artist came back with a stunning new solo exhibition titled Kufa Izuva Rimwe, which was launched last week Thursday at First Floor Gallery Harare. Kufa Izuva Rimwe loosely translated death is but a day, is perhaps the most poetic and life-affirming proverb openings in the ChiShona language.
Makaza who is a graduate of the National Gallery School of Visual Art and Design (NGSVAD) where he specialised in painting, said his preference of using silicone as a medium of art was inspired by a memory of him and his father doing household repairs while using silicone as an adhesive. After this new discovery, coupled with the high costs of oil paints at that time, the artist found himself inventing and adopting his own technique of using silicone mixed with ink and paint, he also began to experiment with it by way of sculpting, painting and weaving.
Over the years Makaza's works have progressed and gained international recognition. In 2021 his artwork titled Opaque Mirror for an aspiring emperor & Steak For Dinner 2021 was shortlisted for the legacy purchase programme in USA and displayed at the Miami Beach Convention Center (MBCC), courtesy of Art in Public Places (AiPP), a programme that was curated by the City of Miami Beach. His works have been collected widely by some of the world's most prestigious art institutions and collectors such as the private, not-for-profit foundation Fondazione Fiera Milano of Italy and the Museum of African Contemporary Art Al Maaden (MACAAL) among others.
"I have had many exhibitions to a different audience outside the country. Many people appreciate this exhibition and there is exchange conversations. " Makaza told IndependentExtra.
In Kufa Izuva Rimwe, Makaza created a body of work, which looks at life as it is lived rather than imagined. Life, with inequality and class, with history of oppression, with the presence of poverty and drugs and corruption, with politics dividing people and land, with maps of a continent carving out scars of dispossession and inherited trauma, where answers are neither clear nor close at hand.
"I want to make art which is relatable, where one can come up with their own story and feel their own emotions. There are a lot of things that are neglected like mental health for men. I personally at one point went through depression, the process of healing was longer but then the outcome made me stronger in Kufa Izuva Rimwe," he said.
As a medium that is not conventional or used in traditional art making, industrial silicone has given him a lot of room and opportunity to explore and experiment in creating silicone-infused paint compositions. "I like how silicone retains that freshness like recently applied paint and also how it quenches my cravings for paint. I like thick layers and with silicone it allows me to explore all these possibilities. My work is multi-layered when it comes to all these techniques and what they mean. For this series, I was mainly looking at maps or charts. I took the literal sound of the word 'charts' and adapted it into the word 'chats' to represent conversations as a way of expressing how one has to navigate through these emotional 'charts-chats'. For me, it's sort of like a surreal land that may not exist physically but exists in some other realm." Makaza said
Through this exhibition, Makaza brings us a heartfelt invocation to himself and others, to hear and see themselves in history as part of history, to see everything we are and that we live with honesty, passionate and love for being alive. A life infinitely imperfect, infinitely and imperfectly beautiful and infinitely hopeful and optimistic.
Related Topics