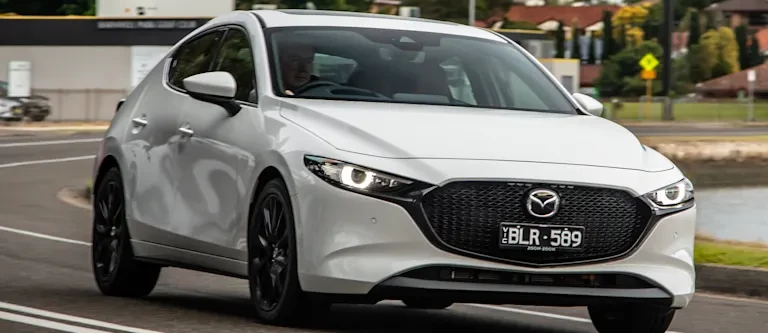 Known also as the Mazda Familia, the Mazda Astina was a model in the Mazda 323 line. A five-door fastback version known as the Familia Astina was introduced in Japan as part of the sixth generation (1989-1994). It was marketed as the 323F or 323 Astina in other parts of the world. This device was also offered in a high-end variant as the Eunos 100 in Japan. In 1994, the Lantis took the place of the Astina. The Astina's front appearance and pop-up headlights were its most distinguishing features. It is unknown whether the factory-built original vehicles ever had four-wheel drive or a turbo. Additionally, the Astina had a distinctive tail light configuration that varied significantly depending on the market.
Mazda's Achilles heel
If you can't afford a Benz, Audi, or BMW, this is your car. The 2022 Mazda 3 Astina offers a luxury package at a typical compact — car price for buyers with champagne taste but just a sparkling — cider budget. It is available as a sedan and a hatchback, and both body styles may be customized with all-wheel drive, a powerful turbo engine, and enough upmarket equipment to compete with compact Audis, BMWs, and Benzes. Entry-level vehicles are obviously not as luxurious, but the 3 looks good and will appeal to passionate drivers despite having front-wheel drive and a base engine.
It's very attractive, and the proportions, roofline, and roundels in the rear light signature have echoes of the Alfa Giulietta. not like the Ford Focus' excessive design. This car has a long nose and precise proportions, making it attractive without being fussy. Aside from the excessively thick C-pillar, it is truly beautiful but you always want that extra power. The conversation around its beauty when you are with the boys comparing your toys will always be hushed when those with Audis, Benzes and BMWs arrive on the scene. When those with Volkswagen Golf and Opel Astra arrive on the scene you can raise your voice because you will be with your peers and in good company too
Interior
The inside is elegant, which is accentuated by the driver-centric design that has the touch screen and controls oriented slightly in the direction of the driver. The entire situation exudes excellent fittings, soft-touch surfaces, and a refined aura. The instrument cluster is cleanly organized and has a head-up display as standard equipment in front of the driver.
The 8.8-inch infotainment screen is compatible with Apple CarPlay and Android Auto and includes built-in navigation.
It responds well to touch or a rotator on the center console, but I discovered that every time I turned on the car, it would automatically go to the home screen, forcing me to adjust it back to my favorite screen configuration. I still listen to the radio, and why not when you have BOSE sound with 12 speakers and a subwoofer? I have a few favorite stations saved.
Performance
Despite being the top-trim Astina, this stunning vehicle is driven by a 2.0-liter aspirated gasoline engine that produces 121kW and 213Nm. Not revolutionary, but fortunately Mazda has paired it with a six-speed automatic transmission rather than a CVT. Still it does not deliver enough power to compete in its segment. It will win the beauty contest though.
Although I wouldn't call it a letdown, the Mazda3's performance falls short of its striking appearance. Power is delivered linearly and smoothly rather than quickly and harshly. It tends to be a little sluggish while passing slower traffic before seamlessly slowing down and speeding up. Sport Mode is available, but it doesn't do much more than keep the gear in place for a little longer before shifting up a cog.
Despite this, its on-road comfort and ride quality are excellent. When I took it for a spin, I discovered that it is well-balanced and offers a compelling drive, with well-weighted steering and maintaining its composure when requested to do some hard cornering with the suspension on the firm side but not excessively so. The cabin is well-damped on some of the rougher road surfaces, and under typical driving circumstances, it would be difficult to detect any engine noise.
The Mazda3 is a dream to drive on the daily commute. It flies through morning highway traffic and suburban streets near schools when driven softly. Given the profile of a potential owner, that is likely where it will spend most of its time. Given that, it will also be ideal for drives on weekends and during holidays.
Verdict
One of the most attractive vehicles on the market, the Mazda3 Astina offers a great overall package.
Despite the performance concerns, the car's well-appointed interior, safety features, refinement, and overall driving experience make it a good choice.
The Mazda3 Astina has a smaller boot than competitors like the Volkswagen Golf (380 liters) and Opel Astra (370 liters). Even so, there is enough room to fit a reasonable amount of luggage, and further room can be gained by flattening the 60:40 split back seats. — [email protected].
Related Topics