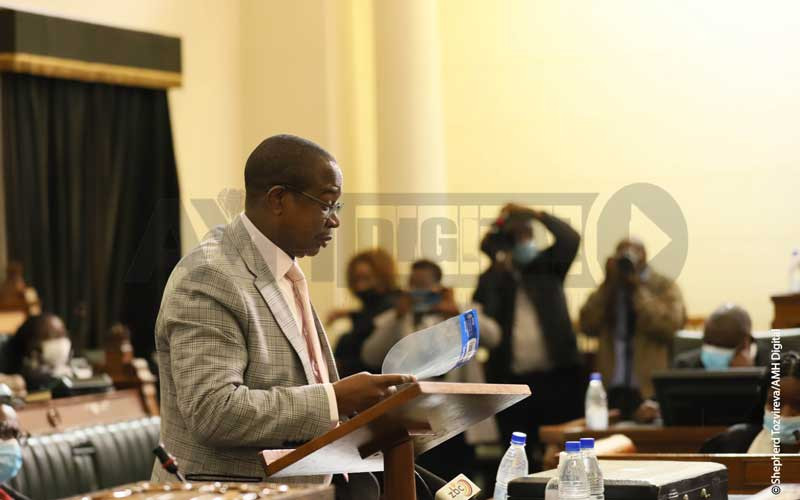 FINANCE minister Mthuli Ncube and Zanu PF have one shot at it, presenting an election year budget that spurs confidence to business and energise the electorate. A moment to be everything to everyone - making the budget likely to be populist.
The tone was clear during the MPs' pre-budget seminar at the Rainbow Towers in Harare. Ministries wanted a budget approximately $9,6 trillion, but Ncube did not mince his words that the budget would be crafted in line with the budget paper earlier circulated - no more than $3,6 trillion.
How will Ncube balance what the Treasury has and the needs of the ministries and departments? This balancing act is no easy feat and I see him being creative and pulling the wool over the electorate's faces.
Let us look at what he could possibly do. The first thing Ncube would do is to look like a prudential exchequer. He will stick to the formula and present a budget that gets him brownie points from the World Bank and the International Monetary Fund.
Ncube will tell Parliament that it has to approve the budget for stability as we are in the last leg of NDS1 and it is important to keep things neat. There will be some howling in the house as MPs will demand more, particularly for Parliament and making the right noises about social delivery with the eye on the electorate.
However, like all the years, the budget will be passed. Zimbabwe has never had a budget deadlock that resulted in dissolution of Parliament. I will put this into context by quoting the Constitution.
Section 143(3) of the Constitution reads: "The President may by proclamation dissolve Parliament if the National Assembly has unreasonably refused to pass an Appropriation Bill referred to in section 305."
An Appropriation Bill in layman's terms is the national budget. It shows estimates of revenue anticipated in a year and allocations given to each ministry or department.
It is also important to note that the National Assembly has the final authority on money Bills and the Senate has a nominal role. If the National Assembly says no, that is the end of the question or the Treasury will negotiate or everyone loses his job, forcing a fresh election.
It nearly happened once in the 2011 budget. Tendai Biti of the MDC then was Finance minister and the opposition had majority MPs in the National Assembly. The Treasury was forced to relook at the Parliament vote and MPs got what they wanted. The debate lasted til past midnight.
This is not possible in the current scenario. Zanu PF has a two-thirds majority and can pass the budget without opposition support. What it simply needs is to whip its MPs into line.
In other words, whatever Ncube needs, he will get. It is that simple.
However, there is another reality. This is an election year. Zanu PF needs the votes and desperately needs them. President Emmerson Mnangagwa needs re-election and desperately so too. So what will Ncube do?
Ncube will go back to his default settings — do things under the radar. He did it in 2019 and 2020. He uses money without authorisation and later seeks condonation through a Finance Adjustment Bill.
The other option is to table a supplementary budget during the midterm fiscal review. However, this option is not appealing to Ncube as it opens his flanks that he would have sold the National Assembly a dummy during budget debate.
As we speak, before Parliament is a Finance Adjustment Bill 2022 seeking condonation for the unauthorised use of $107 billion in 2019 and 2020. This expenditure took place during a time when Ncube was crowing that we had a balanced budget.
We now know it was a lie. We can add, Ncube is likely to lie again.
So what has to be done?
The only respite lies in having a robust Public Accounts Committee. It is the only committee that the law allows to be chaired by an opposition MP. It is the same committee that has power to follow how the government used every dollar it was given by Parliament.
This is one committee that should have people with technical skills in accounting, people who can read and comprehend numbers, but beyond that people who are upright and do not fear to hold the Treasury to account.
It is this committee that should check monthly that ministries and departments are spending within their budgets. It is the same committee that can demand quarterly financial reports from the Treasury. This is not an easy task. It needs committed people.
Unfortunately, this committee, PAC, has not been very helpful. It has been doing its work on an ad hoc basis and taking issues that are only topical. To imagine that Zimbabwe has two Finance Adjustment Bills (2019 and 2022) before Parliament and no head has rolled at Treasury, makes one feel nauseated.
It remains that probably before the budget is presented, PAC should send some signal that it will not tolerate any nonsense from Treasury and if need be it will do rolling hearings to get to the bottom of the rot in Zimbabwe's Treasury.
Zimbabwe needs to start a new page on financial prudence. Zanu PF has not helped the situation. It is slowly sinking the country in debt and when we wake up to the reality it will be too late. This should be the time to stop the financial rot and Treasury impunity.
In conclusion, Ncube is a sly character who can lie with a straight face. The only way to keep him on the straight and narrow is to make him know he is being watched on every move and Parliament is ready to make him account. It's now over to Parliament to do its duty.
Related Topics