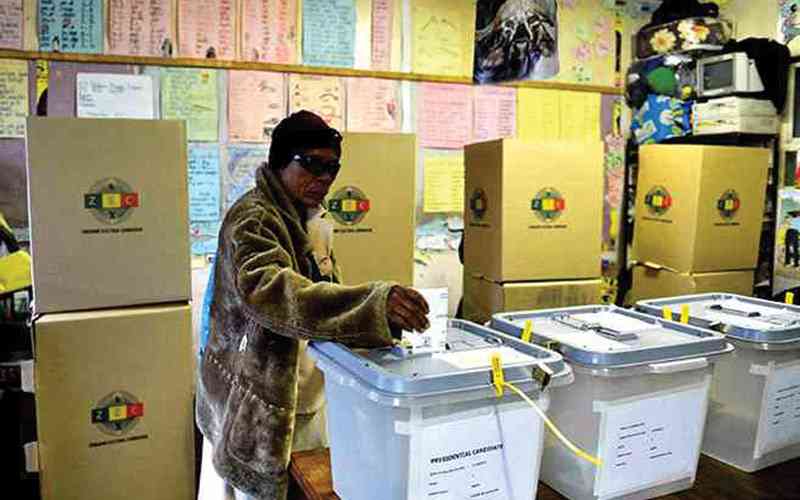 THE Zimbabwe Election Support Network (Zesn) expresses concern over a story titled CCC rural gain alarms Zanu PF, quoting a Zanu PF central committee report that was released at the ruling party's 7th national people's congress which took place last week.
It is alleged in the Zanu PF central committee report that "….Zesn and the Election Resource Centre (ERC) are planning to conduct parallel voter tabulation during the 2023 harmonised elections.
In pursuit of that, they will deploy election observers at all polling stations that will double as Citizens Coalition for Change (CCC) agents, who will send results to their established command centres and have consolidated results before Zimbabwe Electoral Commission (Zec) announces.
If Zec announces what is different from what they have, they are planning to start violent protests. This plan is a recipe for chaos, mayhem as well as a serious security threat. The same organisations are sponsoring the defend your vote operation where all CCC members will vote and remain at polling stations until results are announced, and awaiting for further instructions from their leadership".
Zesn is a law-abiding organisation that seeks to promote the conduct of peaceful democratic elections in Zimbabwe. In its quest to promote democratic principles, the network is apolitical and does not promote the cause of any political party, neither does it endorse any candidate or political party.
That is why in its recruitment of observers, Zesn does not recruit from political parties but from the Zesn membership. In addition, Zesn deploys independent observers and not political agents. Zesn observers are also subjected to thorough training.
They sign a neutrality pledge as well as the Zec code of conduct for observers and the Zesn code of conduct. It has never allowed any political party agents to observe under its flagship. Zesn, therefore, emphatically denies any links with the CCC or working with the CCC to conduct a parallel voter tabulation exercise.
Of cause, nothing stops political parties from conducting their own tallying or verifications of the official results. Zesn observers have observed political party agents across the political divide conducting their own tallies in polling stations.
Zesn does not promote insurgence, does not and has never mobilized the electorate to participate in any form of violence as this defeats its numerous calls to end violence in elections in line with provisions on the holding of peaceful, free, fair and credible elections contained in the Constitution, Southern African Development Community (Sadc) principles on the Conduct of Democratic Elections; African Charter on Democracy Elections and Governance (recently ratified by the government of Zimbabwe), the Sadc Protocol on Gender and Development, the International Covenant on Civil and Political Rights, the Convention on the Elimination of all Forms of Discrimination against Women, Protocol to the African Charter on Human and Peoples' Rights on the Rights of Women among others which Zimbabwe is also signatory to.
Zesn reiterates its call for political party leaders and their supporters to foster peace, embrace divergence and avoid fomenting violence and civil unrests which undermine civil and political rights, and affects citizens' right to compete in electoral processes. This also erodes trust in democratic processes, and undermines the quality of democracy thereby limiting inclusive participation. Violence results in voter apathy. -Zesn
Child abusers must be punished severely
SEXUAL violence and exploitation against children is a worrying trend.
Currently, with our economic and social structures in tatters, the worst victims are adolescent girls. Poverty is creating monsters in parents and desperation in children. This results in children being defiled, indecently assaulted, and harassed.
This culture has been cultivated and normalised in societies to the point that there is little action taken.
As it is, many children are being sexually abused. They are being forced or encouraged to engage in illegal action, by being used for prostitution, other illegal sexual activities or for pornographic purposes in both performances and materials. Hence, we are raising children around a normalised culture of predators, pedophilia, hebephilia and ephebophilia.
Our criminal laws prescribe severe punishment for offenders of child sexual abuse, especially for those who defile children. But as parents, teachers, caregivers and children themselves, we have a responsibility to stop these abuses.
Children should be educated to understand that there are bad adults just as there are bad children and so they should avoid getting too close to people of questionable character.
To enlighten each individual, civic education needs to be introduced at all levels of education. This way, the justice system is not entrusted to just authorities in dealing with and preventing the increasing rate of such ill practices. Let us prevent child sexual violence and exploitation by educating all.-Anonymous
Does Africa really need coal power plants?
LOBBYISTS the world over have consistently opposed coal power production saying it was unclean and unsafe with disadvantages outweighing benefits.
However, it seems that Africa is establishing more coal plants to meet the power deficit on the continent.
This is despite the huge potential that Africa has in producing clean energy.
For instance, the Congo River has the capacity to power the entire continent if the resource is well utilised.
Other resources that have yet to be fully exploited include wind and solar, which are readily available on the entire continent.
Despite the opposition to coal power, the African Development Bank (AfDB) last year approved recommendations to bring the Sendou coal-fired power plant project in Senegal into compliance with its policies and procedures.
The compliance review report was approved with a mitigation action plan prepared by the bank's management.
The board's decision was set to trigger the process of resolving the main concerns raised by the complainants that the Sendou power plant would have negative impacts and consequences on their environment and their lives.
It may be converted to run on natural gas once domestic gas is available.
Coal power has been met with opposition in countries like Kenya, where the Lamu coal power plant has not sat well among locals and activists.
The project in Lamu conflicts with the area being a Unesco heritage site and a major tourist attraction.
Farmers and fishermen in Lamu will have their livelihoods destroyed if the ambitious 3 000 megawatt project goes ahead.
In South Africa, Life After Coal and Greenpeace Africa have slammed the Integrated Resource Plan for Electricity (IRP) saying that if the Department of Energy were to publish the least-cost plan that civil society organisations have been demanding, it would not include any new coal.
Civic society organisations argue that allowing the two new coal plants contemplated by the draft IRP would be disastrous for water resources, air quality, health, land and the climate.
Currently, Africa has eight active coal power plants.
Botswana has the highest number of active plants at four while Morocco and South Africa have two each. - AgainstCoalPlants
Related Topics