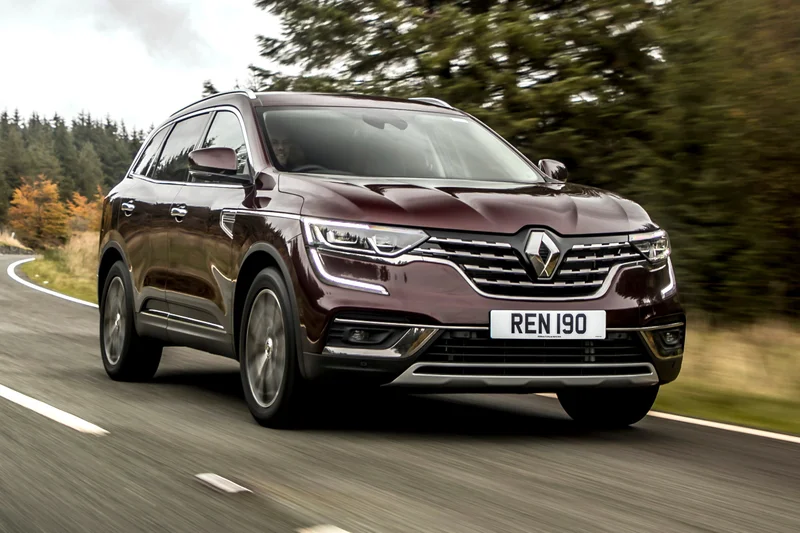 Looking for a midsize SUV today can be overwhelming. In addition to longtime bestsellers such as the Toyota RAV4, Nissan X-Trail, Haval H6, Mazda CX-5 and Hyundai Tucson, the market is constantly being bombarded with new brands.
Renault Koleos isn't the new kid on the block — it's something of an elder statesman at this point — but it's still a relatively small player locally.
It's all about sturdiness, but doesn&'t have a seven-passenger option like many of its alternatives.
Earlier this year I spent a few days with the Renault Koleos in South Africa. The Renault Koleos 2.5 Dynamic 4WD is the sibling of the comparable Nissan X-Trail. The Koleos is less expensive than its equivalent X-Trail, but Nissan has an even more expensive diesel version not found in Renault's stables.
The dimensions of the two are slightly different, and the exterior and interior are tailored to their respective brands. The fairing and finish quality are good, but I noticed a slight color difference between the steel body and plastic rear he bumper. The satin chrome trim is tastefully finished and extends to the continuous roof rails.
Interior
Instrumentation was customizable with four different gauges. These include ditching the tachometer in favour of an analog speedometer in place of the usual numeric display.
Displays include a small image of the drivetrain that provides a percentage split of the front/rear drivetrain. A universal touchscreen center display covers all functional adjustments. Unusually, it includes a standard navigator, but may require up to four precise button presses to achieve.
A quick tug on the sun visor reveals a hidden secret. These are great cheap features that are scalable and greatly improve visibility. Prevents obstruction of vision due to bright sunlight and enhances safety. The steering wheel audio buttons are hidden behind the wheel in a refreshingly traditional Renault design. Once mastered, it works perfectly.
Under the hood
A slightly rough engine sound due to the large displacement and long stroke engine. Some might call it sporty, but most people prefer the more modern combination of smaller engine and turbocharger.
They provide all the low-end torque you need in the cut-and-thrust of your daily start/stop commute.
The transmission is the least impressive aspect of the Koleos. It's not ineffective by any means, it defaults to his original CVT mode, which increases speed but doesn't increase engine revs. You can use manual mode, but it doesn't add much to the equation. The car can also pull a little harder, so hitting the eco button softens that urge.
Space
Rear space with the seats folded is wide and convenient. A full-size mountain bike can still be packed into the volume, and impressively, the Koleos can roll two 29er bikes with the front wheels off. It adds to an impressive list of qualifications as a practical product that is also perfect for more everyday family hauls.
Some small thing is gas mileage. This isn't great with a big displacement 4 under the hood. It took sometime for the average consumption to drop below the prescribed 12.0 L/100 km, eventually leveling off at 1 unit less. That being said, our test car was brand new, so a little more mileage would have liberatedthe engine a little. even in strong winds
Safety
The Renault Koleos holds a 5-star Euro NCAP crashworthiness rating. It scored 90% for adult occupant safety, 79% for child occupants, 62% for pedestrians and 75% for safety assistance systems.
Safety features included or available on Koleos include Blind Spot Warning, Hill Start Assist, Active Emergency Braking, Traffic Sign Recognition and Hands-Free Parking System, apart from the full-featured airbags.
My judgment
The Koleos deserves more love than it gets from Zimbabwean buyers. It doesn't excel in any particular area, but it drives solidly and, given the price, it offers plenty of space and reasonable creature comforts.
Renault strikes a fine balance between its traditional design prowess and solid, simple ergonomics that won't offend people from other brands, and there's little indication that it shares its bones with Nissan.
All in all, if you want a very comfortable SUV with a large trunk and don't want a 7-seater, the Koleos is worth considering. Its off-road capabilities and generous standard equipment are other draws, but competition alternatives feel better built, are more fun to drive, and offer spec seven-seat options.
Another down side is generally Renaults do not hold value.
No one bought a Renault expecting to win the resale depreciation war, but the Koleos is a "trendy" machine with a decent premium feel, better than some of its stablemates so maybe it might work but again it's a Renault you will not get good resale value.
Related Topics