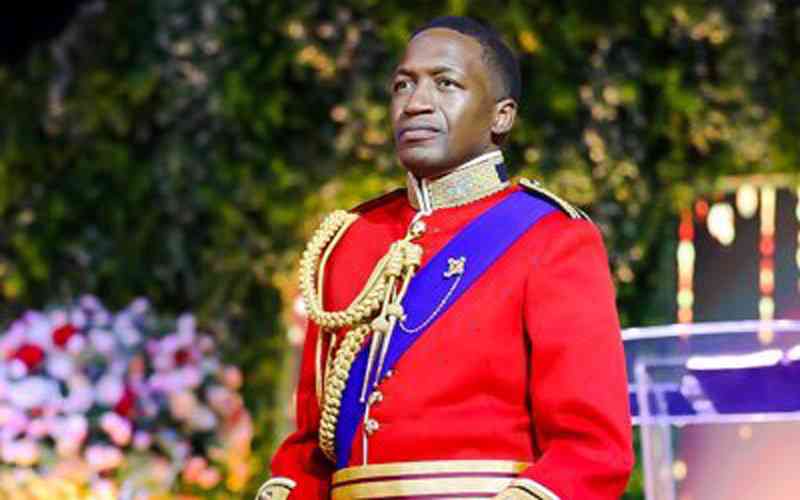 The nation is in a festive mood this week after the country's allegedly revolutionary party chose a largely new team of plunderers to carry on the party's long traditions.
Across the country, old school looters have had a tough few days after Zanu PF held its primary elections.
We are told that sitting MPs lost in droves, including luminaries like Philip Chiyangwa, Ziyambi Ziyambi, Dexter Nduna, Jenfan Muswere, Sekai Nzenza and so forth.
This lot and many others of their ilk had hoped that they would not have to go into a contest at the feeding trough.
They wanted to be allowed to walk through to the high table and feed undisturbed.
But we all hear that the current owner of the party decided that he was now bored with these old eaters.
He wanted new ones.
We welcome the new breed of feeders, which looks even hungrier than the last lot.
Strategist
Meanwhile, it was reported that the Zanu PF elections went as you may expect; some rigging here, some violence there. Nothing out of the ordinary.
One winner, Tsungai Makumbe, came up with a genius and novel way of winning the election.
He decided that he will bring his own ballots to the election.
It worked, and his opponents surrendered, as they marveled at his superior strategy.
Sadly, the overzealous and jealous police officers at Mvurwi tried to spoil the party. It was reported: "Justice Marufu, a member of contestant Tsungai Makumbe's campaign team, was arrested by Mvurwi police officers Sunday. He was caught with 651 ballot papers."
Why this patriot was arrested, we will never know.
He is just doing his duty of rehearsing tactics for the general elections.
Miracle worker
After offering to carry US$1 billion in cash in a small suitcase, nobody should ever doubt Uebert Angel when he says he can perform miracles.
The Western-sponsored Al Jazeera has been running a documentary which, for some reason, sees something wrong with our leaders taking gold out of the country for safekeeping.
In one episode, we saw Angel, who is building a suitably large church in Harare, offering to transport a billion US dollars in cash for some fake shysters.
That amount of money weights 10 tonnes, and yet Angel promised to carry it in a diplomatic bag.
What a miracle worker.
Well, to all you doubters, remember one thing; if Jesus could feed thousands with five loaves of bread and two fish, what is to stop a man of gold, sorry, Man of God, to pull off a Biblical miracle and fit 10 tonnes of bank notes in his anointed briefcase?
Scriptwriter
Still on Angel, he released a lengthy statement claiming that he was, in fact, the one who was trapping the so-called gold mafia.
He says he had quickly detected that the so-called investors were up to no good, and then decided to play them.
"After these suspicions, the team switched to 'red' protocol, with the decision to proceed with extreme caution, be in the middle, and to play along, and never to facilitate a meeting between the 'investors' and the President. With this knowledge, and at the insistence of the 'investors' Ambassador Angel made several calls to decoys working with our office. It is these decoys who posed as Henrietta Rushwaya, the First Lady, and the First Son," he wrote.
We thank him for giving us a sneak peak into the next episodes.
We were wondering what else is coming.
The man sure does have a future in writing thrillers for television shows.
It won't be a big job for him. In his day job, he already knows how to sell fiction.
As for that one Ewan Macmillan who claims he was a partner of our owner in the gold business, can he stop trying to soil our President's impeccably good name please?
3 in 1 spokesperson
The President's many spokesmen must be commended for the deft way they have been dealing with the treachery displayed by Al Jazeera and its local megaphones in the press and on social media.
"Countries under sanctions have to find ways of circumventing the sanctions. This may mean having to procure supplies through third parties or sell in grey market. They pay a premium for this. This is exactly what the UN Rapporteur Alena Douhan was talking about," Nick Mangwana said.
Then there was George Charamba, who did what he always does when things get rough; talk like an old Englishman. There is not much to say there.
But the best was Chris Mutsvangwa, who wrote a long piece that he foisted on patriotic state media editors to unleash to the public. He wrote: "The whole gold hullabaloo about illicit gold is plain codswallop and balderdash."
He added that all this gold trade must be making the ancestors proud. He said: "The Munhumutapas and Changamire royal ancestors can only be smiling at this new ingenuity by their posterity offspring."
Muckraker is sure that, if reached for comment, Munhumutapa and Changamire would be shocked to hear that their descendants are happily carting off their wealth to the children of colonialists, who laugh at them behind their backs.
Confused, again
Our owner was in Epworth this week, on a meet-the-poor sojourn that was interrupted by a small ceremony to cut ribbons at a tiny building that will act as a court there.
In his speech at the ceremony, he told the judges and prosecutors to be fair in their work, a strange remark that left all in attendance reeling from shock.
He told them: "Our courts, which are designated to deal with violence, are called upon to deal decisively without fear or favour with any cases, including those who seek to incite or instigate disorder, mayhem and chaos."
What happened to his declaration that we are everything, including the courts and the army and the local burial society?
This is confusing to us who are dedicated and ardent followers of his wise teachings.
Related Topics