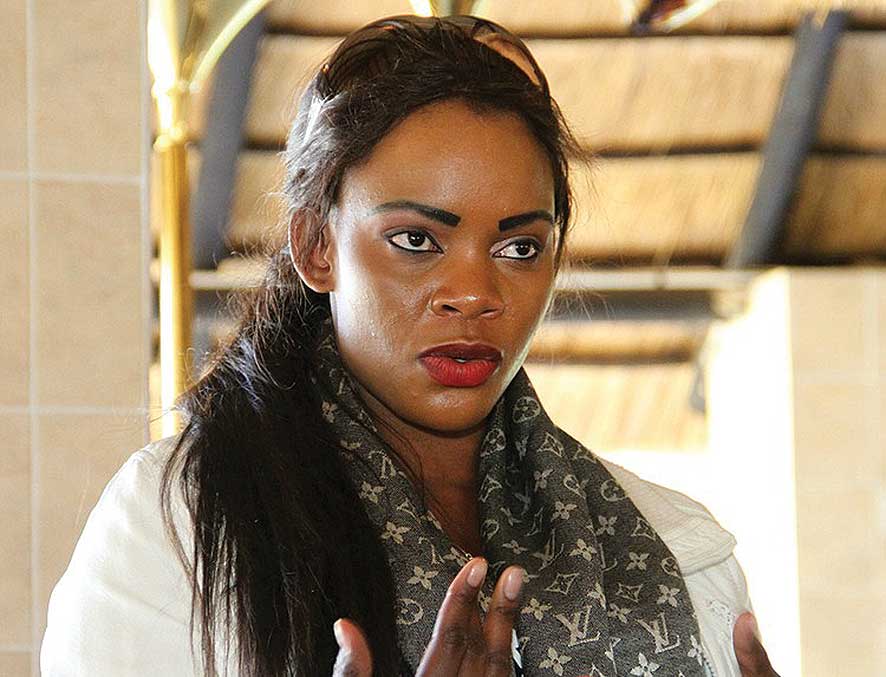 BY EVANS MATHANDA
Vice-President Constantino Chiwenga's estranged wife Marry Mubaiwa has been in agony for some time as a victim of ill-treatment by the second most powerful man in Zimbabwe and a debilitating ailment.
Mubaiwa has been fighting a lone battle and has been a victim of abuse by the legal system.
Some women's organisations recently urged female politicians to move out of their comfort zones and start fighting for the rights of women so that they don't become victims of abuse after their marriages have collapsed.
Prominent political figures usually keep their marital issues and divorce secret, but Chiwenga and Mubaiwa's divorce has been in the public domain attracting global attention.
Some have described Chiwenga as a heartless political leader, who has watched the mother of his children suffer.
Others still hold that Mubaiwa should suffer because she didn't care about other women when she had power to fight for women's rights.
Women organisations and gender activists have turned a blind eye on Mubaiwa, who is in a critical situation.
Civil society organisations have been threatened several times and probably Mubaiwa's case is bigger than what they can offer.
Mubaiwa who is facing several criminal charges including that of attempted murder of her husband, fraud, money laundering and assault has been battling lymphoedema, a condition that has left her lower limbs swollen and infested with wounds.
Doctors treating Mubaiwa recently recommended amputation of her forearm, warning that her current condition was life-threatening.
Despite her health condition, the Harare magistrates court still ruled that she was fit to stand trial.
Mubaiwa has been denied permission to access treatment outside the country notwithstanding that she has collapsed at the court entrance several times.
For months, Mubaiwa appealed to the courts in Zimbabwe seeking permission to go to South Africa for medical treatment, but her appeals were rejected.
Zimbabwe's judiciary system has long been suspected of being under the control of top Zanu PF and government officials.
Mabaiwa's lawyer Beatrice Mtetwa recently said that the judiciary had been captured throughout Mary's cases, including on the issue of access to her children.
But women's rights groups appear not moved by the her plight.
Mubaiwa's case has exposed the women's rights organisations for failing to raise voices advocating for her right to get treatment outside the country.
In the past some groups have made noise whenever they felt a woman's rights have been violated by politicians.
A classic example is that of then MDC-Alliance president Nelson Chamisa, now leader of the Citizens Coalition for Change. The Women's Coalition of Zimbabwe wrote a statement demanding an apology from him for allegedly grabbing a mic from his wife at the party's anniversary on September 28, 2019.
This raised questions on the role of women's groups in Zimbabwe. What is their main objective?
Most of the women's groups in Zimbabwe lack political agenda let alone their goals do not in any way align with critical political issues affecting women.
It looks like their main goal is to keep on repeating the chorus of women empowerment.
Women of Zimbabwe Arise is a civic movement in Zimbabwe which was formed in 2003 with the main goal to present  a united voice to speak out on issues affecting women's day-to-day lives.
Is that not applicable to Mubaiwa's case?
Women empowerment becomes one object that women's groups have been fighting around the world, but how is it even effective to empower female leadership that will lead the community if all women's organisations cannot join hands together and speak for one of their own who is clearly in distress?
Looking at Mubaiwa's case, Chiwenga has been using political muscle to make sure that his ex-wife is deprived of her right to health as is articulated in the World Health Organisation (1946) constitution which states that: "the enjoyment of the highest attainable standard of health is one of the fundamental rights of every human being".
For that reason, women's groups must meet to engage in collective activism specifically for Mubaiwa's freedom apart from issues affecting women and girls in Zimbabwe.
This should answer their central role to provide a focal point for activism on women and girl's rights.
March  is celebrated as Women's Month globally, but we didn't  see one women's organisation  raising the Mubaiwa issue.
It's sad that she is walking alone.
Going forward, women's groups must bring women from diverse backgrounds to jointly advocate for the attainment and enjoyment of their rights.
Evans Mathanda is a journalist and development practitioner who writes in his personal capacity. For feedback email: [email protected] or call 0719770038 and Twitter @EvansMathanda19
Related Topics