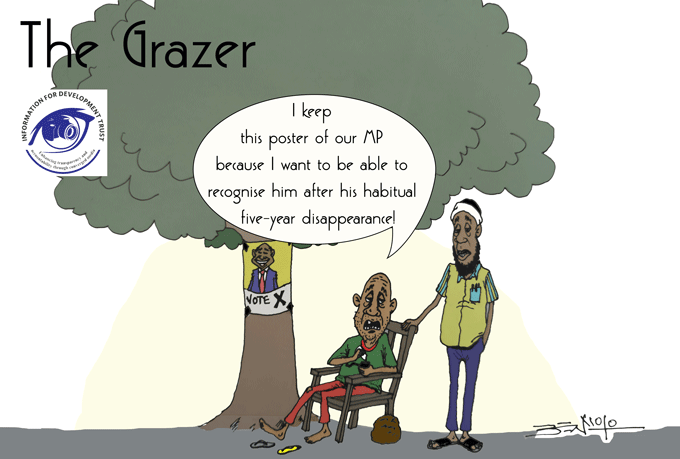 BY TAWANDA MAJONI
In exactly 13 days, there will be by-elections to fill 28 National Assembly and more than 100 ward vacancies.
There has been so much drama, so much anger and so much sweat already. You almost feel like 2023—when we are supposed to have general elections—has been fast-forwarded to now. This is Zimbabwe, and that's how things always happen. Crazy.
But given a choice, most of us would have wanted to shoo away the by-elections like you would do quelea birds. Those little fliers are just so full of noise and eat too much off your field. That's right, our MPs and councillors are pretty the same thing as quelea birds.
So then, you tend to wonder why we waste so much money, energy and emotion going for by-elections. If the law were not an ass and we were not so much worked up in this fantasy called electoral democracy, most of us wouldn't want to hear a single thing about by-elections or elections. They don't bring any good.
That's mostly because those that are elected into office are no good at all. The majority of them. Well, there will always be exceptions. You still have a few MPs, for instance, who are just about true to their word. In Hurungwe West, Mary Mliswa is doing a good job connecting with the people, listening to their woes and doing her best to relieve their burdens. Does it run in the family? Because, you see, her brother, Temba, is also doing a great job in Norton.
Then you have Albert Nguluvhe in Beitbridge, Settlement Chikwinya in Mbizo and Comrade Kindness Paradza in Makonde there. You also have Barbra Rwodzi in Chirumanzu and Prince Dubeko Sibanda in Binga. But the list can't be complete without—you guessed right— Comrade Chinoz in Buhera. You just have to love him. Chinoz even knows the day when rains fell last in his constituency, when most MPs don't remember the last time they were in their constituencies.
He perfectly knows the amount of hunger that his constituents are facing, and he is always on the ground to help.
There could be a few more that don't appear on this list. But the number of progressive MPs would never be good enough to fill a toddler's palm. Remember that the National Assembly has room for a whopping 270 seats.
Most of the people who offer themselves up for or are thrust into candidacy run for all the wrong reasons. They know that getting into parliament or council is one big opportunity for them to eat sumptuous meals. The power that comes with it gets you close to money. It doesn't matter if you are in the ruling party or not. The difference is the same. Quite often, these ones use money to buy votes and loyalty. And the electorate, being so poor and naïve, falls for the bait line, sinker and rod year in, year out.
And there are those that are given the chance and resources to run by their godfathers for strategic reasons. Either they have helped the godfathers get to power, or they are useful as buffers against internal or external foes, or other things like that. These also include relatives who just don't have a single idea about representing the people. They have no conviction, no energy, no interest. Vile place holders.
The mediocrity of our legislators and councillors is worsened by the polarised nature of our politics. Here in Zimbabwe, people generally don't vote on the basis of a candidate's merit or desert.
They first—almost exclusively—look at which political party you belong to. There are certain constituencies, which you know belong to the opposition even before you go for the polls. The same applies with the ruling party.
What's the net effect of this? Candidates rest on their laurels and, when they are voted into power, they don't see any need to change tack. They keep slouching on their laurels as they wait for the next round of elections. What more, all the political parties have no internal mechanisms to evaluate their lawmakers or councillors.
The end result is that voters and citizens suffer perennially. They limp from one election to the other. In between, they are jabbed with doses of hope through lies and deception. This is why, honestly speaking, whoever the idiot came up with the idea of electoral democracy in Zimbabwe and Africa must get a garden fork through his neck, hang by the bonfire and then die a slow, painful death.
But let's be practical. We are likely to suffer the burden of elections till apocalypse or the second coming of Jesus Christ, whichever is first. So, there is no point in sticking our necks in the sand and pretending elections will go with the morning dew.
The bigger lot of MPs and councillors, together with the parties, must surely be ashamed of themselves, seeing as it is there is nothing—hardly anything—that can hinder them from being sensibly accountable to the people. If Barbra, Mary, Chinoz and others can do it, surely everyone else must be able to do it.
But let's just move away from the MPs and consider a very telling, inspiring and awesome case. This one is outside politics but presents a graphic example of what a person can do for the people. It's the case of a school master, Evermore Chakwizira, who heads Chinyika High School in Goromonzi.
Chakwizira has an amazing story to tell about what he has done for his community. He was recently nominated as an integrity icon by Accountability Lab, which names and fames hard working people. And he certainly deserves the nomination.
He has been with Chinyika High for three years, but you would blink once or twice in disbelief seeing what he has already done. He started up a big chick incubation project to raise money to build more classroom blocks and buy textbooks.
He established a uniform manufacturing factory and employed a number of locals. Part of the money from this factory has been used to pay fees for needy students. He also waded into the war against Covid-19 by manufacturing a huge 22000 masks for local use in Mashonaland East.
He completed a state of the art science laboratory using money from the sale of the uniforms and led the school in starting a modest retail outlet. He sourced some US$80,000 that he used to build a school library. The library could actually be one of the best in the country.
His efforts have extended to the community, setting up a youth empowerment initiative whereby local young men and women have been trained in various disciplines that include building, painting, driving, solar installation and business development.
Chakwizira has established a whole gamut of other projects that include ICTs to enhance e-learning at the school, an orchard, sheep rearing, fisheries, sewing as well as water and sanitation.
Here is a level-headed school teacher. He is not motivated by politics. If he is, then he has not shown it yet. But who would mind if he decided to get into politics. Isn't he the kind of person we all wish for to represent us? Whatever he is going to do in the future, current and future voter-seekers and office holders must just emulate him. Just look at how a humble rural school has transformed in only three years!
Tawanda Majoni is the national coordinator at Information for Development Trust (IDT) and can be contacted on [email protected]
Related Topics