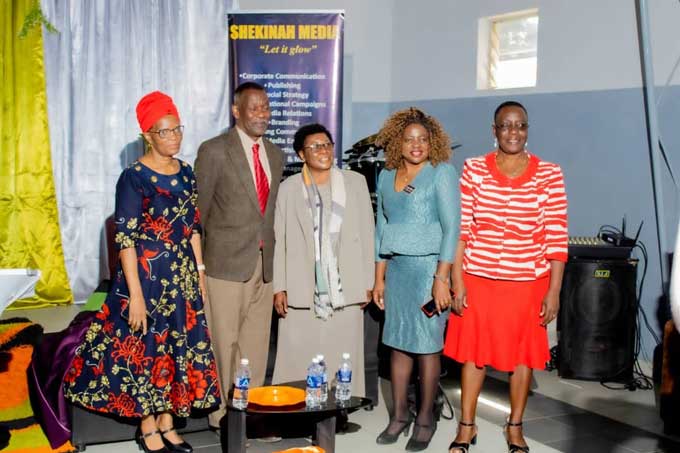 In a recent workshop on leadership and women empowerment presenters Dr Divine Ndhlukula of Securico Company and Dr Gallie Kawanzaruwa, senior academic manager from Dubai showcased their life histories as trailblazers in the business world and shared secrets of success.
Divine, a girl child, a natural leader, born in a family of eight, of the Simbi patriarchal family in Gutu paramountcy, overcame gender-based hurdles within and without.
To Divine, the story of her life is that every experience, good or bad should be viewed as a learning experience. Learn, reflect on the pros and cons, and move on. Bother her parents, Mary and Peniel, were businesspeople, grasping new opportunities as the colonial era, 1960-1980 came to an end and opened new opportunities for blacks.
Divine is the first to admit that there was a cost. The various schools Divine attended reflected the constant need to change schools as family fortunes changed. Born February 5, 1960, Divine attended Zvinavashe School near her home village, then moved to Machingambi School, went to Bondolfi Catholic boarding school for higher primary and later to St Dominic's Secondary School. She completed her high school at Makumbe Mission.
Thus, early in life, she learnt that one Zvinavashe School goes where opportunities are. "Opportunities do not find you; you find opportunities," she told me.
A problem solver
When Covid-19 restrictions were lifted, she was shocked to find that exam results in Chief Chitsa's area were less than pleasing. Since her bursaries financed through the Divine Simbi-Ndhlukula Foundation were based on need and merit, none of the learners qualified. Rather than walk away, she set up a committee of the community stakeholders — Chief Chitsa, school heads and village leaders coordinated by a very active young teacher Tawanda Masiya. The answer came swiftly. A library was the answer. Leaners did not have relevant curriculum reading textbooks, let alone access to Internet facilities, a recipe for serious underdevelopment in the remote area of Gutu.
She soon found out that life was not easy. Even though she offered her late parents' old store and pay the costs of renovation; the chief and local bigwigs wanted in on the project, so did the legislative delegation. These shenanigans had to be handled with sensitivity even before books and computers were sourced.
"I am not one to give up on anything worth doing," she told me. As a strategist, with a trump card, she engaged the naysayers.
The result was amazing. With financial support from Securico, the company she founded on her kitchen table, a 100-pupil seater library was up and running in no time. The entire set of textbooks were provided by family and friends.
Test scores have improved over the last two years, thanks to the Mbuya Mary Simbi Library (named after Divine's mother) which serves 2 000 learners in the area. Divine is now appealing for computers in whatever shape to reduce information gap between rural and urban schools.
She places emphasis on early career choices for girls.
A love of her life
Dr Divine's commitment to women empowerment is total.
One day before the Women's Conference, one of her trucks was attacked by robbers who escaped with a large amount of cash. She had given her word she proceeded to the conference where she spoke inspiringly of her life and received a standing ovation. When asked how she was coping with such an incident and still go in front of many women to speak inspiringly about business, she responded "But Mukoma Ken, these are events that can happen anytime given our macroeconomic environment in Zimbabwe. I am relieved that no one was killed as money can always be found unlike a human life." She went on "We have a priority of life protocol" that guides armed engagements in crowded places without escalating a dangerous situation to an uncontrolled shootout."
As I spoke to her, she was on her way to Gutu to present wheelchairs to disabled children.
Some of the beneficiaries of her bursary scheme are now in local and international universities cutting their teeth towards an improved economic status.
But she often returns to the issue of women empowerment. Male bosses often asked for male security officers and it took some convincing that female officers can perform at the same level as men.
"But the issue is, who will mentor the girls?," she told me. Always one to take the bull by its horns, she founded an all-female mentoring sorority.
She is not afraid to move on. When circumstances change and opportunities are available elsewhere, one must move on. After  a stint the Zimbabwe Broadcasting Corporation and Old Mutual, she moved on to Intermarket as a marketing executive, where she worked for 16 years.
The affair which started in her kitchen as Securico in 1998, the second largest security company in Zimbabwe and soon to be expanding to regional markets is now aiming at going global.
Dr Gallie
Dr Divine was joined at the stage by another Zimbabwean dreamer, Dr Gallie Kawanzaruwa (lovingly known as Dr Gallie). She collaborated Divine's motto; opportunities do not look for you, you look for them. A teacher, she left Zimbabwe at the height of the jambanja in 2002 to Britain. She served as an education officer in Sunderland. Having brought her family, a husband and three children, she began a serious search for self-advancement.
That dream led her to Dubai where she served a school principal at a girl's school, K1-12 for six years. When she was appointed senior academic officer (registry) in the United Arab Emirate system, she saw opportunities opening in Zimbabwe. She poured her resources into building her own Hatfield Academy in Harare, modelled on English public schools. Influenced by Professor Ken Mufuka from the US, Dr Gallie is slowly turning the academy into a training ground for super kids, a dream environment where kids are indoctrinated into believing that they can achieve whatever their dreams are if they put effort and time into it.
"You compete with yourself," Dr, Gallie told her audience. Blessed by the presence of the veteran feminist fighter Senator Maina Mandaba, and Ali and Co Fashionistas, the conference resembled a religious revival, identifying "workable projects," taking selfies of their pretty dresses, and exchanging addresses and telephone numbers.
Men were given a severe warning. "If you are not part of the solution, move on and let me follow my dream."
Professor Ken Mufuka is on a lecture tour of East and Southern Africa. He can be reached at [email protected].
Related Topics