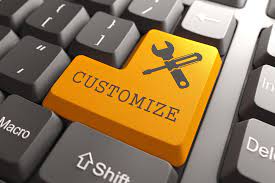 By Farai Chigora "Design is the silent ambassador of your brand" as once said by Paul Rand. That's what customisation calls for as we continue to build brands that walk the talk. If it is simple to you then let's share and do it together. No one should be left behind.
Our customers come to do business with us because of the promise(s) we made to them and the value they perceive and get from our brand(s) and its offerings. It should not be by serendipity, if I can emphasize. As there is need for a continuous assessment since the engagement continues to deepen by each breath and day. Yes, we talked about the importance of relationship management with our markets during brand selling, but now we deepen the gauge to a symbiotic connection with the hearts and minds of our customers. Through offerings that are customised and customer-centred. It should not be like we are selling to ourselves. Customer voice should be the first to be heard, even in its silence it is louder. Sometimes we generalise customisation as a mere dictionary vocabulary. No!!! Its weight is more than a marketer's journey. Here we unpack it as a concept of a rewarding brand management by our SMEs across all sectors. Brand customisation is ideal and key for lasting market dominance. As we give something that is specific for each customer as by us to suite a defined need rather than general. It adds on as a recipe for the once initiated uniqueness through differentiation. That is when we will never be compared to any in this era of transformative target marketing.
Those in the automobile business can tell that it is always more than a wow when you pimp a car according to one's needs and tastes. That's what brands should do as we customise for the benefit and face-lifting with added satisfaction of our customers/markets in their consumption. It adds on to our business identity as we will be uniquely identified by our customers. Mainly we are in the business to offer products/services to our customers so we have to modify/improvise them in order to continuously define and upgrade that brand(s) that has been leading us in this prolonged global market visibility. It is an advancement in the branding process as we claim and stamp to know our customer(s) better than anyone else on the market. This is highly strategic as a strengthening cog of all the efforts done so far. In this edition we then take a nose dive into some strategic considerations for brand customisation by our home grown SMEs.
To start with we look at a collaborated means of brand customisation. We should not assume that our customers know the best quality available to them within our range of offerings as are represented by the brand(s) we own/showcase. Sometimes we should go another mile further and ask to assist in determining what they see best for them in our brand and its offerings. Even to let them say what they think should be presented by brand. We should go back into our customer database and invite them for a talk (smart deal). Where we have a conversation and come into agreement as they lead in what makes them happy/satisfied. Our entrepreneurs should have time for such experience and openness with their customers as it further reflects a brand family relationship with the customer (at this stage a customer is no longer a visitor or walk-in). You will be shocked that all along your customers did not understand what your brand would and can further offer besides the little they know about you. That's a moment of truth through customisation. Dialogue matters most in brand customisation and improved market dominance.
This then takes us to one that is an outcome of trust which is transparent brand customisation. In other instances when we seat or have conversation with our customers we should measure and ascertain the level of confidence they have in us as the custodians of the brand that gives them joy. And for sure it is reciprocal especially when we are also sure and satisfied that they know us better and prefer us to lead the show without directly inviting them for a table talk. In this case we do it for them in that promise to deliver we initially gave assured them. We always learn from their consumption/behaviour and their reaction to changes in tastes within the markets. Where we discover how fit in the changes and their desire to be honoured with brand improvisation. This is a cumulative landing after we have fulfilled the previously discussed issues in past editions. Such as carrying out a thorough market research, customer relationship management and customer feedback acknowledgement. As we always say brand management is a process and step up from the unknown to the known.  Now we know the customer better. To remind everything that we share in this journey matters especially for the future brand visioning.
As we continue with the brand customisation strategies we look at adaptive form of improvisation. This is one type of customisation that can suite various needs for different customers in its design. One that serve a huge/mass market. A market is too big and difficult to continuously engage with every individual customer. The task for an entrepreneur here is to identify your product/service category such that you work on the key broader issues that serve all the customers and their needs with a single adjustment that customises for all at once.
Then there is a cosmetic customisation where packing leads the way as discussed in other previous editions. Packaging is one of the critical elements of branding as we now appreciate through practice. Here it is the maker or breaker of our brand customisation. We see it in some instances when we buy and consume the same products/services with others on the market but we get it in different packages (some may say kiss goes by favour). Of course, we are made to wonder why but it is conceptualised from this customisation perspective. Know your customer better by their tastes/preferences, income base, colour attraction and any other form of branding. This will then make you a better strategist through designs in packing that better suite a specific customer you are serving at any moment. Even the promotional and advertising strategies for the same brand that will differ from one targeted individual/group to another. My colleagues this is food for thought as we hunt for the treasure in this branding wilderness.
Dr Farai Chigora is a businessman and academic. He is the Head of Business Science at the Africa University's College of Business, Peace, Leadership and Governance. His Doctoral Research focused on Business Administration (Destination Marketing and Branding Major, Ukzn, SA). He is into agribusiness and consults for many companies in Zimbabwe and Africa. He writes in his personal capacity and can be contacted for feedback and business at [email protected], WhatsApp mobile: +263772886871.
Related Topics