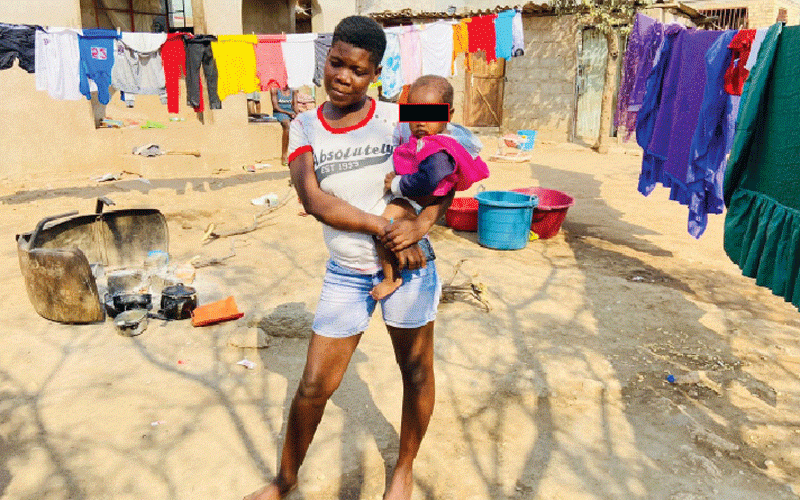 Lafter Ndou (29) is not perturbed as she narrates how she walks to a nearby bush to answer nature's call.
Ndou and eight other families living at a house in Beitbridge's oldest suburb Dulivhadzimo have no proper sanitation facilities, more so a toilet.
They defecate openly at a nearby bush on the fringes of a stream which feeds into Limpopo River, the main source of water for the border town.
A recent visit to Ndou's place showed that little or nothing is being done by authorities to address sanitation and hygiene in this sprouting settlement of 54 000 people.
The community is living by the area's moniker "Mfelandawonye", which means "we die in the same place" as they have to subsist with burst sewer and inconsistent water distribution patterns that cause shortages, something that has become habitual for this populous residential area.
Beitbridge has become susceptible to recurrent cholera outbreaks over the years and according to Health ministry data, as of August 28, the district had recorded 323 suspected cases, 132 confirmed cases and three deaths this year.
However, Ndou, whose daughter contracted the acute diarrhoeal infection in May, said the community lacks cholera prevention education.
"It's fortunate that my daughter survived after she contracted cholera," she said.
"We don't have a toilet here and we have lived for so many years without the facility.
"Despite all these cholera outbreaks over the years, the community is yet to change its behaviour and I am one of them."
Ndou, a mother of three, said she and other tenants resort to the age-old practice of open defecation, something that is widespread in the area.
"Very few people in this community have proper sanitation facilities at their houses and we do it in the bush," she said.
"When nature calls in the middle of the night, obviously we have to think of 'Plan B'.
"There are instances when you see human excreta strewn all over the area, especially on the roadside."
Forty-three year-old Clifford Bvindi, who lives in the area and is a survivor of the diarrhoeal disease, told The Standard that he regrets buying cooked food from backyard outlets.
"I suspect I contracted the disease after I ate food I bought from the outlets at the market when my wife was away," Bvindi said.
"I felt some abdominal pains and dizziness and sought treatment at the hospital where I tested positive for cholera.
"We are four families living here and I am the one that contracted the disease."
Bvindi, who repairs radios and TVs at his home, said recurring cholera outbreaks were caused by a plethora of issues, chief being lack of proper sanitation facilities and residents' inadequate understanding of health and hygiene issues.
"We hardly have water coming out of our taps and in most instances, we have recurring burst sewers to contend with," he said.
"However, the community is its own worst enemy due to its ignorance of health and hygiene matters.
"People need sustainable prevention education not to get that education when diseases strike."
Bvindi and Ndou are among a myriad of people from some of the country's cholera hotspots who are benefiting from the Zimbabwe Red Cross Society (ZRCS) Cholera Disaster Response Emergency Fund programme.
The programme, which is being supported by the International Federation of Red Cross, is being implemented in Beitbridge and Gwanda districts in Matabeleland South province as well as in Mutare Rural, Mutare Urban and Chimanimani districts in Manicaland province.
"The main scope of the project is to prevent and control the spread of cholera at the community and facility levels in the affected districts," said ZRCS secretary-general Elias Hwenga.
"This is being done by interrupting the chain of transmission, facilitate improved case management of cholera outbreak at facility and community levels in the affected districts and improve basic sanitation and good hygiene practices and access to safe drinking water in cholera hotspots."
Hwenga said his organisation was working with the Health ministry and local authorities in a move that ensures access to safe drinking water and promotes hygiene awareness in affected communities with the view of instilling behaviour change.
"We have been learning a lot from Red Cross, especially on basic hygiene," said Bvindi.
"I can see even other tenants are embracing the education, but we urge the local authority to address the issue of water urgently.
"We can change behaviour, but as long we don't have access to clean and safe water, cholera will not go away."
Ndou said they were running around to have proper ablution facilities at their house.
"We are addressing that and we are happy that we are working with Red Cross to change our behaviour and desist from using bush toilets," she said.
"I learnt a lot after my daughter contracted the disease and I don't want that to be repeated."
This publication also established that a number of residents in SDP (Kwalu 2), a sprouting suburb north of Beitbridge town, have no ablution facilities at their homes.
Open defecation and selling of fresh meat at open markets in defiance of local authority regulations is the order of the day in this new settlement, which also has turned out to be a cholera hotspot in the border town.
"There is lack of understanding of hygiene as seen by selling of fresh meat at the open market along the streets and shopping centres here in SDP," said Irene Mbedzi, a resident in the area.
When contacted for comment on Friday Beitbridge town clerk Loud Ramakgapola only said the border town was not facing water shortages without elaborating.
"We do not have water shortages," he said.
However, a source at the local authority attributed the recurring cholera outbreaks to the council's poor waste management system.
"It's not about water shortages, but poor distribution of the commodity where half of the newly developed suburbs have no water," said the source.
"Recurrent sewer bursts as well as poor refuse collection and management fuel these cholera outbreaks."
Natural resources governance and environmental expert Tapuwa O'bren Nhachi said averting cholera outbreaks calls for an environmental approach.
"There is a need for authorities to encourage the use of toilets and discourage open defecation which can be achieved through the construction of public toilets and the provision of education on the importance of proper sanitation," Nhachi said.
"Council should also ensure that the water supply is safe for consumption by treating it before distribution by constructing water treatment plants."
Nhachi said proper waste management can help prevent the spread of cholera.
"This can be achieved through the construction of waste disposal sites and the provision of education on the importance of proper waste disposal," he said.
"Besides, there is need to educate the public on the importance of personal hygiene such as handwashing and the dangers of cholera."
Nhachi said cholera hotspots like Beitbridge should establish treatment centres to provide prompt treatment to those suffering from the disease.
He said the causes of cholera outbreaks in Beitbridge were mainly due to poor sanitation and contaminated water sources.
The environmental expert said the 2008 cholera outbreak in the country, whose attack rate was highest in Beitbridge, was caused by widespread infection with the bacterium vibrio cholerae, which is spread through water contaminated with faeces of infected individuals.
Related Topics