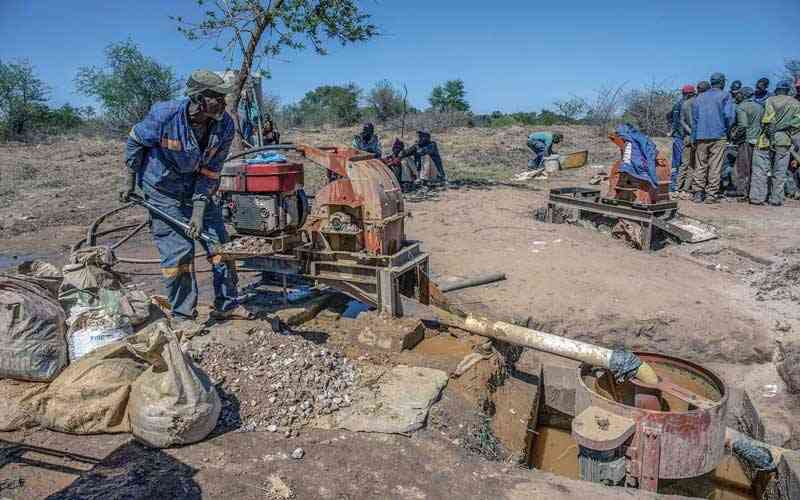 THE government's gold mobilisation unit has been unable to function due to funding constraints and this is crippling its operations, the Zimbabwe Independent was told this week.
The gold mobilisation unit, headed by Major-General Chris Mupande, comprises officials from the army, police, Central Intelligence Organisation (CIO) and Ministry of Mines and Mining Development.
The unit was set up to boost gold production, as well as, curb leakages in the mining sector.
The country produced 35 tonnes of the yellow metal last year and is targeting to produce at least 40 tonnes this year, although there are indications that the sector could produce up to 50 tonnes.
Funding from the Treasury has, however, been the challenge, forcing officials from the unit to go for operations without the necessary resources to monitor and carry out investigations.
This, however, has exposed several officials to potential corruption.
When contacted for a comment, Mupande played down the issue.
"Where did you get that (information that) funding is not adequate? No, they shouldn't tell you that nonsense. There is nothing like that," he said.
But officials from the unit, who requested anonymity, said the situation was dire and all targets set for the unit were unlikely to be met.
"Our working conditions are dire and there is a need for urgent funding of our operations. It's difficult, we are operating like street kids," the source said.
The Mines ministry recently dispatched teams from the Gold Mobilisation National Taskforce to the country's eight mining provinces in a move meant to boost gold deliveries to Fidelity Gold Refinery.
The unit's main responsibility is to ensure that all gold generated in the country go to Fidelity.
However, information gathered by the Independent reveals that the teams have sometimes struggled to fulfil their duties due to inadequate funding.
There are worries that, if things remain the same, the team may be tempted to commit unethical behaviour, including accepting bribes and engaging in corruption.
Mines minister Zhemu Soda was not reachable for comment as his phone went unanswered and did not respond to questions sent to him.
Last month he disclosed that mineral leakages were depriving the government of revenue.
"Mineral leakages deprive the government of much-needed revenue from taxes and royalties. This in turn creates uncertainty and instability in the mining sector, which can discourage foreign investment. This can deprive the country of much-needed capital and expertise," Soda said.
"For 2023 from January to August, the gold deliveries to Fidelity sit at 19,3 tonnes against a target of 40 tonnes by the end of the year. In 2022, for January to August a total of 22,29 tonnes was delivered, this represents a 13,2% decrease."
He also noted that there was need to employ strategies to decrease the rampant side-marketing of gold.
The government's laxity in the mining industry monitoring has precipitated widespread gold smuggling at a time when the country is targeting a US$12 billion mining industry by 2023.
Authorities in Zimbabwe have been urged to combat unlawful gold trading, corruption, and money laundering in the mining industry, according to the socio-justice organisation, Transparency International.
Home Affairs minister Kazembe Kazembe previously estimated that the country was losing about US$100 million every month from gold smuggling.
According to the socio-economic justice watchdog, Zimbabwe Coalition on Debt and Development (Zimcodd), Finance and Investment Promotion minister Mthuli Ncube was quoted in 2019 saying Zimbabwe might have lost 30 to 34 tonnes of gold to smuggling to South Africa.
However, commentators say if efforts were not directed at reducing illicit cash flows in the mining sector, the goal to achieve a US$12 billion industry remained a mirage.
Around 60% of the country's gold output comes from artisanal and small-scale mining, according to Southern African People Solidarity Network coordinator Fambai Ngarande and Zimcodd regional desk.
Related Topics