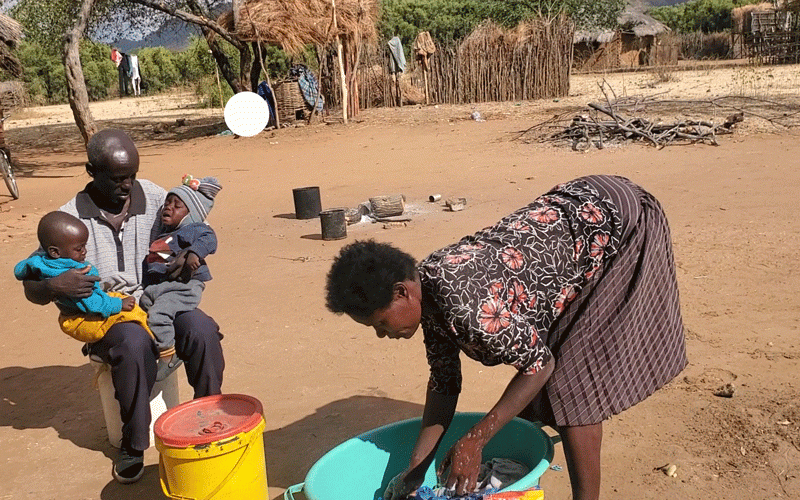 IRENE Chifunda (40) was appointed secretary to Village Head Mandaza of Mbire district in Mashonaland Central province to contain her aggressive nature.
Whenever her name did not appear on the list of beneficiaries of food aid or any other government or non-governmental-funded benefits, she would turn violent against the village head, his former secretary or other villagers.
She used violence to cool down her frustration and disappointments, especially towards her unemployed husband Felix Majaya.
"I would beat up my husband to cool down my frustration on prevailing economic hardships," Chifunda said.
"I expected my husband to provide for me and the kids, so whenever he failed to do so I got angry and I would beat him up. I felt better after attacking, either verbally or physically, those who wronged me."
But Chifunda is now a changed person, after undergoing training from the Spotlight Initiative, a European Union (EU)-funded programme implemented by the United Nations (UN) Women and other partners to eliminate violence against women and girls in communities.
Spotlight initiative, arguably the world's largest targeted effort to end all forms of violence against women and girls, was launched with a US$652 million funding from the EU, to promote gender equality as a precondition and driver for the achievement of the Sustainable Development Goals.
The Spotlight Initiative is responding to all forms of violence against women and girls, with particular emphasis on domestic violence, sexual and gender-based violence (GBV) and harmful practices.
Zimbabwe is one of 22 countries, eight from Africa, which have benefitted from this programme with a EU funding commitment of US$30 million.
The programme which ends this year was implemented in five provinces of Harare, Bulawayo, Mashonaland West, Mashonaland Central and Manicaland.
In Mashonaland Central the initiative was implemented through the Lower Guruve Development Association, by training and providing start-ups for women to be self-reliant and curb misunderstandings over finances within families.
"I appreciate the education which I received from Spotlight Initiative because I am now a mother to a happy family. Not only am I able to show affection to my husband, but I can now also fend for our family," Chifunda said.
"I was taught how to contribute to family earnings through projects such as gardening. With all my focus on how to generate more money, I no longer have time to cause problems in the neighbourhood."
In Hurungwe district, Mashonaland West, the Spotlight Initiative was implemented through Caritas, a community-based organisation which helps improve livelihoods through income-generating projects.
A beneficiary of the GBV campaign, Perpetua Nziramasanga of Ward 5 in Hurungwe district, believes the Spotlight Initiative programme will save her fourth marriage after the other three failed because of her aggressive nature.
"I did not respect my husband. I did not care about my marriage. I wanted to be like men and would often fight all my previous husbands. Just like the previous three, I knew my current husband would leave me," Nziramasanga explained.
"But not anymore, after the Spotlight initiative training, I am now a changed person after rigorous training on the effects of GBV in communities. I am also proud to be a gender ambassador, whereby I can now educate others on the danger of GBV."
While women can be perpetrators of GBV, research has shown that men tend to be more prevalent offenders. Culturally, men beat up wives to prove their dominance as heads of families.
With two wives, Cluster Mahembe of Chitsiga Village, Ward 15 in Mbire district believed that total control over his wives was a portrayal of masculinity.
And the Spotlight initiative programmes came just in time to save his family from collapse as his two wives were on the verge of abandoning him due to his abuse.
"I had countless girlfriends. The multiple sexual affairs were a sign of virility and I never wanted my wives to question me. I would beat them up if they dared," he said.
"I had no time to sit down with my wives to plan for our future. But my life changed completely after joining the Men's Forum, a Spotlight Initiative programme to educate men against GBV. I never believed that I would be a gender champion, whereby men would sit down and listen to me as I rebuked perpetrators of violence."
After years of neglecting his family, it was a mammoth task for Mahembe to convince the community that he was indeed a transformed man.
"When I started talking about the problems of beating wives, my fellow men thought I had been bewitched because being submissive to women was considered culturally unacceptable," Mahembe said.
UN Women communications and media specialist Innocent Katsande said: "Increased capacity for women to generate household income helps solidify the gains achieved through gender champions training and awareness raising campaigns on GBV."
Related Topics