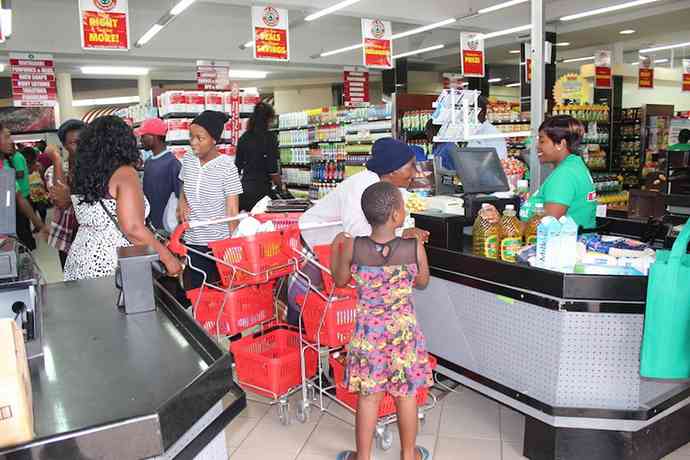 ZIMBABWE'S currency further crashed this week, precipitating waves of basic commodity price hikes, which were slammed by consumer watchdogs.
In a survey, the Zimbabwe Independent found that many Zimbabweans were travelling to South Africa to buy basic commodities after discrepancies of up to five times emerged as Harare smouldered again.
Rocketing prices, reminiscent of market mayhems that rocked Zimbabwe between 2000 and 2008, have been mostly underpinned by prolonged turbulences on Zimbabwe's currency.
Following a decade of dollarisation, Zimbabwe in 2019 brought back its currency into circulation.
But it has been battered on the widely used black market to levels of about US$1:ZW$3 000 as of yesterday, from US$1:2,50 on the year of its return four years ago.
The Zimbabwe dollar depreciated by over 30% in April, after shedding 58% of its value during the first quarter, according to experts.
Yesterday, the Zimbabwe dollar was trading at US$1:ZW$1 407 on the official market.
Zimbabwe's crisis has been compounded by the fact that most workers earn in the fast-depreciating currency, with most teachers for instance, earning about ZW$63 000 per month, an amount that is equivalent to about US$45.
They then take their Zimbabwe earnings to the black market to buy US dollars for their daily transactions.
Domestic banks do not sell foreign currency to the general public, unless under special arrangements.
The Independent noted that Zimbabwe dollar-indexed prices were extremely expensive compared to prices obtaining in South Africa, the country's largest trading partner.
A survey done in Harare's supermarkets showed that 1kg of sugar cost ZW$3 029,99 or US$1,96 yesterday. Two kgs of RAHA cooking oil was selling at ZW$8499,99 or US$5,49.
The same product was selling for about US$4,70 in South Africa. Two kgs of Mahatma was selling at ZW$5 799,99, or about US$3,75. In South Africa, the same product was selling for about US$2,10.
But there were also extreme cases of price discrepancies to those in South Africa. Nivea Q10, for instance, was selling for ZW$59 999,99 or US$38,76 in Harare yesterday, compared to about US$3,80 in South Africa.
MAQ washing powder was selling for ZW$14 949,99 or US$9,66, while in South Africa it cost about US$3,50.
Nan 1 and 2 baby formula cost ZW$15 299,99 yesterday, or US$10,53.
It means the Zimbabwean teacher earning US$45 per month can only buy four Nans per month. A baby aged 0-6 months consumes about nine 400-gramme Nans a month.
In the supermarkets, Ikg of Irvine mixed chicken portions now costs ZW$13 999,99 or (US$8,70) while 1kg pork costs ZW$26 999,99 or US$17,50 and super blade beef ZW$21 999,99 (US$14).
In an interview, Confederation of Zimbabwe Retailers president Denford Mutashu said the discrepancies were unjustified.
"As we speak, I was in a big supermarket intending to buy bond paper," Mutashu said.
"It was being sold for US$15. But in South Africa, it is selling at the equivalence of about US$3. You cannot have the same product selling at such wide margins.
"We must be alive to the plight of the general public. We must also be alive to the fact that we need these consumers tomorrow. If you hamstring them and batter them left right and centre, it does not create better future," Mutashu said.
"There is an element of speculation, greed and irresponsibility. Something has to be done to ensure that pricing models are aligned with reality."
The gross minimum wage for a Zimbabwe is currently pegged at US$325 per month and after income tax deductions a person earns US$278 (on condition they do not have medical aid and funeral assurance).
The wages are therefore paid in local currency at the official exchange rate, converting to ZW$391 146.
Consumer Council of Zimbabwe (CCZ) Matabeleland region managing director Comfort Muchekeza slammed suppliers for what he called 'profiteering'.
"It is true, our prices are more expensive than those in South African," Muchekeza said.
"This has to do with the mindset of Zimbabwean suppliers. They are used to profiteering. They don't believe that one can make a profit at 10% margins. Our retailers want higher profits of up to three times per product.
"We also have high costs of production than South Africa because we don't do mass production. Our industries are not performing well," he added.
Last week, the government lifted restrictions on the importation of eleven basic goods to fight the price rage.
Manufacturers immediately complained that they would be thrown out of the game the moment South African goods arrive.
According to Victor Bhoroma, a leading economist, the government's action would hurt business.
"A local policy cannot be implemented to hurt a taxpayer (business) while promoting foreign exporters," Bhoroma said.
"The government can simply waive import duty on raw materials of those products or remove Value Added Tax for local producers so they produce at a lower cost."
Industry and Commerce minister Sekai Nzenza said: "As a ministry responsible for the implementation of the Consumer Protection Act, we are concerned about the price hikes of basic commodities. "During the past week, we have engaged with the manufacturers and retailers to find common ground through dialogue. This platform of negotiation with the private sector to find solutions involved the Reserve Bank and the Ministry of Finance and Economic Development.
"We will also continue to monitor prices of 14 basic commodities every week and highlight certain malpractices, such as the low weight of some commodities, which do not meet the required Trade Measures standards and quality".
Related Topics