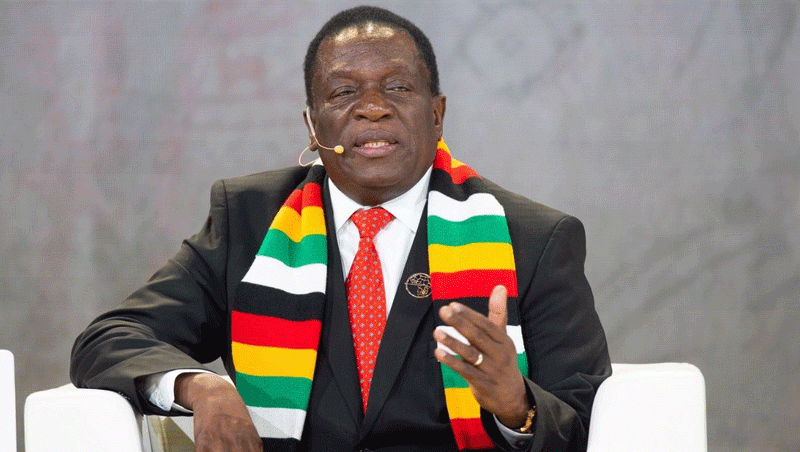 ZIMBABWEANS in the United Kingdom (UK) plan to stage a series of demonstrations against President Emmerson Mnangagwa when he jets into London for King Charles III's coronation, multiple sources said this week.
Charles III ascended to the throne last year, following the death of his mother, Queen Elizabeth II. His coronation is scheduled for Westminster Abbey, London, tomorrow.
The Zimbabwean leader was a surprise inclusion on the list of world leaders invited for the event. Mnangagwa scored a major diplomatic victory, which gives impetus to his re-engagement campaign and quest to regain Commonwealth membership.
The Independent was told that Zimbabweans in the United Kingdom plan to use the opportunity to put Mnangagwa under the spotlight. Temperatures started rising two weeks ago, when British legislators tried to block him by piling pressure on Secretary of State for Foreign, Commonwealth and Development James Cleverley to revoke the invitation.
The legislators cited a "grave political and human rights situation in Zimbabwe" for their tough stance.
They accused Mnangagwa of carrying out widespread political violence and human rights abuses against opposition members, who they alleged were being "harassed, beaten, imprisoned and murdered".
British legislators also slammed Mnangagwa for presiding over what they described as a corrupt administration and impoverishing millions.
Sources in London said Mnangagwa was likely to fly into raging storms as he returns to the UK for the second time since his dramatic rise to power in 2017.
Before that, his predecessor, the late former president Robert Mugabe and many members of his inner circle had been declared persona non grata in Zimbabwe's former colonial power.
"Mnangagwa could be celebrating his invitation but similar protests like those he faced at COP26 in Scotland in 2021 have been planned," a source said.
Mnangagwa is expected to address Zanu PF supporters in Luton today in one of engagements organised during his stay.
Dethroned Ntabazinduna traditional leader, chief Nhlanhlayamangwe Ndiweni said: "You are looking at a president who is coming to another country and cannot freely move," he said.
Ndiweni also led protests against Mnangagwa's participation at COP26.
"There will be a force of reckoning waiting for him should he find himself in a public space or try to engage or address people. Protests would be spontaneous. This would be the last thing the UK government would like to see," he said.
The former chief said British legislators who protested constituted the Zimbabwe committee in the British government.
"It is that committee that formulated policy vis-a-vis the UK and Zimbabwe. One can see the gravity of what has happened. If those that lead a committee that makes policy with respect to bilateral relations between the UK and Zimbabwe have taken to pen and paper to object, it means the omens are exceedingly bad for Mnangagwa, they are exceedingly bad for the Zanu PF government coming up to elections," he said.
Zimbabwe holds a crunch general election in a few months' time.
Speaking from London, Zanu PF UK branch representative Masimba Mavaza blamed opposition leaders for the protests.
"A group of Zimbabweans in the UK who are members of Citizens Coalition for Change (CCC) and other political parties are planning to demonstrate against the President," Mavaza said.
"Mnangagwa was invited to attend. The invitation confirms clearly that Mnangagwa's effort to bring Zimbabwe back from the abyss and complete the reengagement programme is succeeding."
He also confirmed that Mnangagwa was due to address Zanu PF members.
"Zanu PF chose Luton so that demonstrators will not travel there," Mavaza pointed out.
Zanu PF national spokesperson Christopher Mutsvangwa said Mnangagwa's invitation was rooted in historical connections between Zimbabwe and the UK.
"Forty-three years ago, the then Prince Charles lowered the Union Jack at Rufaro Stadium as we raised the victorious Zimbabwe flag. It is an act of shame for Zimbabweans in the UK to attempt to take part in frivolous and self-centred shenanigans," Mutsvangwa said.
"For the record, President Emmerson Dambudzo Mnangagwa is visiting as an invited guest of His Majesty's government. It is definitely not at the volition of the Government of Zimbabwe."
He said Zimbabweans in the UK should not embarrass their host nation.
"For well-meaning Zimbabweans at home and in the Diaspora, the coronation visit by the President is yet another feather in the hat of wholesome acceptability as we shed off the skin of pariah status," Mutsvangwa said.
"We heartily welcome our return to the global diplomatic stage. We are happy that the wise policies of engagement and re-engagement are giving issue to enjoyable bonhomie with all nations and their peoples."
Meanwhile, the UK Security minister Tom Tugendhat on Wednesday told the BBC that anti-monarchy activists will be allowed to protest tomorrow.
"It's perfectly possible that we're dealing with protest groups that have nothing to do with the UK, but are seeking to protest against a foreign leader who's visiting, or seeking to make a complaint about something that's happening hundreds or thousands of miles away," he said.
Professor of World Politics at the London University Stephen Chan said Mnangagwa's invitation should be read as an olive branch.
"It does not mean Mnangagwa is being encouraged to behave repressively, especially with regard to the forthcoming elections," Chan said.
"One should bear in mind that many olive branches are being offered to many controversial leaders. The coronation is simply an opportunity to say to all such leaders that there is an opportunity to reboot relations with the UK, provided they institute some kind of serious reform agenda."
He also added that security would be "so tight it is unlikely there can be any serious protests against anybody".
Related Topics