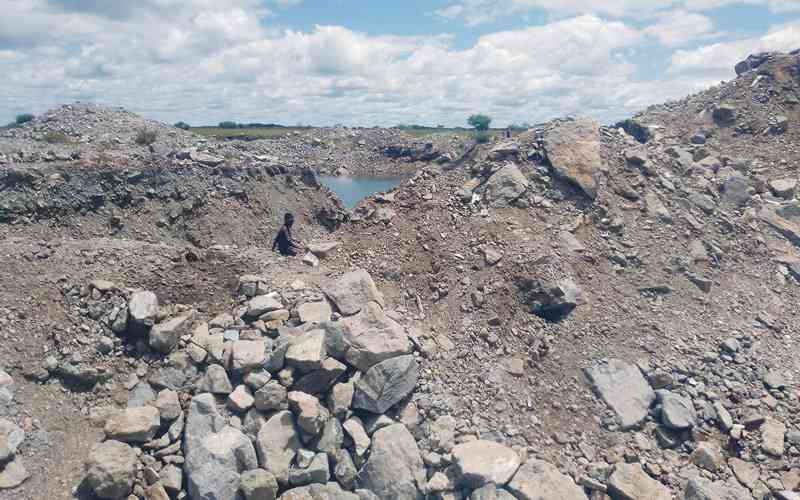 SOMETIME in 2021, Tarisai Changara, a 45-year-old mother of three, left Guruve to trek to the mineral rich Great Dyke mining belt, hoping to earn a living through chrome ore mining.
Following the long excursion, Changara settled in Darwendale, a part of Mashonaland West province where artisanal mining has become a major source of livelihood for entire communities.
She joined thousands of artisanal miners, who were already exploiting chrome in the area. Artisanal miners are digging up new holes, but they mostly rework pits left by big corporations who have divested from the area at various intervals in the past two decades.
But Changara's forays into the Great Dyke soon turned into a nightmare. She found out that exploiting the resource would not immediately create fortunes — prices offered by buyers were low, but the work was excruciating.
Besides being offered little for the hard work, she also realised she was part of a crop of people who have been destroying Zimbabwe's fragile environment for almost nothing. Yet when pressed to explain, they strenuously defend themselves and shift blame to big corporations.
Together with seven of her colleagues, Changara is a member of one of the co-operatives that has invaded open cast chrome mines left by mining giants, including Zimasco and ZimAlloys in the Darwendale and Rosva areas.
Areas bearing the worst scars of Great Dyke's chrome rash include a Cold Storage Company (CSC) farm where artisanal miners have left a trail of destruction.
"I came here looking for work," Changara told the Zimbabwe Independent this week. "But the going has been tough. We are getting little from mining activities."
In spite of clear evidence of environmental damage artisanal miners said they do not care.
"We are only interested in making sure we get quality chrome ore that we eventually sell to the Chinese. Getting quality ore ensures that we get better prices," she said.
The open pit that Changara and her team were working on this week was flooded following heavy rains this season.
And not far from the site, other artisanal miners were working near the slowly silting Darwendale Dam.
"We rarely think of the impact of our activities on the environment or the dam because we are looking at the little that we can get from honest work," Brian Nhunhama, another artisanal miner, said.
His colleague, Brian Musiyamhanje, said they only moved on open pits that had already been created by previous big miners.
He wants authorities to find the big mining firms and demand that they contribute to the restoration of the environment.
"Instead of targeting us, authorities should approach mining companies that used to mine here to find ways to restore the land," Musiyamhanje said.
Darwendale sits on the northern tip of Great Dyke, which is a linear geological feature that transcends northwards through the centre of Zimbabwe.
It boasts of vast mineral resources, including chrome, gold and platinum. However, as big miners moved out of parts of the mining belt, their claims were taken over by other investors, including the Chinese.
Here, their work has also left pits, which have become dangerous to humans and animals.
The Independent saw several unclaimed pits that have attracted artisanal miners.
At claims controlled by one leading Chinese firm, miners said workers of the Chinese company had rarely been on site for years. But its trucks frequently collect chrome from tributaries.
"The Chinese who used to mine here are long gone and we are here to eke out a living from the little we can get," one artisanal miner said. "Some officials from the government just visited this place recently, parked their cars and observed from a distance recently."
The Independent was told that these were officers from several ministries including the Ministry of Mines and Mining Development.
This newspaper also observed that in Darwendale, chrome miners were encroaching into the CSC's farm. Land belonging to the farm had been mined and abandoned without being rehabilitated. Some of the abandoned claims were run by a Chinese firm.
In an interview, Zimbabwe Environmental Law Association (Zela) legal officer Effort Dube said mining companies were required to have Environment Impact Assessment (EIA) certificates.
"If they have the EIA certificate, there is a need to approach the Environment Management Agency (Ema) offices … because according to the law, they are supposed to rehabilitate the land," Dube said.
Questions sent to the Ema in Mashonaland West were not responded to this week.
Mines deputy minister Polite Kambamura said government was not aware of land degradation in Darwendale.
"We are not aware of this," Kambamura said. "All miners are supposed to adhere to environmental measures. If ever there is any degradation we will investigate it."
Related Topics