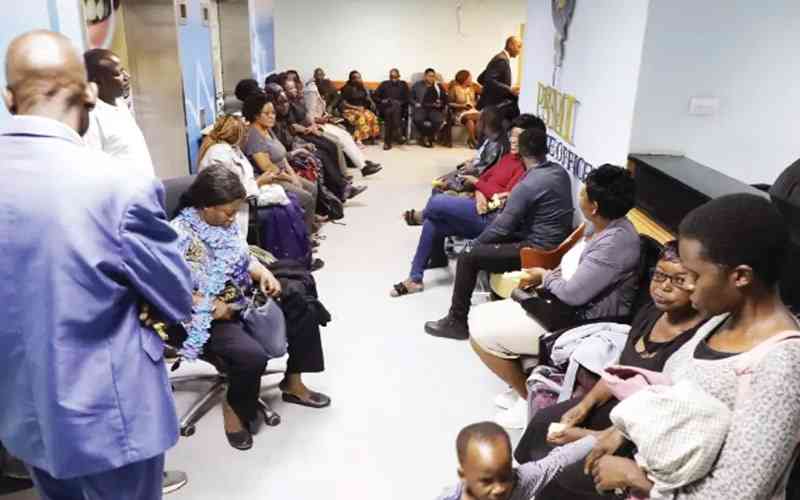 TODAY marks approximately one month since Premier Service Medical Investments (PSMI) staff, frustrated by a sea of problems, occupied Parkview Hospital in Harare to demonstrate the depth of their resolve to return the firm to full operations.
Their choice of Parkview carried an important message to their employer and government, which owns PSMI through the Premier Service Medical Aid Society (Psmas), a national pride before being run down.
Parkview is a jewel in the PSMI crown, having served the medical sector for years.
Last week, workers vowed to stay at the hospital until their grievances were addressed.
As problems escalated at PSMI, workers last year wrote to acting managing director George Kutoka demanding that he follows legal guidelines in implementing a recovery plan.
Their demands followed the submission of a staff rationalisation document to Psmas, which proposed job cuts.
PSMI has been forced to suspend operations at its facilities over a myriad of challenges, including lack of funding to run its clinics, laboratories, pharmacies, hospitals, dental and rehabilitation centres throughout the country.
In a recent memorandum to Kutoka, which was copied to Vice-President Constantino Chiwenga, PSMI workers said systems and statutes must be at the core of operations.
Chiwenga is Zimbabwe's minister of Health and Child Care.
The memorandum was also copied to Jasper Chimedza, who is permanent secretary in the ministry.
The government responded by pushing for the arrest of four PSMI leaders by the Zimbabwe Anti-Corruption Commission over looting allegations.
The executives have been arrested, but nothing has been done to stop turbulences roiling the firm, which last paid salaries and allowances in June last year.
Bankrupt, many of workers have been evicted from their homes.
One affected worker committed suicide recently, which labour leaders blamed on the salary backlog.
They also claimed seven others were admitted in hospital from stress-related illnesses.
Munyaradzi Nharaunda, worker's committee chairperson at PSMI, recently told the Zimbabwe Independent that workers wanted to meet management to thrash out a deal.
"If they are planning to retrench workers, they should come in the open so we move on," Nharaunda said.
"At least we can plan for our future."
Middle management employee representative Maneta Dauma called on authorities to listen to workers' advice.
"Workers identified challenges at PSMI and it will only be prudent for authorities to include them in their quest to address the company challenges," she said.
Nharaunda and Dauma were worried that Chimedza, a regulator, appeared reluctant to engage workers.
Chimedza had not responded to questions sent to him at the time of going to print.
But experts and activists this week cautioned the government to guard against implications of glossing over PSMI's troubles.
Health expert Josephat Chiripanyanga said PSMI's collapse would be disastrous.
"As medical practitioners, we believe the collapse of PSMI was a result of interference (by authorities)," he said.
Chiripanyanga implored the government to intervene while ensuring that medical aid societies stick to core business.
Economist Prosper Chitambara said the collapse of PSMI meant that its members would resort to out-of-pocket finance to access health services.
"Out-of-pocket payments have thrown several households into poverty and that is not sustainable. Medical insurance is critical.
"We have also been advocating for a national health insurance scheme that covers everyone," Chitambara said.
"The government has to bear a burden in terms of financing health care. That is the trend in developed countries. The government has to assume greater responsibility for financing the health of its citizens."
Community Working Group on Health executive director Itai Rusike alleged that the situation at Psmas and PSMI stemmed from plunder.
"Corruption and misuse of resources remain endemic at Psmas, diverting resources away from their health facilities and reducing patients' access to services," Rusike told the Independent.
"This has led to unacceptable poor service delivery characterised by the closure of some clinics and failure to pay service providers."
He noted that inadequate funding to health facilities had resulted in a poorly run and poorly performing public health system.
"For universal health coverage and the empowered upper middle-income economy goals to be realised, a lot needs to be done to ensure domestic resources are identified and ring-fenced for health," Rusike said.
"Similarly, health literacy, financial literacy and financial jurisprudence over all resources availed for health needs to be incorporated into the system to curb the current losses, pilferage and inefficiency in resource utilisation, which has resulted in poor service delivery."
Rusike argued that Zimbabwe suffered from inadequate public infrastructure and ill-equipped hospitals.
"Several patients have to travel long distances to access primary and other health care facilities. Despite the 'free healthcare' policy, most of the times, selected vulnerable groups still buy their medication due to non-availability in both rural and urban public health facilities," he said.
"This necessitates further travel to access pharmacies and laboratories in towns, thus impacting negatively on access and placing hardships on those with limited or no means to travel further."
With PSMI virtually on its knees despite having been the most affordable health service delivery source with a huge sphere of influence, its demise has exposed patients to the vagaries of a dying economy.
Patients have been on the receiving end of its never-ending contestation, while the government maintains its deafening silence on the matter.
Related Topics