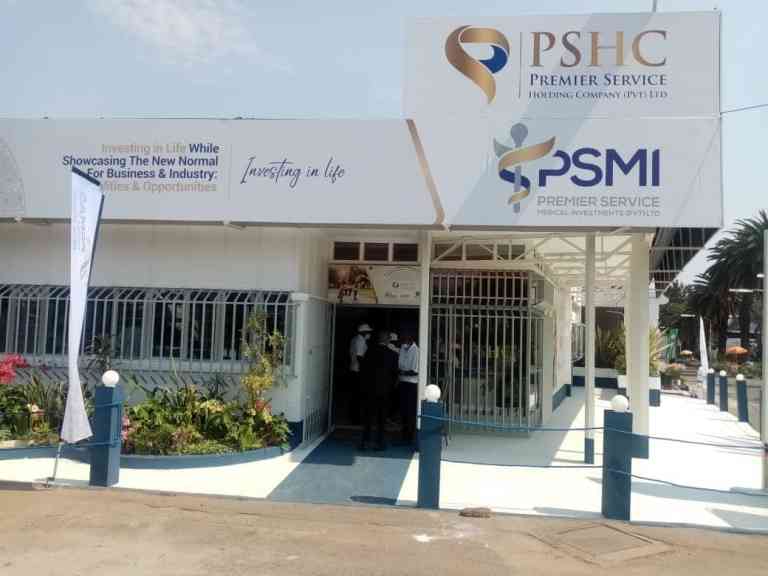 THEY have spent six weeks belting out gospel songs and praying for God's intervention.
In between chain prayer sessions in pursuit for divine intervention, the generosity of a workforce in crisis has been demonstrated.
Female members of the group make rounds asking for donations from those who still can afford. The money raised is for school fees for children, who have been sent home as debts pile up.
One could be forgiven for assuming that these are members of a church congregation undertaking an important pilgrim.
No!
They are members of the State-run Premier Service Medical Investments (PSMI), who last month moved to Parkview Hospital in Harare — one of the firm's flagship facilities — demanding payment of salaries dating back to June 2022.
Their prayers are not being held in a synagogue, but within the corridors of the medical facility, which has become an important part of their daily life.
But as they pondered their future on March 4, 2023, news filtered through that Bernard Chatindivara, a colleague since 2012, had committed suicide.
Chatindivara, who was buried in Chiweshe, Mashonaland Central province this week, was a loss control officer at the firm's Mpilo Hospital operation.
Workers' committee members claimed that he took his own life after failing to settle personal debts that had piled up over many months.
PSMI, his once revered employer, has seen its fortunes battered by looting and mismanagement, according to audits previously conducted on the firm — one of Zimbabwe's largest medical sector players.
Munyaradzi Nharaunda, workers committee chairperson at PSMI, said this week told our sister title, NewsDay that: "A fellow employee who was a loss control region B supervisor committed suicide in Bulawayo.
"He had no fuel for his vehicle to move around, and as a result he borrowed money for that.
"The debts accumulated and the company failed to pay the debts yet he was doing its business.
"He received death threats. He once lodged a complaint over (the issue and requested) to be transferred. We even liaised with our management, but it resisted. We don't know what happened, but eventually he committed suicide," Nharaunda claimed.
Yet despite his circumstances, Chatindivara soldiered on, reported for duty and diligently remained committed to his job until he could not take it anymore — abandoned by an employer he had served for a decade.
His death, which the PSMI workers committee claims was due to "stress", is part of what its workers have had to endure since the giant medical aid firm teetered on the brink of collapse last year.
It has been a tough year at PSMI, with sources claiming this week that six members of staff were admitted in hospitals, battling stress-related ailments.
And another has had to undergo therapy sessions in Bulawayo after suffering a minor stroke.
In Harare, PSMI workers vowed to continue camping at the firm's Parkview Hospital, where they have been living for one month, citing inability to raise transport fares to report to work.
"We are determined to stay here until the principal addresses our challenges," one member of the PSMI staff told the Zimbabwe Independent.
"We cannot go home as some of us have been evicted. In the case of our colleague who committed suicide, these are some challenges we are facing due to non-payment.
"We have to be strong. We spend time praying and singing gospel songs. We are not trying to incite anyone and we have put our fate in the hands of God," the workers added.
Nharaunda said they would continue with the job action until President Emmerson Mnangagwa and Vice President Constantino Chiwenga intervene.
"If we have gone for more than six months without salaries, what is His Excellency (the President) saying, what is the Vice President saying? We are not moving an inch. We will continue with the industrial action," he said.
"The workers staying at Parkview have nowhere to go because they were evicted from their homes. There are genuine reasons why the people are camped at Parkview."
PSMI runs over 150 health facilities across Zimbabwe.
"As you can see our colleagues have been killed while dedicating their lives to the company without pay. We don't know our fate but we will stay on," Nharaunda said.
He challenged authorities to release results of a forensic audit conducted last year in order to make everything transparent.
"Some board members do not have the requisite skills to lead a big organisation like this Psmas. The people leading the organisation are conflicted and they are incompetent. The skills audit exposed that," Nharaunda said.
PSMI have petitioned Mnangagwa and Chiwenga, who is also Minister of Health and Child Care.
Maneta Dauma, a middle management employee representative, described the situation as disturbing for women.
"What has brought us together as female employees was the failure by PSMI to pay us," she said.
"Most women, as mothers, carry all the family's burden and even for the country. They are also carrying the burden of PSMI as a company.
"Some of our colleagues have had their children thrown out of school for non-payment of fees and women are mobilising and sharing donations. Some women left their homes without food, so we help each other with basics.
"If we can get a chance to meet President Mnangagwa we would want Psmas and PSMI to be aligned with Vision 2030 and National Development Strategy (NDS1) so that job security is definite while people get the required services," Dauma said.
PSMI spokesperson Obey Nhakura said management had engaged employees on welfare issues.
"Since employees camped at Parkview, there have been several works council meetings between management and employees as part of the process to address the impasse," he said.
"This is in addition to numerous external initiatives being pursued by other interested stakeholders as widely reported in the media, such as the civil servants' representative body and the respective Parliamentary Portfolio Committees in pursuance of a lasting resolution.
"Furthermore, the board remains seized with the matter, with a meeting between employees and the former expected this week," he added.
Related Topics