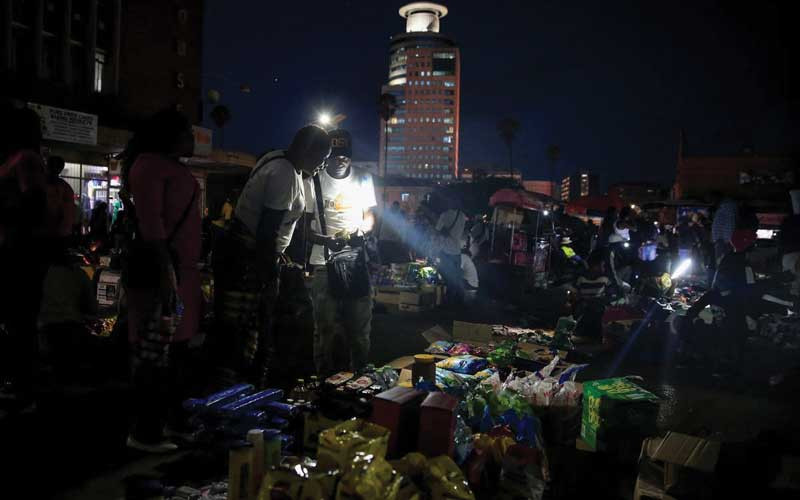 MAI CHIPO packs her vegetables into one big sack in a hurry in the quest to get in town as the evening rush hour commences.
"Chipo! Chipo! Bring the blue plastic bucket so that we pack tomatoes", Mai Chipo calls her 9-year-old daughter.
Mai Chipo sells her vegetables at a vending stall in Kuwadzana during the day but around 5 pm she packs an assortment of tomatoes and vegetables for sale in town.
This is a seemingly new trend that is evident on most Harare streets during the night. Vending has become a night venture.
Streeting vending is now an established feature in most urban areas in Zimbabwe and its impact on the economy and livelihoods of the general public can never be understated.
Zimbabwe's urban areas have been plagued by poverty and high unemployment which has driven people into seeking alternative means of livelihood on the streets.
According to a recent World Bank report, " Zimbabwe's economic development continues to be hampered by price and exchange rate instability, the misallocation of productive resources, low investment, and limited structural transformation."
All these economic challenges are affecting ordinary Zimbabweans including the vendors on the streets. Vendors on various occasions have expressed discontent on how their plight is given little or no importance by policymakers. More vendors are however resorting to selling at night.
Night trading on the streets and other new forms of trading including car boot vending have become a trend in many Zimbabwe's cities since daytime trading have constantly become a battlefield with municipal police.
The darkness has provided vendors with some form of protection from being arrested as street vending is deemed illegal in Zimbabwe.
Narrating her ordeal, Mai Chipo said she has lost capital as a result of unending battles with the council. "I lost buckets of tomatoes on two occasions. The council police came and I could not run like others. They rounded me up in space and collected everything. It was a huge loss to my business", Mai Chipo said.
When asked why she was selling at illegal locations, Mai Chipo said she cannot afford to pay council licence fees.
"I generate a better income by selling my vegetables at night rather than during the day but it's not much to cover my household expenses let alone paying licence fees", Mai Chipo said.
Some vendors concurred with Mai Chipo that council licence fees were out of reach for many.
"Vending in the CBD is like gambling. You either win or lose. Some days you sell while some days are dry. If you make more than US$5 you will be lucky. Vending spaces cannot accommodate all of us. Secondly, they closed Mupedzanhamo and my only option is the CBD," the vendor said.
Vendors further bemoaned the politicisation of vending spaces.
"Vending spaces have been politicised and space barons have become a thorn in the flesh," said one vendor who preferred anonymity.
Harare City Council by-laws state that no person shall engage another to carry the business of hawking unless he or she has a valid hawker's employer's licence. The licence must specify the number of hawkers that the holder may employ or retain as an agent.
Most streets in Harare are flooded with scores of men and women selling assortments of products including second-hand clothing, fruits and vegetables, shoes, smoked chicken liver, sausages, maize cobs, chocolates, cosmetics products, beverages, traditional herbs in small labelled sachets and groceries.
Selling a mixed dish of meat popularly known as gango, chicken liver, fresh chips, sausages and burgers are also a trend which has become normal in the capital city.
Harare City spokesperson Innocent Ruwende added that while the council recognizes contributions by the informal sector in the national economy, there was a need for order and compliance.
"Harare City Council recognises the important role played by the informal sector in the national economy especially during this period when our country is facing macroeconomic challenges. We accept that the informal sector is critical in income generation but there is a need to balance that with the order, compliance with by-laws, and respecting formal businesses that contribute to the development of the country through payment of taxes," Ruwende said.
"The sale of groceries on the streets is strictly prohibited. Obstruction of roads by vendors is a punishable offence in terms of the Criminal Law and Codification Reform Act. It is important to note that trading from car boots is also illegal", he added.
Ruwende said 2014 Harare Vendor by laws states that any violation of Harare vendor's by-laws attract the seizure of goods or removal of the illegal vendors. He further stated that seized goods are recorded in council books and stored in a secure compound.
However, some of the vendors from the street said recovering their seized goods from the council is an irritating inconvenience hence they resort to bribing council officials.
Ruwende said according to Statutory Instrument (SI) 59 of 2014 seized perishable goods are disposed of or destroyed after obtaining written authority from the Director of Housing and Community Services.
"Any seized goods removed to a secure compound shall be released to the owner after payment of the prescribed penalty outlined in the Second Schedule; and storage charges set by resolution of Council from time to time," he said.
Related Topics