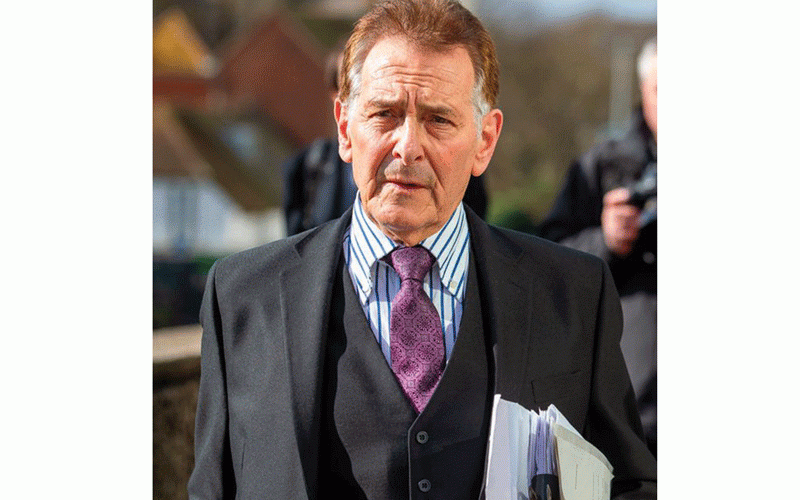 HWANGE Colliery Company Limited (HCCL)'s second-largest shareholder Nicholas van Hoogstraten has come out guns blazing accusing the government of fuelling corruption and gross mismanagement of the company leading to its current challenges.
Breaking his silence for the first time after Minister of Justice Ziyambi Ziyambi's August 10 2022 government gazette, Van Hoogstraten, said the rains started beating HCCL around 2000 when signs of government-fuelled corruption and maladministration surfaced.
In August this year, an appeal by Ziyambi at the Supreme Court seeking approval to impose a Reconstruction Order on HCC was dismissed with costs. However, no sooner had Supreme Court deputy Chief Justice Elizabeth Gwaunza handed down the judgement, than Ziyambi, through a government gazette published on August 10 2022, placed HCCL under reconstruction superintended by administrator Munashe Shava.
Hwange, which is now saddled with humongous debt stocks running into millions of dollars after decades of mismanagement used to be a key economic driver at its prime.
Over the past four years, HCCL has been under government-instituted reconstruction.
As it relates to HCCL, in which Van Hoogstraten holds "just over" 30% equity, the businessman said the coal mining firm was destroyed due to government bungling.
"The government of Zimbabwe holds just under 37% of the shares which were originally, just after independence, a gift to 'the People of Zimbabwe' from Hwange Colliery which, at that time, was controlled by Anglo-American with myself (as today) the second largest shareholder.
"We proposed and implemented a new share issue which gave 40% of the company to 'the People of Zimbabwe'.
This worked very well for over 20 years until the government-inspired corruption/incompetence took over following the expiry of the Anglo-American management contract," Van Hoogstraten said.
The business tycoon, whose shareholding in HCCL is under Messina Investments, boldly claimed that certain individuals constitutionally entrusted as custodians of public assets were responsible for decimating the coal mining entity.
Without disclosing names, Van Hoogstraten highlighted that the same individuals were mortgaging national resources to "so-called Chinese and Indian investors" in exchange for bribes.
"This in turn led to the collapse and destruction of HCCL together with Ziscosteel so that we have the crazy situation where the largest coal reserves in Africa and the related steel production capacity is likely to be at the mercy of Chinese- and/or Indian-based, so-called, 'investors'.
"(They) are only in Zimbabwe for what they can steal and, in such cases, (all too many) giving brown envelopes to those who are supposed to be looking after the interests of 'the People of Zimbabwe'," Van Hoogstraten told this publication.
This is not the first time Van Hoogstraten has opposed the government's plans to place HCCL under reconstruction.
In 2018, the businessman, appearing before the Mines Parliamentary Portfolio Committee, highlighted that the revival of HCCL could only be possible without the involvement of "corrupt" and "tainted" individuals.
"Medium term, I suppose the interested parties must sit around the table and sort something out. That cannot include anybody that is tainted or corrupt or that has any history with Hwange. The situation at Hwange has gone from bad to worse and that has escalated over the past three years," he was quoted as saying at the time.
Mines and Mining Development minister Winston Chitando, in 2018, insisted that a turnaround at HCCL was only possible under reconstruction.
In 2016 he was the HCCL board chairperson. Before publication, Ziyambi and Chitando had not responded to questions posed by the Independent .In a fresh application lodged at the High Court on August 3 2022, seen by the Independent, Ziyambi chronicled that the government's requests for legal approval to have HCCL placed under reconstruction were opposed in the past.However, Ziyambi averred that in light of the challenges militating against HCCL marked by a US$220 million debt stock and gross mismanagement, the coal miner could only return to viability under reconstruction.
"At the time I issued the Reconstruction Order in the first Reconstruction, I had noted the following. Hwange's inability to repay (debts) arose by reason of gross mismanagement of Hwange.
It was, through such mismanagement, being prevented from becoming a successful concern. "There was a reasonable probability that if the company was placed under reconstruction, it would be enabled to pay its debts and meet its obligations and become a successful concern," Ziyambi argued.
HCCL, which is one of the companies holding the largest coal reserves in Africa, has resources strewn over 22 000 hectares.
At its prime, it used to produce 500 000 tonnes of coal every month. The company boasts of a staff complement of 1 654 permanent employees. Leveraging on solid value chain linkages, HCCL used to produce adequate coal requirements for iron ore processing firm Ziscosteel, which in turn supported downstream industries in Zimbabwe's then stable economy.
Related Topics