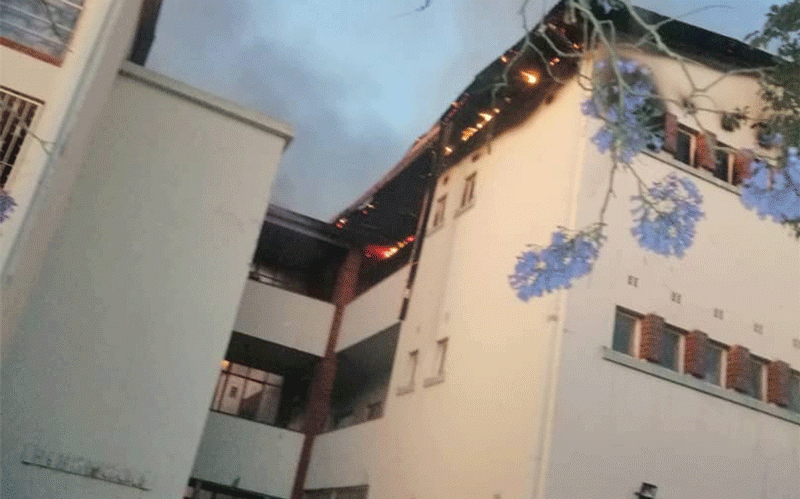 BULAWAYO's incessant water challenges came to the fore on Tuesday evening when five second floor residential apartments on a three-storey building in Bulawayo caught fire.
Residents fear that, given the continued water challenges facing Bulawayo, the city's buildings face a serious fire risk.
The fire at corner 2nd Avenue and George Silundika Street, where property worth millions of dollars went up in flames, was successfully doused before engulfing the entire building.
Bulawayo City Council (BCC) acting chief fire officer Lynos Phiri said 80% of the burnt area was severely damaged, resulting in a $210 million property loss.
"The estimated value of the property saved was $140 million. The fire was caused by children playing with matches. Five residential flats at Ringwood flats comprising two rooms each on the second floor of a three-storey high-rise building were burnt. On arrival, the Fire Brigade found the top floor of a three-storey residential flat comprising five flats well alight with a very large crowd on the ground. All the five flats were well alight and severely damaged by the fire," Phiri said.
He said no one was injured by the inferno.
Meanwhile, the Zimbabwe Coalition on Debt and Development (Zimcodd) said continuous water shortages in the country were affecting fire extinguishing services.
In a statement, Zimcodd said most suburbs in cities like Bulawayo, Harare and Gweru faced severe water shortage. Water is pivotal in controlling fire.
They expressed concern that the first fire tender arrived at Ringwood Flats without water. The firefighters had to connect to a nearby fire hydrant before two other fire tenders arrived.
"The water situation continues to worsen due to the economic decline that has led to the failure to procure chemicals needed to treat water sources. Numerous factors have contributed to the country's water problems, including the economic decline, droughts affecting water sources, lack of maintenance of the old water infrastructure, inability to procure the necessary chemicals to treat water sources, political struggles between central government and opposition-controlled city councils and corruption," the Zimcodd statement read.
"Zimbabwe is plagued by diseases such as bilharzia, cholera, typhoid, and dysentery that are common in poverty-stricken areas, diseases that have no place in the 21st century."
Meanwhile, Information and Publicity minister Monica Mutsvangwa has urged water management authorities to implement innovative revenue generation measures to help in the repair of water infrastructure.
"In order to ensure cost recovery tariffs for both clear and raw water, local authorities and the Zimbabwe National Water Authority (Zinwa) will continue to review and align their tariff structures to ensure sustainability in maintaining water infrastructure and supply services, with the tariffs being approved by Cabinet before implementation to ensure alignment," Mutsvangwa said.
Related Topics