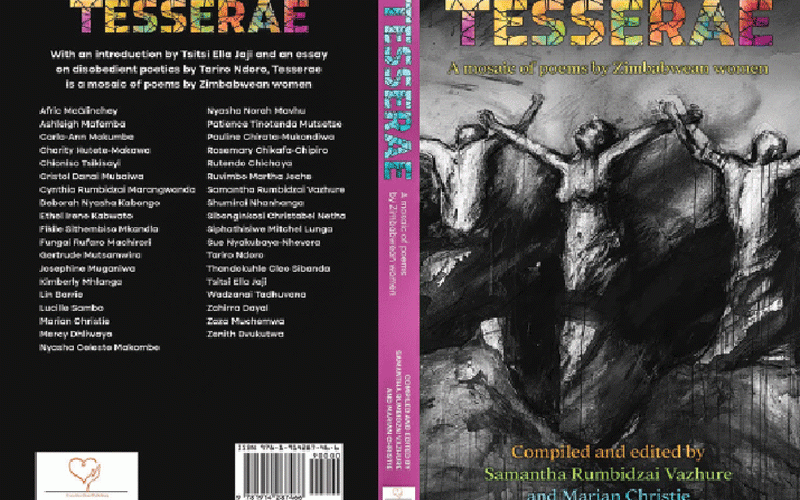 Carnelian Heart Publishing, a publishing house headquartered in the United Kingdom, is set to release Tesserae: A Mosaic of Poetry by Zimbabwean Women. The 170 poems in the anthology are written exclusively by women and explore a wide range of themes, including challenging or traditionally taboo subjects.
The collection's 37 contributors fearlessly address domestic abuse, xenophobia, queerness, illicit relationships, sexual fantasy, menstruation and suicidal ideation.
The introduction was penned by Tsitsi Ella Jaji, while Tariro Ndoro wrote the essay. It will be available in both paperback and hardback. Visual artist and poet Lin Barrie's inspirational artworks Embrace Equity and Portrait, Taking Flight grace both covers of the collection.
Additionally, poems from each of the three women were also included.
Tesserae are little colourful stones, tiles or glass that are used to create mosaics. According to the editors, the title reflects the multiplicity of the viewpoints represented in the book.
"It is a unique celebration of Zimbabwean womanhood in all its diversity, richness of voice, theme, and narrative".
The poems are "tender portrayals of family, friendships, and parenthood; narratives of loss and despair; humorous poems; socio-political commentaries; transcendent allegories and lyrical descriptions, inter-woven with pulsing natural energy".
The book was edited and compiled by Samantha Vazhure and Marian Christie whose poems are also featured among the 274 pages of the book.
"Zimbabwe, being 'the House of Stone', is a mosaic in its own right, and we felt the voices in this anthology together are 'tesserae', mosaic pieces crafting the panorama of Zimbabwean womanhood," the editors wrote.
Traditional page poets and underground poets, students and grandparents, visual poets and spoken word artists, established writers, and emerging talents from Zimbabwe and the diaspora are among those who have contributed.
Some of the contributors include Afric McGlinchey, Fungai Rufaro Machirori, Gertrude Mutsamwira, Rutendo Chichaya, Ruvimbo Martha Jeche and Shumirai Nhanhanga, among others.
Jeche told IndependentXtra that it was her desire to see women consistently speak up in unison.
"I'm honoured to be a part of such a prestigious project and to be included among such talented women writers," Jeche said.
Rosemary Chikafa-Chipiro said: "I am excited. I have always written for myself but it suddenly feels good to express myself for the world. It feels like a coming out of sorts."
The editors — Vazhure and Christie — note that Zimbabwe has a rich creative tradition, with a wealth of poetic talent.
Through her indie publishing house, the award-winning Vazhure has published about 30 titles, including books that represent the emerging voices of Zimbabwean literature.
Starfish Blossoms, her collection of poems, got the National Arts and Merits Award for Outstanding Poetry Book (2023).
Vazhure, a bilingual poet, novelist, short story writer, translator and visual artist, is also fascinated by the relationship between text, music and theatre.
She wrote The Rescue, a screenplay for a yet-to-be-released production by Dream House Pictures, a local film production studio. She was recently awarded a Lolwe Classes scholarship for the Magical Realism and Surrealism class taught by award-winning Nigerian writer TJ Benson.
Author of Fractal Poems and Triangles Marian Christie — co-editor of the anthology — is originally from Harare and is now based in Kent, south-eastern England, where she explores mathematical forms in the writing of poetry by interweaving mathematical imagery with everyday experiences. Her essay book From Fibs to Fractals: Exploring Mathematical Forms in Poetry was released in 2021 and is set to be republished.
Tesserae will be virtually launched on September 22 via the Zoom digital platform. Subsequent events will take place on September 23 and 24 on Twitter Spaces and Instagram Live. The launch will include readings of poems by contributing poets.
The book can be pre-ordered from Amazon and Barnes and Noble.
Related Topics