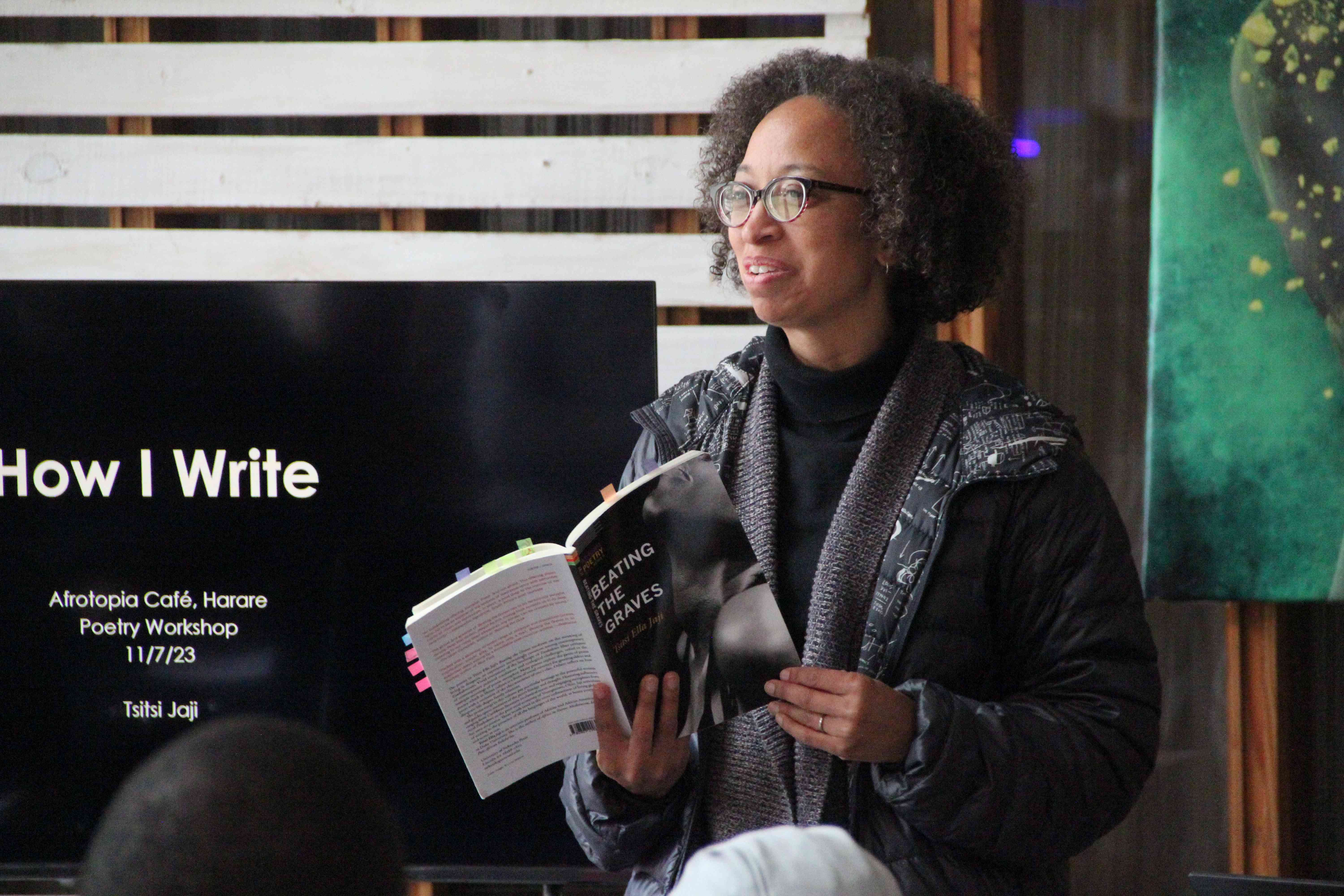 The Zimbabwe Poets Society's just concluded poetry reading and poet's workshop, coordinated by poet and literary activist Batsirai Chigama, provides the personal engagement with poetry that local poets appear to have always desired to be consistently associated with.
The last day of the two-day free event was held this past Tuesday at Afrotopia, a youth workspace for digital creatives situated within the National Gallery of Zimbabwe (NGZ) premises.
The workshopping session not only provided poets with the opportunity to read their poems aloud and engage with each other's compositions, but they also received first-hand professional feedback, analysis, and commentary on their poems from distinguished Zimbabwean American poet and scholar, Tsitsi Ella Jaji, who is an Associate Professor of English at Duke University in North Carolina, United States. It also allowed them to hear Jaji recite some of her poems in person.
The first event, a poetry reading, took place last Thursday at Alliance Française Harare and began with Jaji speaking with Tariro Ndoro a notable poet whose debut collection Agringada: Like a Gringa, Like a Foreigner (Modjaji Books, 2019) received a Nama award in the outstanding poetry book category (2020).
Beyond the scope of their writing processes, both poets, who were exposed to literature at a young age, discussed a variety of writing-related issues, such as incorporating language and different traditions in writing through diaspora experiencesand dealing with diaspora-home dynamics and language. They also delved into the notion of writers having a voice within the broader context of their experiences, both in their home country and in the diaspora.
Tariro, whose writings also comment on millennial Zimbabwean culture, was the first to read out her poems, one of which was inspired by a grocery shopping trip, and others by xenophobia observations.
Her poems are motivated by experience, observation, and how human relations are envisioned in society.
The soft-spoken Jaji then read from her published collections Mother Tongues and Beating the Graves, highlighting a few poems in which she pays tribute to African authors, including Kenyan writer Ngũgĩ wa Thiong'o, whom she honors in a poem titled "A Song At Dawn."In the poem "Black Easter Reflections," the two poets performed a duet, interchanging lines of a poem that challenges prejudices, and xenophobia.
She told IndependentXtra on the sidelines of the event that the last time she returned home was in 2017 when she had the opportunity to work with a group of poets for the first time on an African poetry library initiative. "I have learnt so much especially writing for occasions, and spoken word poets being commissioned to write a poem for an event. To me it's quite uplifting to know that there is a sense of poetry having a role in public life regardless of what the occasion is,"she said.
Jaji, who did not get professional training in poetry writing but learned via reading, feels at home writing about poems inspired by family, nature, and grief. Some of her poems examine the politics of living in a difficult world and what it does to the human heart, soul, and relationships.
She has a musical background and studied music and literature for her university degree.
During her poetry reading, elements of song and rhythm could be felt in some of her pieces.
The event allowed poets to express themselves deeply and emotionally, resulting in a collection of heart-wrenching and thought-provoking poems. Poets like Gertrude Mutsamwira, Lovejoy Shazharume, Rutendo Chichaya, Batsirai Chigama, and Tariro Ndoro had their works read aloud by Jaji and themselves.
"I applaud Tsitsi for taking her time to take us through the writing experience and most importantly emphasising on how we can achieve more even by writing less, something we can easily forget," Ruvimbo Jeche stated.
"I learnt a lot about the idea of specifying experiences in a poetic way so as to create a unique experience," remarked Osman Mbindi, a multi-lingual poet.
Jaji's thought-provoking poems have appeared on a variety of platforms, including The Academy of American Poets' Poem-A-Day series.
Related Topics