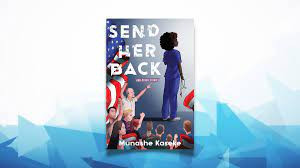 Zimbabwean author living in the United States, Munashe Kaseke, has been conferred with a silver award by the International Academy of Digital Arts & Sciences (IADAS) for her debut book Send Her Back and Other Stories.
Kaseke's book was selected from approximately 2 000 submissions from 43 countries and will receive the award during the 2nd Annual Anthem Awards to be this Monday (February 27) in New York City, New York, in the United States.
IADAS is an organisation that honours and recognises excellence in interactive content across emerging technologies.
The 204-page book titled Send Her Back and Other Stories was published by Mukana Press. It was selected by IADAS from approximately 2 000 submissions from 43 countries.
The book was given a silver award in the Research Projects or Publications category. Other recipients include Inaccessible Cities Al Jazeera Digital, Night Over America The Elizabeth Taylor Aids Foundation and Black Pittsburgh & Newspaper (Social Media Publication).
Kaseke said receiving the award, her first and being an Anthem award, was "validation" her work.
"For any artist, receiving your first award is validation of your work, but to have my first award be an Anthem award, nominated along people like Amanda Gorman and organisations such as Al Jazeera Digital, Google, The Daily Show with Trevor Noah and the BBC, is an even greater honour," Kaseke told IndependentXtra.
She said that she wants Zimbabwean diaspora stories of challenges and triumph to be told and cherished in all corners of the world.
The up-and-coming writer grew up in Harare and currently lives and works in Northern California. At 19, she moved to the US in order to pursue her studies after she received a scholarship to study at Drake University in Des Moines, Iowa.
She has a Master of Public Administration degree and a Doctor of Pharmacy degree.
Mukana Press, being the publisher, also won the award alongside other notable American institutions.
The Research Projects or Publications category recognises a "project or publications that distribute informed research to educate, raise interest, knowledge and or change perception or behaviour around a diversity, equity and inclusion cause".
In Send Her Back and Other Stories, Kaseke offers an 'awfully intimate, fresh telling of the immigrant black woman experience in the United States, equally awash with a myriad of challenges as well as the joys of exploring a new world.
With sumptuous candour, her complicated, and often tangled, female Zimbabwean protagonists navigate issues of identity, micro aggressions, and sexism in vibrant and indelible settings, and at times a tense US political climate".
The annual Anthem Awards were launched in 2021 as a way of recognising social impact work across the globe. The awards honour the purpose and mission-driven work of people, companies and organizations worldwide by amplifying voices that spark global change.
The awards celebrate and champion work across seven key category areas such as diversity, equity and inclusion, education, arts and culture, health, human and civil rights, humanitarian action and services, responsible technology and sustainability as well as climate and environment.
The book has been adopted in schools in the US where it serves as a discussion point for race, immigration and women's rights.
Related Topics