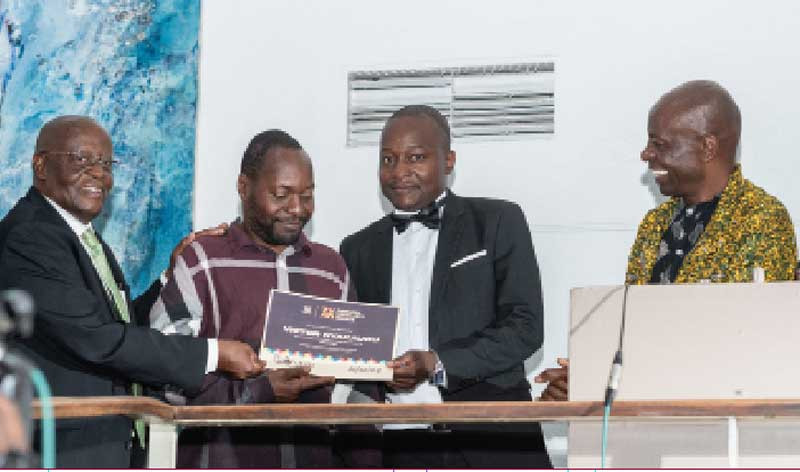 Victor Nyakauru, a mixed-media artist who uses sculpture, painting and installations as his primary mediums, was named the overall winner of the inaugural Zimbabwe Visual Arts Awards (ZVAA), which were held last Friday at the National Gallery of Zimbabwe (NGZ) premises in Harare.
His piece titled Mukomberanwa, which is a Shona word that reflects unity, togetherness and happiness, was selected out of 13 shortlisted entries by the ZVAA jury.
By taking home the top honour, Nyakauru is automatically selected for the prestigious Biennale di Venezia (Venice International Art Exhibition in Italy), which will run from April 20 to November 24 next year.
First-place winners were Ngonidzashe Tsiga (sculpture and sculptural installations), Stone Beattie Munodawafa (architecture), Petros Mwenga (painting) Dumisani Ndlovu (printmaking) and Semina Mpofu (mixed media).
Midlands-based artist, Keith Zenda expressed his desire to do more after his portrait entitled Hari Yaputsika came in second place in the painting category.
"Getting recognised and winning a prize show that my message about this painting has been heard and it will spread far across all African countries," Zenda said.
Second-place honours went to Damien Grant (mixed media), Mukudzei Muzondo (assemblage), Rickson Zivare (sculpture and sculptural installations) and Grace Nyahangare (printmaking).
Johnson Mugabe (mixed media) and Daniel Chimurure (painting) tied for third place, while Nothando Chiwanga (video), Joseph Nyakwenga (digital) and Again Chokuwamba (mixed media).
Nyakauru graduated from the visual art studios at NGZ, where he studied art from 2004 to 2006. He has taken part in a number of exhibitions and previously won the ILO Green EnterPrize Award (2019) and the PPC Imaginarium Grand Prize (2019), among other accolades. In "Mukomberwana" he used dried gourd to create his winning artwork. The award is actually a step further and I feel very happy about that," Nyakauru told IndependentXtra.
In attendance was guest of honour, NGZ chairperson retired Justice Maphios Cheda, who was joined by board members Chelsea Evans, Morris Mpala and Bryn Taurai Mteki. Director arts and culture in the Ministry of Youth, Sports, Arts and Recreation Dr Biggie Samwanda, songstress and board member of the National Arts Council of Zimbabwe Hope Masike, chairperson of the ZVAA jury and radio personality Larry Kwirirai, as well as government representatives and artists, were also present.
Other members of the jury included arts manager Laura Ganda and curator for education and public programming at NGZ Livingstone Muchefa.
Prizes totalling ZW$5 million were given out.
The NGZ executive director, who is the commissioner of the Zimbabwe Pavilion at the Venice Biennale, urged artists to participate in future ZVAA exhibitions as it is a platform that will inform the selection committee in shortlisting artists for the Italian showcase.
ZVAA are a reiteration of the Zimbabwe Annual Exhibition, the Zimbabwe Heritage Exhibition and the National Annual Exhibition. According to the jury this new format seeks to encourage higher standards and a competitive spirit within contemporary art.
Related Topics