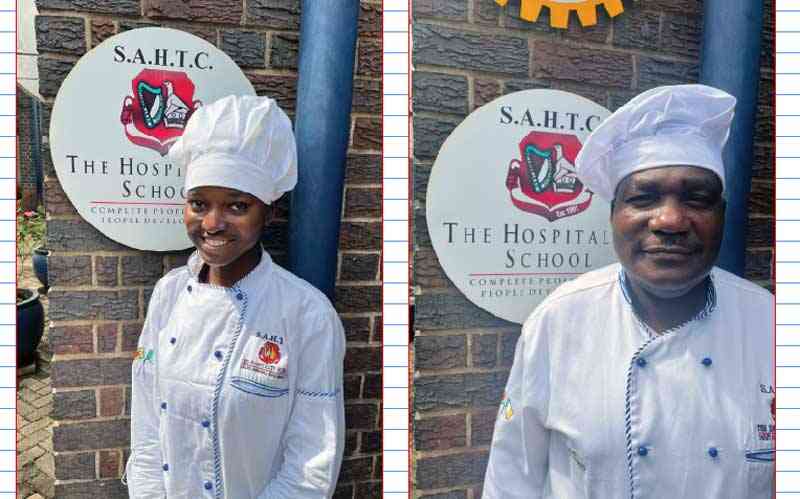 A Zimbabwean trainee chef Eliasaph Chipare will this year participate in the 9th edition of the Young Chef Olympiad Competition (YCO) for student chefs to be held at five International Institute of Hotel Management (IIHM) city campuses in India.
The olympiad will be held from January 29 to February 4 and grand finale will take place in Kolkata, the cultural capital of India. The IIHM city campuses are in Delhi, Pune, Bangalore, Goa and Hyderabad.
Chipare, a second-year student of the Chefs on Stage Culinary Arts Programme, is a student at the Southern Africa Hospitality Training Company (SAHTC) — The Hospitality School in Harare. She will be accompanied by her mentor and facilitator chef Tendai Nyakakweto.
This year's edition will see 56 countries vying for the prestigious award. Zimbabwe is one of the 12 African countries taking part in this year's edition alongside Namibia, Botswana and Ethiopia, among others.
Speaking during a send-off ceremony held at the hospitality school's premises in Harare yesterday, the director of the institution, Michael Farrell, said that the duo is set to travel to Delhi tomorrow night and arrive Sunday morning where they will stay in Delhi and then go to Calcutta for the first stages.
The 2023 edition will see the world's best culinary and hospitality institutions fight for the coveted YCO 2023 winner's trophy which includes cash prizes totalling US$10 000. The competition is organised by the IIHM in partnership with the International Hospitality Council (IHC) London and is supported by the Ministry of Tourism, India.
According to SAHTC, this year's competition dwells on global development goals such as sustainability.
"The world waits for the IIHM Young Chefs Olympiad 2023 as it will be another spectacular and thrilling event in the culinary world. Its magnitude with 55+ countries participating makes YCO23 a global culinary competition that aims to achieve the United Nations 17 Global Goals for Sustainable Development with an aim to inculcate and promote #artofsustainablehospitality in the lives of people and society at large," IIHM notes.
Ever since Chipare started her programme with the school in September 2021, she has been keen to take part in the prestigious competition. Her dream came true when she succeeded in the trials among her fellow trainee chefs. The final lap saw her going head-to-head with runner-up Eric Kasukuvere.
Chipare said she is excited to be representing her school and country.
"Culinary arts is not just something that I'm training to do as a job, for me it's a passion. Being able to go this far in the culinary industry is an achievement that I will always hold dear in my heart. For me participating in the Young Chef Olympiad and representing the country is not just about going to compete, but it's about proving a point that as a country we can put ourselves out there and make a statement by winning and being competent," Chipare told IndependentXtra.
Speaking on the sidelines of the event SAHTC culinary arts facilitator and trainer at the hospitality school, chef Tendai Nyakakweto, who trains chefs to become competitive internationally by equipping them with necessary skills and knowledge that match international standards, said: "This is going to allow us to interact with a lot of chefs from different countries it's going to be a platform for us to learn and share our culinary knowledge and skills we aim to leave indelible footsteps in India," he said.
Established over 20 years ago, The Hospitality School is distinguished for providing world-class training chefs for both the local and international hospitality and tourism industry. The school is ranked amongst the best hospitality training schools in Africa and takes pride in the fact that most of their trainees are placed in top hospitality establishments all over the world. The school offers courses that include diplomas in international hospitality management, food and beverage sales and services as well as the national Higher Education Examinations Council (Hexco) certificate in professional cookery and the advanced diploma in culinary arts management, among other courses, in fine cuisine and hospitality.
The school also focuses on people development in the tourism and hospitality sector. It provides hands-on, forward-thinking and people-driven training through a combination of inspired classroom teaching and innovative practical experiences.
In delivering training excellence, the school works with local and international organisations, including City and Guilds London, The American Hotel and Lodging Educational Institute, Alliance Francaise Zimbabwe, Council on Hotel, Restaurant and Institutional Education.
Related Topics