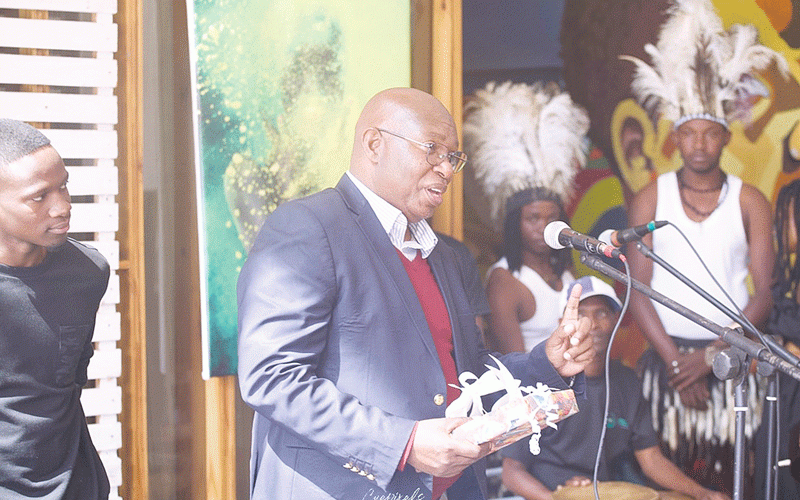 HARARE'S Prince Edward School headmaster Agrippa Sora has challenged the country's youths to stand their ground, especially when they have strong life-changing positions.
Sora made the challenge while he was guest of honour at Chenai "Rumbie Chen" Faith Dunduru's launch of her praise poetry book Dudu Muduri at the National Art Gallery in Harare last week.
Citing Charles Mungoshi and Dambudzo Marechera as examples of creative genius, he said artists from all walks of life should be assertive and develop a strong intellect for subjects they wish to communicate on.
Sora, a seasoned educationist and revered music and arts teacher described Rumbie Chen — a chartered accountant and the brains behind the Hofi Band — as a role model in many ways as reflected by her several acts of charity or pro bono work.
Sora also urged the youths to go beyond the children's game popularly known as dudu muduri and gain proficiency and virtuosity in their imaginative work like women in Murehwa district in Zimbabwe, who play theatrics with mortar and pestle while pounding grain.
Dudu muduri are sonic words which imitate the pounding sound when the pestle strikes down into the mortar.
In an exclusive interview from her Melbourne base with NewsDay Life & Style, Rumbie Chen said Dudu Muduri was written in a space of 30 days after an adjournment to profile her grandfather Ezra Dengaharinangoni Maponga, who passed on when she had just started penning the book.
Her grandfather, Sekuru Maponga, was so inspirational to her that the opening poem to the 128-poem book is in honour of him.
She credits her book to extensive research, memories of conversations across the years, newspapers and triangulations from credible online sources including Shungu Chidovi's site which shares information on Zimbabwean culture and respected icons in the arts industry.
Speaking on a livestreamed video from Australia, Rumbie said: "I was in a cocoon while writing Dudu Muduri. It was quite personal as I hoped to finish and let sekuru read about himself and gogo. Why this book? In 2021, I wanted to write a biography about Sekuru Maponga (the late) and Gogo Maponga.
"I then thought it would be way too long, because of the demand for richness in words and rationalised stories. The idea returned and was ignored again.
"Fast forward, sekuru fell ill in February 2023, then I panicked because of his situation, decided to write the book, but it would still be long and taxing. Sekuru recovered and I relaxed (relief) and later settled on this Dudu Muduri poetry book, which is a resounding tribute to some of the Zimbabwean icons."
Rumbie Chen was raised in Mufakose and studied chartered management accounting and maintained her interest in public health, particularly health economics and health promotion.
She is a passionate creative who finds her happy place in the art of creativity and appreciates almost all types of art.
Related Topics