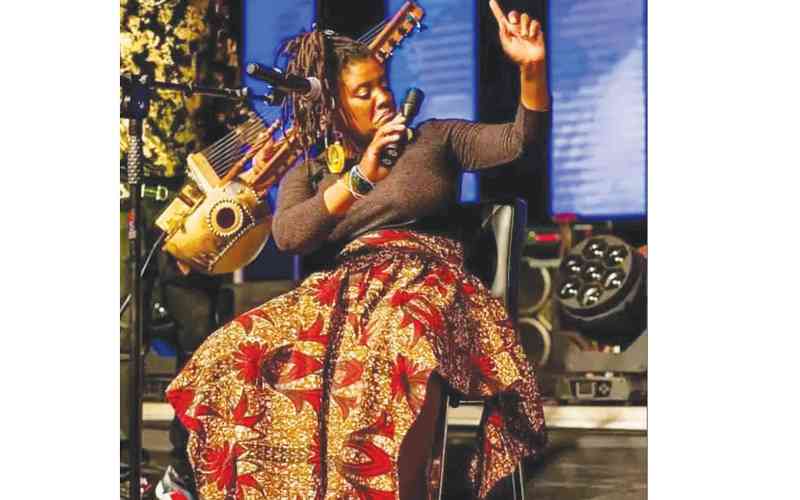 FROM a backing vocalist to a band leader and now touring Africa, this is the fairy-tale journey of Afro fusion artiste and mbira exponent Nancy Nasibo (pictured) who has worked hard to be the musician she is today.
Her resilience in the competitive showbiz industry will next year take her to the prestigious Sauti za Busara 2023 Music Festival stage in Zanzibar, Tanzania, scheduled for February 10 to 12.
Sauti za Busara (which means Sounds of Wisdom) is an annual pan-African music festival that celebrates cultural pluralism organised by Busara Promotions, a non-governmental organisation registered in Zanzibar.
Nasibo told NewsDay Life & Style that she was happy to have been selected to be part of the stellar line-up of performers at the 20th edition of Africa's premier festival.
"I believe it was a combination of God's grace, hard work and patience that has enabled me to get tours outside Zimbabwe. I am grateful and honoured to be part of the Sauti Za Busara Festival," she said.
"I have been trying my best to push myself and this is where God has placed me, though I am still looking for funding for air tickets to go with my band to the festival. This is a very good opportunity that can elevate me and the band to greater heights, while we represent our country in Tanzania."
Nasibo is proving to be an artiste of the moment as she continues to land gigs around the world. In the last two years, she has performed at several events in countries such as Kenya, Rwanda, Tanzania and Belgium.
Recently she also had the opportunity to perform alongside multi-talented Senegalese singer, songwriter and actor, Youssou Nd'our on the same set at the 6th Summit of European Union and Africa Union held in Brussels.
She is also set to tour Kenya in December. The Afro singer, however, admits her growth as an artiste has not been a stroll in the park.
"It has never been an easy road for me to grow from being a backing vocalist to a band leader and to a lead singer, more over leading male counterparts. I try to push harder every single day," she recalls.
As a word of advice, Nasibo urged her fellow female artistes not to relax, but to work hard and also look for opportunities because it is hard for them to make it in the arts industry compared to their male counterparts.
"To fellow female artistes I say take your time to learn who you are, and make sure you place yourself where you want to be. Opportunities will come to those who look for them, so there is need to work hard," she said.
Although she is yet to release an album, Nasibo has promised her debut early next year.
Related Topics