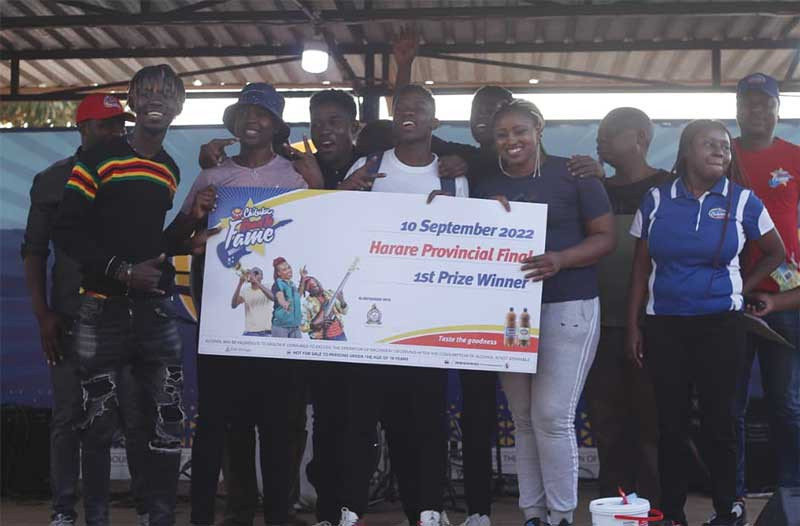 WHAT a dream come true for Gladys "Mbira Bae" Walani, whose Chashe Band has booked a ticket to participate at the Chibuku Road to Fame national finals that will feature champions from the country's 10 provinces.
The national finals of the music talent showcase have been set for October 1 at Glamis Arena in Harare.
The talented six-member (five males and a female) traditional contemporary band will represent Harare province after they beat nine other groups in tightly contested Harare provincial finals held at Warren Bar in the capital on Saturday.
Formed in 2021, the Kuwadzana-based Chashe Band impressed the competition judges with their authentic act that got them 152 marks ahead of sungura outfit Ocean Waves and ZCM Ensemble, which amassed 137 and 127 marks to occupy second and third places, respectively.
The judges, celebrated Afro-jazz sensation Duduzile Manhenga, top music producer McDonald "MacDee" Chidavaenzi and radio personality Gabriel Mbale, noted that they were looking for liveliness, uniformity on the stage, audience engagement, the sync of backing vocalists as well as the alignment of instruments with the vocals.
For coming top, Chashe Band won the top prize of US$2 500, while Ocean Waves and ZCM Ensemble are set to pocket US$ 1 500 and US$1 000, respectively, to be paid at the interbank bank rate.
In an interview with NewsDay Life & Style, the 31-year-old Mbira Bae believed their vocal ability and uniqueness of their music did the trick.
"I am grateful for this Chibuku Road to Fame competition, I know how it has really changed many people's lives. I think it was a result of our hard work that we managed to emerge victorious in this highly competitive search," she explained.
"Our type of music is just unique as we do traditional contemporary music which gives us our own identity totally different from other genres. Even the general comments from the fans also alluded to this uniqueness of our music."
Walani, who takes her inspiration from the late mbira maestro Chiwoniso Maraire, is confident that they will do well at the national finals next month.
"Our band is formed by God's gifts. We are happy to be representing our province to the national finals (Chibuku Road to Fame). We know there will be stiff competition, but with our hard work, we are aiming for the top position," she noted.
"For us to look presentable at the finals, we are going to use part of the money to improve our outfits, while most of it will be used for rehearsals."
Mbira Bae is optimistic that they will emerge victorious at the national finals and fulfil their aspirations of recording an album.
"My desire is to have a live recording project, but it is expensive and as a result we end up compromising. It is my hope that we will do our best at the finals and through this Chibuku Road to Fame competition we will be able to fulfil that dream," she said.
"As Chashe Band, we do traditional music because I don't want traditional music to fade, as our youthful generation these days is mainly engaging in all that kind of music from outside Zimbabwe, but we are doing music with traditional traits so that we keep our native music for people to know that there is still good traditional music."
Chibuku Road to Fame talent search, the country's largest grassroot talent identification competition, is a collaborative effort between Delta Beverages and National Arts Council of Zimbabwe.
Delta Beverages sponsors the competition through its Chibuku brand as part of its corporate social responsibility.
Follow Winstone on Twitter @widzoanto
Related Topics