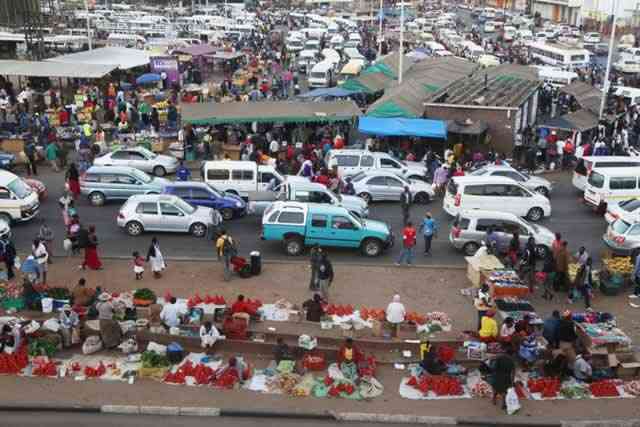 ALTHOUGH the January 2023 official statistics are showing perpetual moderation of price inflation, the economy remains very tight for the majority of citizens.
The January statistics from Zimbabwe National Statistics Agency (ZimStat) show the month-on-month inflation rate plummeted to 1,1% from 2,4% recorded in December 2022.
This is the lowest outturn since its last monthly peak of 30,7% realised in June 2022.
However, qualitative surveys are exposing the struggles faced by the common man.
For instance, the results from the ZimStat's eighth round Rapid Poverty Income Consumption Expenditure Survey (PICES) telephonic survey supported by the Zimbabwe Reconstruction Fund and World Bank shows that due to financial constraints, only 42% of the households managed to pay school fees in full.
Despite the disruption of the traditional learning systems by the COVID-19 pandemic, about 18% of schoolchildren remotely communicated with their teachers and only 2% used mobile learning applications.
The survey also established that at national level, the proportion of households that were able to buy medicine decreased to 74%.
Statistics continue to concretise the idea that government should properly harness its ever-rising diaspora population, which is immensely contributing to the socio-economic well-being of citizens.
The PICES report established that many households (6,5%) derive their income from Zimbabwe's expats living abroad, which is nearly double the assistance being provided by government (3,6%).
The pending Private Voluntary Organisations (PVOs) Bill, which seeks to stifle civic space poses a greater humanitarian crisis if signed into law.
The PICES survey report indicates that about 2% of households earn income or get support from non-governmental organisations (NGOs) and charitable organisations.
In its 2023 Monetary Policy Statement, the Reserve Bank of Zimbabwe highlighted that diaspora remittances and NGOs contributed about US$1,66 billion and US$1,4 billion to international remittances in 2022, respectively.
This is about 24,2% of the US$11,57 billion forex received by Zimbabwe in 2022.
To ensure increased forex liquidity in the economy and avert a likely deadly humanitarian crisis, the President is recommended not to assent the PVOs Bill.
Also, Parliament should push for diaspora voting as this is key to ensuring diasporans enjoy their civic and political rights as well as participate in natural resource governance back home.
Another thing is that Zimbabwe has seen massive infrastructural investment, particularly the country's road network.
While the construction of roads has received glory from government and regime sympathisers, a blind eye has been cast on value for money audits.
Value for money audits are integral audits that assess a project's efficiency, effectiveness and economy.
The lack of value for money audits have raised allegations of rampant abuse of public resources.
Currently, the citizens have not been furnished with the granular expenditure details of the Harare-Beitbridge Highway.
At the same time, Treasury and the Zimbabwe National Road Administration have set aside over $130 billion to rehabilitate about 10 000km under the second phase of the Emergency Road Rehabilitation Programme.
It is worrying that resources continue to be allocated to road construction without the citizens being furnished with reports on how much has been utilised as well as processes which led to the awarding of the tender. - Zimbabwe Coalition on Debt and Development
Global warming: Everyday needs World Earth Day action
DEVELOPED nations are rightfully expected by the non-developed world to make the first meaningful moves on decarbonisation, since they have done the most polluting, thus causing environmental damage.
Many people are feeling global-warming-related extreme weather events and/or chronic crop failures in the southern hemisphere, widely believed by climate scientists to be related to the northern hemisphere's chronic fossil-fuel burning, beginning with the Industrial Revolution.
Everyday of the year really needs World Earth Day action — with genuine, serious efforts and not just brief news-media tokenism or dismissal.
Not long ago, I read an unsigned editorial in a Greater Vancouver community newspaper, headlined Earth Day in need of a facelift.
It suggested that the annual day of protest/action against humankind's abuse and destruction of the planet's natural environment may no longer be needed.
It opined that "some people would argue that [the day of environmental action] ... is an anachronism," that it should instead be a day of recognising what we have accomplished.
"And while it [has] served us well, in 2017, do we really need Earth Day anymore?"
Varied lengths of the same editorial were also run by other BC community newspapers.
Considering the sorry state of our air, seas and land, I still find it one of the most absurd statements to make.
Spaceship Earth and its human passengers have an immense challenge ahead.
Obstacles to environmental progress were quite formidable pre-pandemic.
But COVID-19 did not only stall most projects which were being undertaken, it added greatly to the already busy landfills and burning centres with disposed masks and other non-degradable biohazard-protective single-use materials.
Also increasingly problematic is a very large populace too tired and preoccupied with feeding/housing issues to worry about the environment. However, much is needed.
Meanwhile, consumers continue throwing non-biodegradables down their garbage chutes, or flushing pollutants down toilet/sink drainage pipes.
Societally, we still discharge out of elevated exhaust pipes and quite consequentially smoke from sky-high jet engines like it's all absorbed into the natural environment without repercussions. Clearly it isn't, but who's noticing (ie out of sight, out of mind)? - Frank Sterle Jr
Take the game of football seriously
ZIMBABWE on Tuesday celebrated its 43 years of independence and this year's national celebrations were held for the first time in Mt Darwin, Mashonaland Central province.
Forty-three years into independence, the two biggest clubs in Zimbabwe — Dynamos and Highlanders — played at Pfura Stadium.
There was nothing wrong for these two popular clubs to meet and entertain the crowd on such a very big stage.
Also, this is the only way the Zanu PF government lures people to attend the celebrations as the majority of people are now shunning this day because of the politicisation of the event.
However, government knew that it was going to hold Independence Day celebrations in Mt Darwin, but it failed to prepare the venue to expected standards, especially the turf on which the two Premiership teams played.
This shows how unprepared our government is.
Pfura Stadium was not fit for such a high-profile match pitting Dynamos against Highlanders.
No inspection was done by Zifa to see if the ground was suitable for topflight football.
According to Fifa rules, stadia should be inspected prior to the start of any match.
It is high time we stopped accepting mediocrity.
It was an embarrassment which we will never recover from as a nation.
Zimbabwe needs to be rescued. Professional players are made to play football in an unsanctioned and uninspected ground. If one gets injured, that's the end of their career.
Zifa needs to be serious. It's the reason our football is in shambles. Nobody will ever take us seriously.
The stadium was like a potato field, taking words from a renowned former Dynamos coach Moses Chunga.
None of these players have insurance policies in case they get injured.
We should understand that Fifa is very strict on these things. Grounds are inspected and approved before the season begins. Professional footballers just don't play games anywhere.
The authorities had all the time in the world to prepare for the venue to host the national event.
If they had started preparing the stadium in January, by the time of the event, the turf would have been looking very good.
Football in Zimbabwe is now dead no matter how many premiership games we play.
I don't think the players enjoyed playing on that bumpy turf. Zimbabweans, we can do better. - Leonard Koni
Related Topics