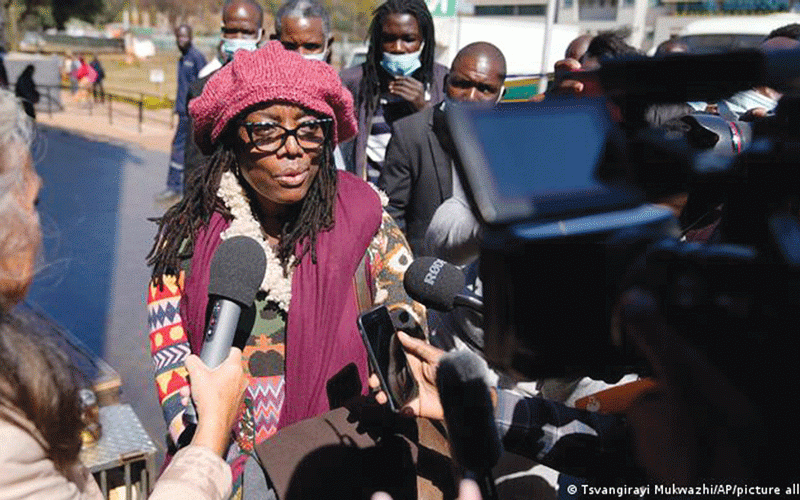 AUTHOR Tsitsi Dangarembga and Julie Barnes were recently convicted for protesting economic hardships.
They were handed a six-month suspended sentence for participating in the July 31, 2020 protest against economic hardships.
Responding to news that Zimbabwean author and activist Dangarembga and fellow protester Barnes were each convicted for "inciting violence", Lucia Masuka, Amnesty International's Zimbabwe executive director, said: "The conviction of Tsitsi Dangarembga and Julie Barnes for fighting for political reforms and a better country for themselves and their fellow Zimbabweans is a travesty of justice.
, and that anyone who dares to freely express themselves will face persecution. It is not a crime for people to exercise their right to protest peacefully.
"The Zimbabwean authorities must uphold the rule of law and create an environment where people like Dangarembga and Barnes can freely exercise their freedom of expression without any fear.
"Authorities must stop targeting opponents and critics with prosecution and long pre-trial detentions. They must end their relentless harassment and intimidation of human rights defenders and activists who have done nothing other than to demand that the government deliver better services to the people of Zimbabwe."
Dangarembga and Barnes were arrested in July 2020 after they marched in the streets of Harare, holding banners demanding reforms of the country's institutions.
They were later released on bail and their trial has been ongoing for over two years until they were convicted on September 29.
The right to protest is under threat across all regions of the world.
Amnesty's new global campaign "Protect the Protest" is challenging attacks on peaceful protest, standing with those targeted and supporting the causes of social movements demanding human rights change. -Amnesty International
Every person has a right to safe, clean and potable water
THE observance of human rights, including socio-economic rights, participation rights, and non-discrimination rights, is critical to good water governance.
International human rights norms demand that priority be given to water and sanitation for vulnerable groups such as the poor, displaced, disabled, the elderly, women and children within all these groups.
Section 77 of the Constitution provides that every person has a right to safe, clean and potable water.
The right to water and sanitation reflects the growing recognition of the significance of social and economic rights in addressing poor urban and rural women's basic concerns as providers of food and care for young, sick and elderly family members.
The water situation in Zimbabwe continues to worsen. Numerous factors have contributed to the country's water problems, including the economic decline, droughts affecting water sources, the lack of maintenance of the old water infrastructure, the inability to procure the necessary chemicals to treat water, political struggles between the central government and opposition-controlled city councils and corruption.
Zimbabwe is plagued by diseases such as bilharzia, cholera, typhoid, and dysentery that are prevalent in poverty-stricken areas, diseases that have no place in the 21st century.
The water crisis has affected citizens' right to water and sanitation as well as other rights interlinked to this, such as the right to life, food and health.
While the entire country is largely affected, high-density areas such as Epworth, Kambuzuma, Glen View, and Chitungwiza are gravely affected given their population size and the lack of adequate water sources. These areas are usually the epicentres of waterborne disease outbreaks.
Many water sources become congested, some community boreholes are politicised and community members resort to fetching water from unsafe sources.
Not only is access to potable water a challenge, but there are no adequate waste and wastewater disposal services, which leads to further contamination of water sources, especially during the rainy season when waste gets washed away into rivers and dams.
The full realisation of the right to water has the potential to combat poverty, promote health and food security, and ease the caring and household burdens that hamper African women's enjoyment of a wide range of social and economic rights.
The response to water crisis must respond adequately to the concerns and experiences of socially and economically-marginalised women in different social, cultural, and economic contexts as they primarily seek water and are the primary end users of water.
It is, therefore, imperative that government ensures effective water management systems that result in sustainable, and efficient water reclamation to ensure that water remains available to all households regardless of social class.-Zimcodd
Would it be possible that Russia blasted its own fuel pipeline?
DOESN'T blasting its own pipeline — thus hindering the flow and sale of its own fuel to Western Europe, cutting the cashflow it now needs more than ever for its military conquest in Ukraine — amount to Russia shooting itself in the foot?
Really, how do they benefit? And, if Russia's intention was to disrupt their fuel-flow to Europe, why not save themselves all that trouble and great cost by just shutting off the flow via the valve controls on its own territory?
The United States, on the other hand, does have motive; and its navy was in the area in June performing military exercises.
Not to mention, President Joe Biden did state publicly earlier this year that the US could, and would if Russia continued misbehaving, disrupt Russian fuel flow to Europe and, therefore, much-needed funding for Russia's war machine.-Frank Sterle Jr
Related Topics