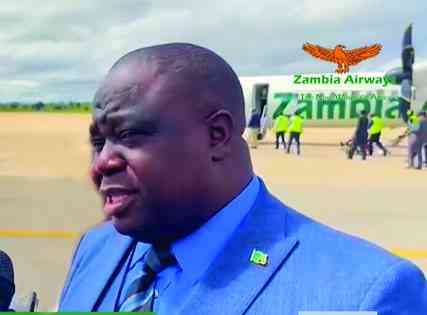 ZAMBIA's ambassador to Zimbabwe Derick Livune says policies being put in place by Harare's government can only succeed if business and consumers buy into its vision.
President Emmerson Mnangagwa, who won his second and final term in last month's elections, says his vision is to turn the country into an upper middle-income nation by 2030.
In 2021, the Treasury reported that the country required at least US$40 billion in capital investment to attain an upper middle-income economy by 2030.
However, only a fraction of this mount has flowed into the economy, owing to several factors, including high public debt estimated at over US$17,5 billion, a depreciating Zimbabwe dollar, high inflation, increased unemployment, unstable manufacturing and corruption.
Speaking to businessdigest recently, Livune said what made Zambia an attractive investment destination was that Zambian citizens and business bought into the vision of its leadership.
"No one will come to develop Zimbabwe. First, it is the owners who should come to develop it. But, in developing Zimbabwe, there are elements that people should look after," he said, speaking ahead of the August polls, which have divided Zimbabwe and Zambia.
Harare and Lusaka have been quarrelling since the Southern African Development Community's electoral observer mission, which was led by former Zambian vice-president Nevers Mumba, slammed the electoral process, which it said fell below international standards.
"Patriotism is very important and also knowing where you are, where you are coming from and where you are going. In terms of what you want to achieve, it is incumbent upon the leadership to know where they want to take the nation," Livune said.
"Personally, I am impressed that I see a number of developmental issues coming up. I see roads, hospitals being built. And I want to think that a nation that builds infrastructure is on the right trajectory but it is important that the citizens also buy-into the vision of the leadership."
He said Zambian President Hakainde Hichilema was enjoying the full support of the country's citizens.
"We buy into the leadership, we buy into the vision, and we understand where we are coming from and where we are going, and that is the spirit that Zimbabwe can also do. You are on the right track to that prosperity," Livune said.
He said policy inconsistences from government led to a disconnect between consumers, the private sector and government.
This week, Zimbabwe National Chamber of Commerce president Mike Kamungeremu appeared to support this view. Speaking during a meeting between business leaders and Sithembiso Nyoni, the new Industry and Commerce minister, Kamungeremu said policy consistency was key, in addition to improved communication and engagement between industry and government.
In September 2022, Finance and Investment Promotion minister Mthuli Ncube revealed that he had been sued 120 times over his economic policies, some of which have been changed to tackle economic volatilities.
In an August study on Zimbabwe's critical infrastructure, Zimbabwe Coalition on Debt and Development (Zimcodd) found that 83% of respondents stated that Zimbabwe has poor health facilities.
The organisation said this would affect the country's vision 2030.
"The survey found that 80% of the districts have costly housing, 92% of the districts surveyed have poor garbage collection and 81% have poor public toilets accessibility," Zimcodd said.
"This is consistent with the undesirable dilapidation of the public service and infrastructure across the country.
"According to the survey, only 12% indicated that water is supplied regularly, 38% said it was irregular, and 50% indicated that water is not supplied at all.
"This scenario brings to light the current water crisis. Thus, there is a need for urgent intervention by the government to address water challenges if the national aspirations of becoming an upper-middle-class economy by 2030 are to be witnessed."
Zimcodd said notwithstanding efforts being made by the government to revitalise road networks across the country they remain a death-trap with the majority of them in a deplorable state.
"This is because government reconstruction efforts are mainly concentrated on the Harare-Beitbridge highway rehabilitation process. Local communities' road networks are found wanting," it said.
Another challenge that hinders government efforts to achieve the 2030 vision is poor domestic resource mobilisation owing to a poor taxing regime that prioritises low hanging economic generators.
"Tax laws must be reviewed and updated, tax loopholes must be closed, and mining companies must pay their fair amount of taxes. Zimbabwe's ability to mobilise domestic resources can be improved through maximising tax revenue collection," Zimcodd said.
The organisation said Zimbabwe's utilisation of public resources is still a concern due to institutionalised corruption, resource smuggling, and leakages.
"A sad reality that has enabled the dysfunctionality of the entire public sector (is) weak and dilapidated public service delivery. (It) has become the order of the day coupled with an unsustainable debt balloon that chokes development," the report added.
Related Topics