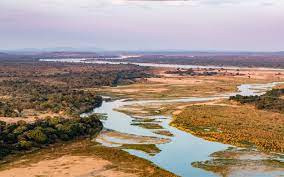 INIVICTUS Energy, the Australian resources junior that is scouting for gas and oil in Zimbabwe's Zambezi Valley, said this week equipment breakdowns during this year's test well drilling cost it millions of United States dollars in market capitalisation.
The Australia Stock Exchange listed outfit drilled two test wells at its Cabora Bassa claims near Mahuhwe in Mbire, all of which failed to deliver a find.
Last week, the firm said it would be keeping the drilling equipment in Zimbabwe for another year, as it prepares for more excursions.
In December, the firm suspended drilling, citing equipment problems.
Invictus' share price reached AU$0,37 (US$0,24) as preliminary results from the digging showed a potential oil and gas deposit in the billions of barrels range, from AU$0,17 (US$0,11) pre-digging.
At this level, with shares in issue at approximately 888 182 352, the firm's valuation rose to about US$218,74 million, from US$100,5 million.
Following the disappointing results, Invictus' share price dived, reaching a market capitalisation of about US$70,94 million, a loss of about US$147,8 million in its market capitalisation, according to figures released this week.
In a presentation made to investors in Australia on Tuesday, managing director Scott Macmillan said when they made an oil or gas discovery, the price would surge.
"I think we would certainly be in the AU$0,60 to AU$1 (US$0,40 to US$67) if we had been able to get a sample," he said.
"It has been hard for me and for the company to deal with it. It has been very, very disappointing and I am sure that disappointment is with all our shareholders.
"The drilling conditions are high pressure, high temperature. Failures happen…There is a lack of tools, there is a lack of personnel and so the service sector is in a poor state at the moment. It is something that we have just got to deal with.
"But, to mitigate that, as I said, the way we have approached this next campaign is to retain the (current) services. That then gives us the ability to tender out for the big services," Macmillan told investors.
He said the firm had gone to tender to look for service providers.
Macmillan said what happened at the Mukuyu 1 well was an operational, not geological failure.
"I think there is that uncertainty on the funding side of things and required capital, but once that's put to bed, we have got a dual strategy. We have got interest from other players that has come in. So we have got the ability again," he said.
Related Topics