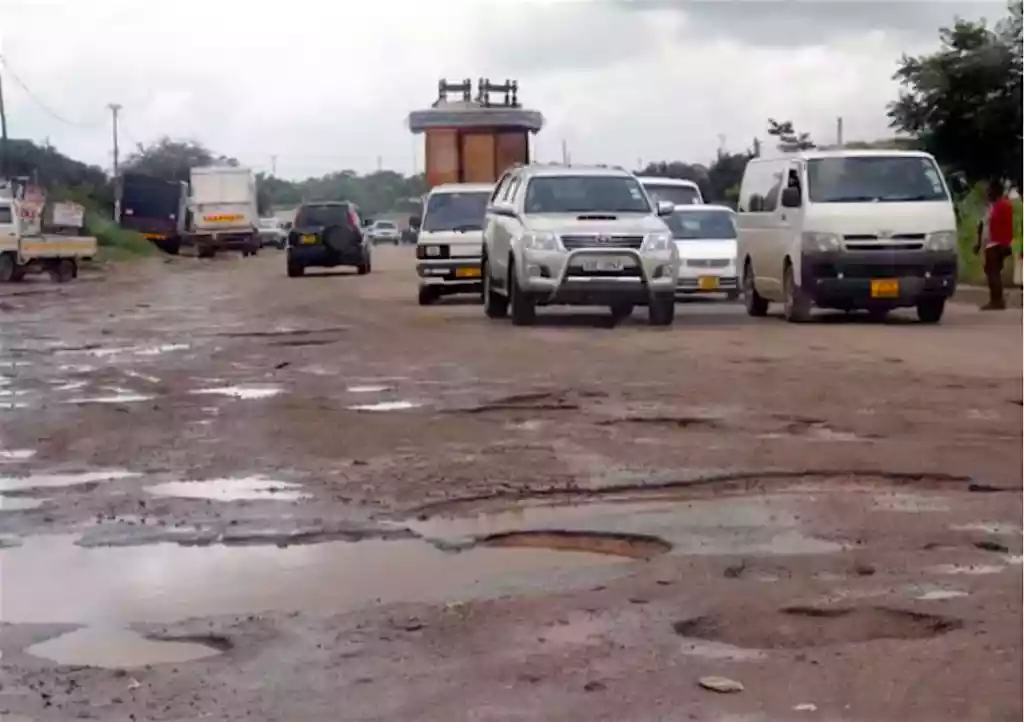 ZIMBABWE'S roads administrator said this week it had kicked off processes to draft in banks to bolster its capacity to fund rehabilitation of the country's crumbling road network.
In an interview with businessdigest, Zinara chief executive officer Nkosinathi Ncube, said negotiations with lenders had been lined up, but he was not at liberty to disclose which banks were under his radar.
Zinara has been collecting a fraction of its annual requirements to bankroll road rehabilitations, according to officials, who blame budgetary constraints for the failure to respond to urgent road face-lifts.
It funds its operations through vehicle licensing fees and revenues collected through a network of toll gates across the country.
Since last year, the strategy to seek external funding has been gaining traction, with officials telling reporters that up to ZW$5 billion (about US$7 million) would be injected from lenders.
The domestic unit has been battered extensively in the past year, surrendering 70% of its value during the first nine months of 2022.
This means Zinara's bank loan requirements would be much higher than the ZW$5 billion.
Ncube said Zinara's plan was to realise enough funding to road authorities to rehabilitate the road network.
"Our objective always is to make meaningful and significant disbursements to road authorities," Ncube told businessdigest.
"In pursuit of this objective, this year we are looking at engaging financial institutions with a view to secure loan facilities to boost our disbursements to road authorities."
About two years ago, the government launched the emergency road rehabilitation programme (ERRP), placing Zinara at the heart of a crucial operation meant to do a complete makeover of thousands of kilometres of a network that had been neglected for about four decades.
But the funding crisis has compounded a dire situation, which has been escalating due to heavy rains in the past two seasons and a growing vehicle population.
But shocking levels of poor workmanship have hit Zimbabwe roads rehabilitation programmes.
Zinara itself does not repair roads, but provides funding to road authorities.
But swathes of arteries repaired under two phases of the ERRP have crumbled again within two years, bringing into question the capacity of firms that have been given tenders for the vital work.
Ncube acknowledged the gravity of the task at hand this week, as he announced the planned new funding strategy.
"It is important to note that our road infrastructure was neglected for a long time and now requires a huge investment," he said.
In November, Finance minister Mhuli Ncube said road rehabilitation would be among interventions at the centre of his spending this year.
"In the road sector, priority is on upgrading and rehabilitation of the road network, with emphasis on completion of ongoing rehabilitation works of major roads and re-gravelling of feeder roads," Ncube said when he presented the 2023 national budget.
"The upgrading of the 580-kilometre Harare-Beitbridge Highway, a strategic transport route is a critical section of the north-south corridor, will be prioritised for completion during 2023. As at the end of October 2022, a total of 355km had been opened to traffic, whilst the remaining sections are under construction.
"To facilitate work towards completion of the project, a total of ZW$43 billion (about US$60 million) has been set aside under this budget," he added.
"The emergency road rehabilitation programme II has been allocated ZW$70,5 billion (about US$97 million) for implementation of priority trunk and tertiary road projects in provinces and districts, as well as major arteries in urban areas."
He said in addition to these resources, the road fund will be supporting the maintenance of roads under road authorities.
ZW$41 billion was (about US$57 million) deployed towards various road projects.
A further ZW$43,5 billion being allocated for other road infrastructure assets, covering tollgate infrastructure development and Vehicle Inspectorate Department weighbridges.
Related Topics