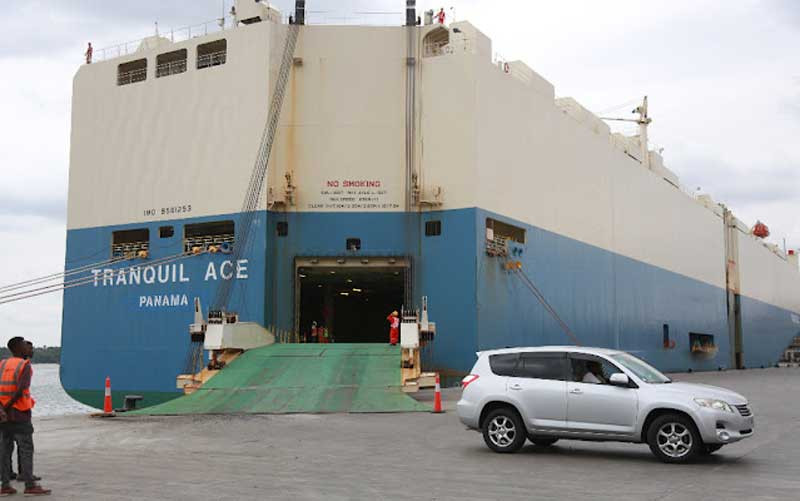 DAR ES SALAAM port in Tanzania says it is handling 15 000 vehicles imported by Zimbabweans annually, making Harare an important part of the facility's operations.
This figure represents a 316% surge from about 3 600 vehicles that were handled at the facility about six years ago.
The bulk of the vehicles are used cars from Asian markets including Japan, although new cars have also been handled through the facility.
From around 2016, Zimbabwe's used car importers switched to the east African port after running into logistical hitches on imports shipped through South African ports.
In an interview with businessdigest, a Dar es Salaam Port official said this week that motor vehicle imports to Zimbabwe had actually increased by 71% in the past year to 15 000, from 9 324 in 2021.
"Zimbabwe is a new market for Dar se Salaam Port. It started slowly, especially to service the motor vehicle cargo," Dar se Salaam Port director Mrisho Mrisho told businessdigest.
"You can ask yourself why Zimbabweans are using Dar se Salaam port for their goods, specifically motor vehicles. The answer is simply that they are using Dar se Salaam Port because of the low cost and security," he added.
The port has scaled up its campaign to attract more Zimbabwean to route their vehicles and other cargo through Tanzania.
"We are convincing them (Zimbabweans) to use not only for motor vehicle cargo but also for any kind of cargo because we have such capacity to service Zimbabweans for any kind of cargo, for both imports and exports.
"Our cost is too small compared to nearby ports. For the moment we have already opened up a new office in Zimbabwe for marketing strategy and they can use the office as a point to have detailed information about the service of Dar es Salaam port. We are servicing almost 15 000 cars per annum and we are to increase it up to 20 000 or more cars per annum. It will depend our the marketing strategy. So, we are lucky, they have seen the development including the area where we are handling cars," Mrisho said.
The port of Dar es Salaam, according to Tanzanian President Samia Suluhu Hassan, has a great potential to connect African countries with their Asian counterparts.
The port currently handles about 16,2 million tonnes of cargo per annum.
It is the Tanzania principal port with a rated capacity of 4,1 million dry cargo and 6 million bulk liquid cargo.
The port has a total quay length of about 2 600 metres with eleven deep-water berths.
Dar es Salaam Port handles about 95% of the Tanzania international trade.
The port serves landlocked like Zimbabwe, Malawi, Zambia, Democratic Republic of Congo, Burundi, Rwanda and Uganda.
It is strategically located to serve as a convenient freight linkage not only to and from east and central Africa countries but also to the Middle and Far East, Europe, Australia and America.
Tanzania has six ports, namely Dar es Salaam, Tanga, Lake Nyasa, Lake Tanganyika and Lake Victoria.
Related Topics