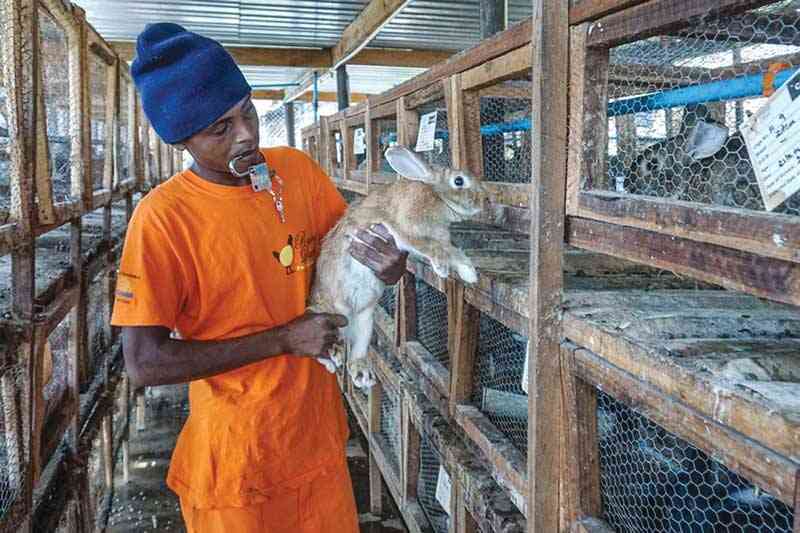 RAYMEG Consultants, a diversified local firm, plans to invest US$1 million into the establishment of rabbit grills nationwide as well as a centre to distribute rabbit meat which will begin to operate next month, NewsDay Farming can report.
The firm, a member of the Zimbabwe Commercial Rabbit Breeders Association (Zicorba), opened a rabbit abattoir in Harare in 2020 with a processing capacity of 2,5 tonnes of meat per day.
To increase rabbit output, there are also plans to build processing facilities for rabbit skins and pellets in Harare.
Last week, the firm opened its first rabbit grill at Cheviot shops, Waterfalls, Harare.
"Raymeg Consultants is set to invest over a million dollars in rabbit grills across the country and a rabbit meat distribution centre which will be opened in Harare in April," Raymeng Group chief executive Regis Nyamakanga told NewsDay Farming.
"Opening rabbit grills is part of our quest to grow the rabbit meat market in Zimbabwe and to make rabbit the most preferred dish in the country," Raymeg executive director Paidamoyo Nyamakanga said.
Raymeg owns Zimbabwe's only rabbit abattoir and one of the biggest in Africa and is home to the largest rabbitry in the country.
It is a diversified group with interests in strategic communications, agriculture, retail, real estate and holiday resorts. It has operations in South Africa, Kenya, Zimbabwe and the Horn of Africa region.
On Tuesday, a delegation from the Chinese embassy visited the Raymeg Rabbit Breeding Centre, Raymeg Abattoir, Raymeg Rabbit Grill and Chillspot and Raymeg Supermarket and Rabbit Distribution Centre in Waterfalls, Harare.
The embassy's economic and commercial counsellor, Huang Minghai pledged Chinese support for the abattoir.
He stated that he would introduce Chinese companies operating in Zimbabwe to the rabbit abattoir with a view to encourage over 1 000 Chinese workers in Zimbabwe to buy rabbit meat from the Raymeg Abattoir.
Huang said he would assist the company to export rabbit meat to China.
China consumes a million tonnes of rabbit meat per year. It produces 600 000 tonnes, leaving a deficit of 400 000 tonnes.
Nyamakanga said Raymeg was looking to take advantage of a huge potential export market that exists in China.
Raymeg has signed trade agreements with some of the country's leading supermarket chains, namely Spar Zimbabwe, Choppies Zimbabwe and Pick n Pay to sell veterinary-inspected rabbit meat in their stores, creating the much-needed market for rabbit meat.
It also sells rabbit meat through OK Zimbabwe, the biggest supermarket chain in Zimbabwe.
Formed in July 2020 by a group of rabbit farmers, Zicorba is the only collective voice of rabbit farmers in Zimbabwe.
The association has entered into strategic partnerships with a number of other rabbit farmers' associations in Africa, including Botswana, Kenya, Mozambique, South Africa and Uganda.
In its first year of existence, Zicorba wooed local businesspersons to invest in what was previously a neglected sub-sector.
This has turned rabbit farming into one of the most coveted and burgeoning enterprises in Zimbabwe.
Related Topics