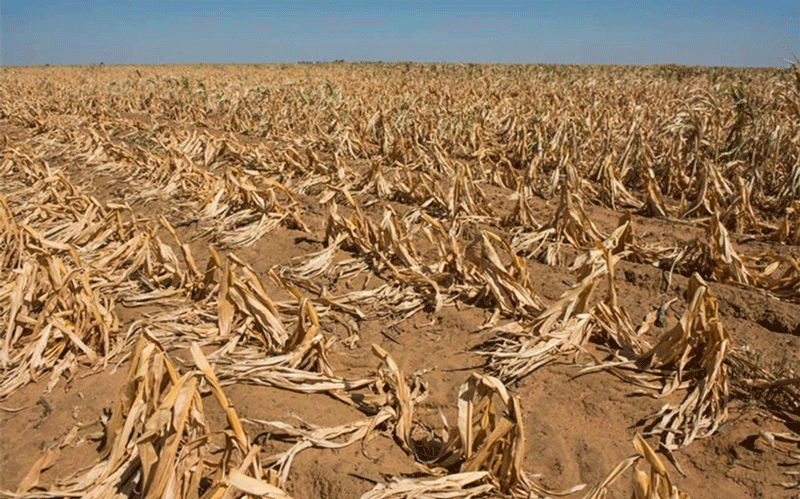 Zimbabwe's agriculture sector has borne the brunt of climate change, evidenced by recurrent droughts and floods.
"Statistically speaking, Zimbabwe has suffered 7 droughts, 22 epidemic episodes, 12 floods that are between 1990 and 2017 due to climate change," Zimbabwe Environmental Law Association (ZELA) legal associate Michelle Chitando told a training programme held in Mutare last week.
"So, for people to then take that approach to say just because I am not necessarily in the rural areas and I don't rely on subsistence farming or farming is not even my form of income is wrong. If we do not take action, someone in your circle of friends or family is going to be affected by climate change".
Climate change has resulted in Zimbabwe having low yields due to crop failure which is being caused by global warming.
Chitando said there were numerous complaints about crop failure, adding that there is general public ignorance over the impact of climate change on crop failure.
Zela spokesperson Clarity Sibanda pointed out that given the urgency of the climate crisis, there is need to educate the public on how to adapt and mitigate the effects of climate change.
A climate change expert with the climate change management department in the Environment, Climate, Tourism and Hospitality ministry, Lawrence Mashungu said government had introduced programmes like Pfumvudza as a way to try and ensure that Zimbabweans adapt to climate change.
Government has warned that the weather will become increasingly dry in the coming years as climate change continues to worsen in southern Africa.
According to a 2019 World Bank report on Zimbabwe's agricultural sector, the country loses US$126 million per annum due to production risks largely associated with drought and other weather-related events.
A recent report by financial services firm, IH Securities, said since sub-Saharan Africa's agriculture was predominantly rainfed, it was highly susceptible to climate change.
The Zimbabwe Coalition on Debt and Development (Zimcodd) has called for climate financing owing to the increased threat from the long-term shifts in temperatures and weather patterns.
"Increased climate variability has continued to worsen the livelihoods of citizens especially the rural sector who rely on rain-fed agriculture (due to droughts, cyclones etc). Our budgeting thus far has not catered for this increasing vulnerability," Zimcodd said in its report titled 2023 National Budget: Citizens' Aspirations.
"Finance and Economic Development ministy should seek a green budget which also considers financing sustainable methodologies to secure future farming initiatives and livelihoods can recover from shocks of climate variability."
Agriculture plays a key role in Zimbabwe, contributing 11% to the gross domestic product and remains the main source of livelihood for around 67% of the country's population.
Related Topics