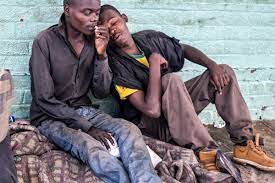 BY VARAIDZO MUDEWAIRI MEDICINS Sans Frontiers (MSF) mental health nurse Regina Magore says, according to statistics from the World Health Organisation, nearly 50% of youths of Zimbabwean youths are abusing drugs.
Commemorating the International Day Against Drug Abuse yesterday in Mbare, Harare, Magore implored the youth to stop abusing drugs because available rehabilitation institutions had no capacity to heal drug addicts.
She urged youths and adults to refrain from using drugs because rehabilitative treatment was expensive.
"In Zimbabwe rehabilitation centers that we have are private and upmarket, and these are Highlands Rehabilitation Centre which costs US$3 000 for the first six weeks and others who are into psychosocial support like Mubatirapamwe Centre costs US$1 500 for the first six weeks.  For now, it is difficult to get rehabilitative treatment," Magore said.
"Government is playing its part through the Harare Psychiatric Unit and Parirenyatwa Anex hospital by admitting people with psychiatric problems related to drug and substance abuse, but they play double roles as a psychiatric unit and rehabilitation centre for those who use drugs for six weeks," she said.
She said prevention is better than cure because no child is born an addict, but the problem is caused by socialisation and behaviour change.
"For every four children, the probability of having two children abusing drugs is high.  The onset of COVID-19 gave rise to issues of drug abuse to rise to 20% to 40%, while the probability of children (contracting) sexually transmitted infections are between 9% and 10 %. The percentage of unwanted pregnancies and mental health problems has also doubled."
MSF community health mobiliser Pelaiah Ngarande (23), who is a former drug addict and survivor said he started using drugs as an experiment, but it ended up nearly ruining his life.
"I heard people saying if you take a certain drug you can start laughing, you feel good and that's how I started using mbanje (marijuana), and LSD (hallusegen), a drug that makes someone hallucinate," he said.
"I was someone that aspired to be a musician, but this was the major driver to my drug abuse. Later, my sister noticed that I was abusing drugs and encouraged me to join MSF and this was after I sat for my "O" level examinations because I had nothing to do. After joining MSF, I noticed that I was wasting my life and I moved away from Mbare and started living in Belvedere with my mum and other siblings. Now I am a community health mobiliser advocating for the stoppage of drug and substance abuse. My friend who reached the far end of using crystal meth is now mentally challenged and is getting rehabilitation while in prison," he added.
Follow us on Twitter @NewsDayZimbabwe