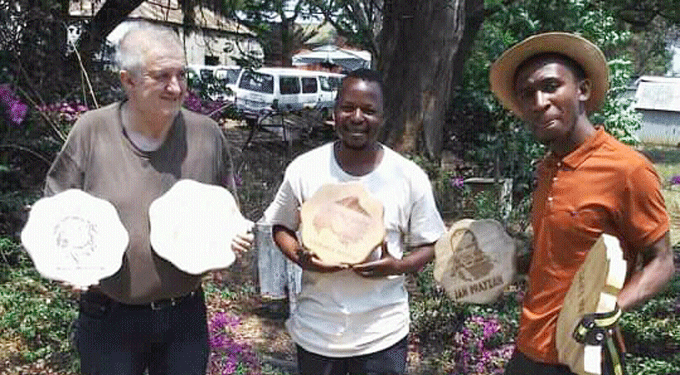 By Alfred Tembo
Renowned Germany music instruments manufacturer Manfred Gernert was in the country recently to meet local music instruments manufacturer Almon Moyo over the world's first acoustic electrical mbira.
Moyo, director of Gweru-based Transition Arts, told Standard Style that the engagement with Gernert was for possible collaborations to develop a more compactable music instrument.
"Developments of the instrument [mbira] to meet a particular world standard were primarily Gernert's interest," Moyo said.
"There were also several other issues we discussed related to innovation among other issues.
"In general, we are in agreement that the innovation could be used to promote Zimbabwe on commercialisation of technology."
Gernert, who is also an event and tour manager, is no stranger to Zimbabwe, having been behind the modifying of Clive "Mono" Mukundu's acoustic guitar.
It is believed there is only one such a guitar globally that was customised in every aspect, from design to material as requested by Mukundu, a celebrated music producer.
Moyo said after completing his Music and Musicology degree at the Midlands State University [MSU], he wanted to go back to his rural home to concentrate on farming.
"Personally, I am a villager. When l came to MSU my desire was to do my programme and complete it with hope of going back to my maize farming enterprise," he said.
"Surprisingly, l found myself relevant to the appetite of the city's fast-changing demands for traditional instruments, hence the permanent migration to Gweru where l now design and manufacture music instruments."
A Culture Fund of Zimbabwe Trust grant recipient in 2009, Moyo said his Transition Arts project was born out of the realisation that music was running in his family.
"Transition Arts is an improvement from what my father does," Moyo said.
"I started this business using a hammer and an anvil while I scavenged for my resources from the National Railways of Zimbabwe scrap yard here in Gweru and the enterprise grew.
"However, the art of making music instruments can be traced back to my father in Mberengwa from whom my first encounter with music was made.
"He is a traditional person and seasoned in drum-making."
Related Topics