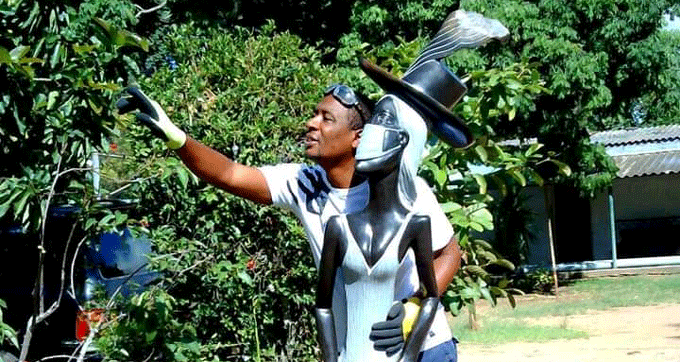 Zimbabwean sculptor David Chengetai Ngwerume is among 5 352 artistes from 124 countries who are participating at "The Beauty of the Games" in the ninth International Beijing Art Biennial.
The ninth edition of the arts showcase is being held in China in (January – March) and is organised as part of the 2022 Winter Olympics, with the theme The Light of Life.
Submissions of visual art (painting and sculpture) have been invited from artistes around the world.
The Beijing Biennale attracts works of art from all over the world and selects masterpieces by influential artistes. The works on display are mainly paintings and sculptures.
A number of videos and installations are also acceptable.
As part of the cultural activities of the 2022 Winter Olympics, the ninth Beijing Biennale also selects paintings, sculptures and installations according to the needs of the branch sites (some works donated from previous sessions of the Biennale from Beijing that correspond to the theme of the ninth session will also be included).
In this context, Diplomacy and  Development (DD) approached Ngwerume (DCN) to discuss with him the evolution of his artistic career and of his participation in the Beijing International Art Biennial.
DD: How did you feel after learning that you will participate with your work to the ninth Beijing International Art Biennial and what does this participation represent for you? And could you talk to us about your work which was selected for the ninth International Art Biennial" ?
DCM: My nomination to this ninth International Biennial was such a huge landmark on my art endeavour. My ambition has always been to see my art make waves worldwide so I felt so so honoured. My Sculpture titled Unto The Third Wave which was nominated is a middle-aged women curved on a spring stone chromite depicting the momement in times we are in now with this Covid-19 wherein vaccination is being encouraged as a measure that would enable humanity to fight the scourge within their bodies when they get infected and prevent its spread.
DD: What do you think of Chinese diplomatic action in Zimbabwe is in favour of artistes in general?
DCN: I thing such a gesture that picks sight of the exquisite sculptures among Zimbabweans namely my work shows that China is so ready to work with us in various dimensions as artists. Such opportunities places Zimbabwean art on a global higher scale.
DD: How do you find the level of art in Zimbabwe?
DCN: Zimbabwean art is such a powerhouse through stone sculptures as this is comprehended by its rich variety in natural stones we have. As an enlightened artist and lawyer I find putting sense in stones that captures how the world is moving presents some globally appealing alternative voice that resonates with many.
This has made me the artist of the moment worldwide through my "Covid 19 Pandemic Collection" .
DD: How do you find the life of artists in Zimbabwe?
DCN: For me rock bottom always produces more champions than privileged, l have been doing all my work through my personal savings and we do not have any support.
Our ministry tends to focus more on sports than arts, but I have come to terms with that curse and I am ready to conquer the world through my art on my own.
The world is now one global village wherein good art work can be noticed and it trends and I am glad God made it happen for me.
DD: What are your future projects in the field of art?
DCN: I am working concurrently on three collections which I intend to exhibit. 1) The Covid 19 Pandemic Collection 2) Thy Next World Collection 3) Taking the Reins Collection
DD: What would you like to see done to improve your work as a Zimbabwean artist by China and potential partners?
DCN: China as a friend to Zimbabwe should cultivate knowledge to its counterpart on how our government should align the sector through supporting artist as it is a foreign currency earner. It should strengthen marketing opportunities and separate the Ministry of Arts from that of Sports which is dark clouding on the arts.
DD: Tell us about your school and academic background?
DCN: I hold an Bachelor of Law honours LLBS from the University of Zimbabwe and I am a practicing attorney with my own law firm Ngwerume Attorneys at Law In Harare. I also studied Art History and International Relations at Oslo University in Norway.
DD: What are the positive and negative aspects of the artist profession in Zimbabwe?
DCN: Positively art has been a profession that has changed lives in Zimbabwe for some single handedly.
Negatively the economic down turns have hit hard in the sector due to dropping number of tourists and that has found some quoting and going job-hunting.
DD: Your last word for this interview?
DCN: My ambitions remains so resolute that more and equisite work is coming despite the challenges, I shall keep on pushing my audiences into newer territories producing sculptures outside the proverbial box. I am so ready to go further than being world acclaimed and become one of the world's greatest in God's right time. -Diplomacy and Development
Related Topics